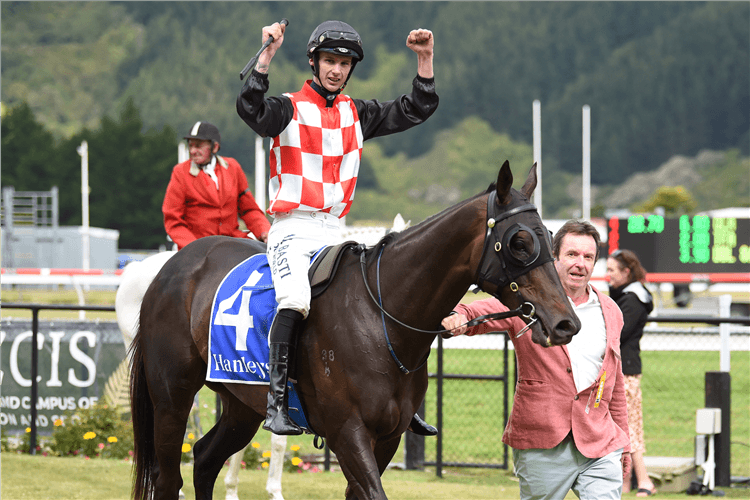 Leading from the outset, as he did when winning in Group 3 company at Ellerslie in November, The Mitigator defied his opponents to run him down and held on very gamely for his seventh career victory and maiden Group 1 win.
He was quickly away to take a narrow lead early and held there past the 1000m, edging more than a length clear from the 600m.
At the top of the straight he added to his lead then kicked at the 300m. He was still clear at the 100m and while the challengers came, he dug deep and clung on by a short-head.
Wyndspelle sat seventh at the 1000m, tried to improve from the 600m but struck traffic at the 400m. He poked through at the 250m and went hard after the leader.
He was taking ground off the winner but the post arrived too soon.
Yearn had a lovely run in fourth, hugged the fence into the straight and never gave up for a top third. Rock On Wood was very unlucky.
He tracked Yearn into the straight but never saw daylight until the 100m then flew to be a nose back in fourth.
Among the last few turning in, Shadows Cast kept up a strong run to finish fifth.

FP
Silk
Horse, Age & Sex
Sire & Dam
Jockey
Trainer
SP
WT

1st

4. THE MITIGATOR (AUS) 5yo G


MASTER OF DESIGN (AUS) - CHARMING RUBY (AUS)

SHAUN M MC KAY
PETER MCKAY
$31.00
56.0kg
R P Davis, T E Luke, N Butterfield, P T Fenwick, J P Hopkins, M F Jones, C G King, T J Perry, S G Phillip, G N Russell, C H Thiele & J H Veale

2nd

2. WYNDSPELLE (NZ) 6yo H


IFFRAAJ (GB) - WESTERN STAR (NZ)

JASON WADDELL
JOHNO BENNER & HOLLIE WYNYARD
$5.00
58.0kg
J Frew, S Hanna, Jen Campin Bloodstock Ltd & N P Randles

3rd

9. YEARN (NZ) 6yo M


SAVABEEL (AUS) - PRINCESS UNO (AUS)

SAM SPRATT
MS K FURSDON
$15.00
55.0kg
Mrs C R & M Lupton
4th
6. ROCK ON WOOD (NZ) 5yo G


REDWOOD (GB) - ROCK ON RYE (AUS)

RYAN ELLIOT
LEANNE ELLIOT
$4.25
55.5kg
5th
1. SHADOWS CAST (NZ) 7yo G


PER INCANTO (USA) - AGES PAST (NZ)

CRAIG GRYLLS
M OULAGHAN
$7.50
58.0kg
6th
5. MONGOLIAN MARSHAL (NZ) 5yo G


HIGH CHAPARRAL (IRE) - ARDECHE (NZ)

OPIE BOSSON
MURRAY BAKER & ANDREW FORSMAN
$9.00
56.5kg
7th
10. WATCH THIS SPACE (NZ) 8yo G


ELUSIVE CITY (USA) - MULTI TASKER (NZ)

SAMANTHA COLLETT
VANESSA HILLIS
$67.00
55.0kg
8th
3. ON THE ROCKS (NZ) 5yo G


ALAMOSA (NZ) - COLD SHOULDER (NZ)

M MCNAB
MICHAEL MORONEY & PAM GERARD
$10.00
58.0kg
9th
13. DARK PRINCESS (NZ) 6yo M


CAPE BLANCO (IRE) - GAME DUCHESS (AUS)

MICHAEL COLEMAN
JEFF LYNDS
$51.00
54.0kg
10th
11. SON OF MAHER (AUS) 7yo G


AL MAHER (AUS) - DANCE HIT (NZ)

SAM WEATHERLEY
MICHAEL & MATTHEW PITMAN
$51.00
55.0kg
11th
7. VERNANME (NZ) 4yo H


O'REILLY (NZ) - BOHEMIAN BLUES (NZ)

DANIELLE JOHNSON
STEPHEN MARSH
$17.00
55.5kg
12th
8. VIGOR WINNER (AUS) 4yo G


DECLARATION OF WAR (USA) - SAVONT (AUS)

LEITH INNES
LAUREN BRENNAN
$8.50
55.5kg
13th
12. HYPNOS (NZ) 4yo G


RELIABLE MAN (GB) - QUALITY DREAM (AUS)

VIN COLGAN
ROGER JAMES & ROBERT WELLWOOD
$26.00
55.0kg
14th
14. SECRET ALLURE (NZ) 4yo M


ZACINTO (GB) - SECRET SCENT (NZ)

R J MYERS
MS L LATTA
$26.00
54.0kg
15th
15. LIVIN' ON A PRAYER (NZ) 6yo M


REDWOOD (GB) - IT'S MY SIN (AUS)

LISA ALLPRESS
VANESSA HILLIS
$61.00
53.0kg