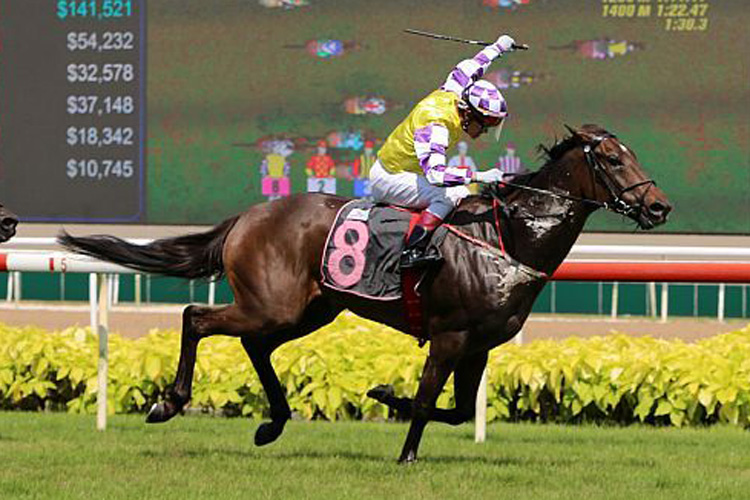 Such were the options trainer Mark Walker had to consider for his gun miler in the first weeks of February.
Distance-wise, the Chairman's Trophy – which is due next Saturday on February 15 - made for a stronger case, especially if extrapolated as a natural progression to his closing fourth to Bold Thruster after surviving a bumpy ride at his racing comeback in the Group 3 Fortune Bowl (1400m) a fortnight ago.
But the Weight-for-Age conditions of the Chairman's Trophy did not appeal, and that eventually swayed Walker towards Sunday's "softer option". He has also thrown in Yulong Edition and Viviano in the mix but there are no prizes for guessing who will be the three-time Singapore champion trainer's flagship.
After reeling off a four-in-a-row last year, Sacred Croix might not have quite delivered at the elite level, but he was seldom disgraced.
The Savabeel five-year-old contested his last 2019 race in the Group 1 Dester Singapore Gold Cup (2000m) in November, losing no admirers with a fighting fifth place to Mr Clint.
The Fortune Bowl first-up run was everything Walker would have wished for as a race to pick up where he left off.
"I didn't think Sacred Croix is quite ready as a weight-for-age horse. That race next week didn't suit, maybe he'd be a chance for WFA one day, but not just yet," said Walker who will be on hand at the Racing Appreciation Awards night at Zouk, Clarke Quay on Thursday to receive his third champion trainer trophy (2019) after the ones won in 2015 and 2017.
"I was also not so sure about the mile second-up. He might need a couple of races and that was why I went with the softer option this Sunday."
On the other end, Walker has not lost sight on another Group race which might be more up the alley of the Raffles Racing Stable-owned gelding.
"I think the (Group 3) Moonbeam Vase (1600m on May 1) will be much better for him," said the New Zealander.
"It's a set-weight race with penalty and he will get in at a better weight."
While Walker would be surprised if his two other runners fight out the finish, he is not ruling out anything.
"Yulong Edition (x Makfi) is coming back from a nice break. The 1400m is too short for him," he said of the winner of the Singapore Gold Cup "consolation stakes" on the same day.
"But sometimes, stayers do sprint well fresh. He's a horse who always jumps out nicely and puts himself in a good position.
"A lot will, however, depend on his barrier manners as he can be a funny horse. If he behaves well, you wouldn't want to give him too much away on the Long Course E, but I'd still be surprised if he wins first-up.
"As for Viviano (x Keeper), he is an older horse now (eight years old) and had fetlock surgery last year.
"I think it will take him three runs for him to gradually get back to his race fitness. As for any old horse, it's wear and tear and you just have to look after them."
Walker has kept regular partner Benny Woodworth on Sacred Croix while Yulong Edition will be reunited with his last-start winning partner, three-kilo claimer Mohammad Nizar and Viviano the old timer with eight wins to his name, has been handed to lightweight jockey Ryan Munger given his handicap of 52kgs.