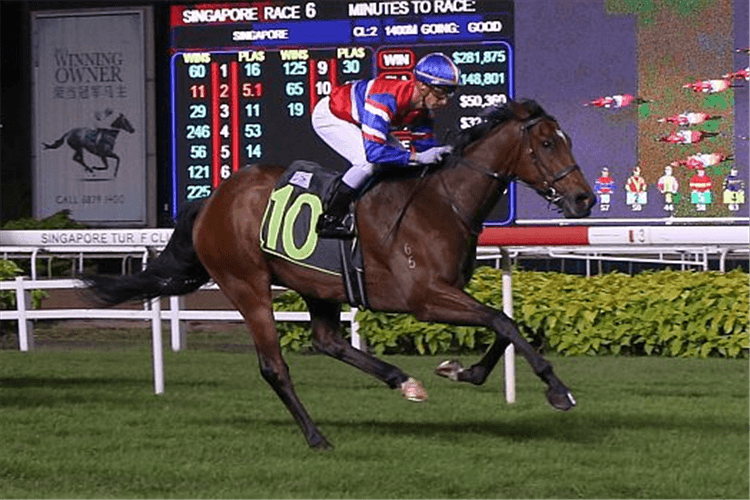 The Thai-owned Echoes Of Heaven four-year-old is well known for having a motor, lately evidenced at his two-in-a-row in Class 3 and Class 4 company at the end of last year, but that pulsating sixth win coming from near-last on Friday was as compelling a finish you would ever see at Kranji.
Among the tail-enders from the start, Siam Blue Vanda ($65), who had Daniel Moor up for the first time, looked to be idling around, but before you knew it, he had manoeuvred his way in between runners without spending a penny, to suddenly sit within striking distance at the point of the turn.
Upfront, favourite Altair (Benny Woodworth) was running on fumes after working overtime to come across from his awkward alley. The Shane Baertschiger duo Passport To Rome (Shafrizal Saleh) and Be Bee (Matthew Kellady) were the first ones to descend on the scene, but they were left rooted to the spot when Siam Blue Vanda came with his barnstorming run on the outside.
As Siam Blue Vanda went through his gears almost on auto-pilot, Moor just had to keep the machine pointed in the right direction as they coasted to the line towards a soft win, one and three-quarter length clear of Passport To Rome with Be Bee third another three-quarter length away.
Altair weakened out but was able to hang on for fourth place another nose away. The winning time was 1min 22.57secs for the 1400m on the Long Course.
Winning trainer Michael Clements was suitably impressed with such a brilliant display from his charge, especially as his lack of industry on the training tracks does not leave much to the imagination.
"His last runs at his last prep, his last wins were also super impressive," said the Zimbabwean native.
"He had a break and a nice freshen-up and he really looked great in the paddock. He looked great all week.
"It's hard to get a line on him as he doesn't show much in his work, but he certainly ran very well tonight. The pace wasn't that strong and he had to come from a long way back."
The Singapore Four-Year-Old Challenge which kicks off with the Group 3 Silver Bowl (1400m) on February 29 is on the agenda for the Pupetch Racing Stable-owned gelding, with Clements not against the idea of going the whole hog to the Group 1 Singapore Derby (1800m) on April 18.
"He didn't quite get his act together in the 3YO series, but we've always rated him highly. He's by Echoes Of Heaven like Countofmontecristo, so the further he goes, the better he should get," he said.
"There's no reason why he wouldn't get any further."
While almost all of Kranji was raving about Siam Blue Vanda's blinding run, to Moor, it was more the end of a long drought that mattered when he crossed the line first. In a season that had spluttered along thus far, 31 rides had gone by without saluting before Siam Blue Vanda came along.
The Australian lightweight jockey, who finished ninth on 24 winners last year, also had someone else in mind as he weighed back in – his ailing father, former jockey Brendan Moor.
"I hope this is a nice tonic for my dad. He loves watching my races back home, and he told me 'son, you're not doing anything wrong, you just need to get on a good horse'," said Moor.
"He's not having it easy at the moment, and it's also been a difficult time for me. Opportunities have not been at an all-time high, but it's not all about me.
"The two Michaels (Clements and assistant-trainer Michael White) had a lot of confidence in the horse even if he can be rather plain and dull in his trackwork.
"When they steadied up the pace, we got shuffled back, but we got it right again around the bend. I was quite taken aback by the way he went through his gears.
"I think riding him cold the way I did tonight also helped him. This horse will go towards bigger and better things."
Siam Blue Vanda has now amassed more than $270,000 in prizemoney for the Pupetch Racing Stable from his record of six wins and one third from 13 starts.