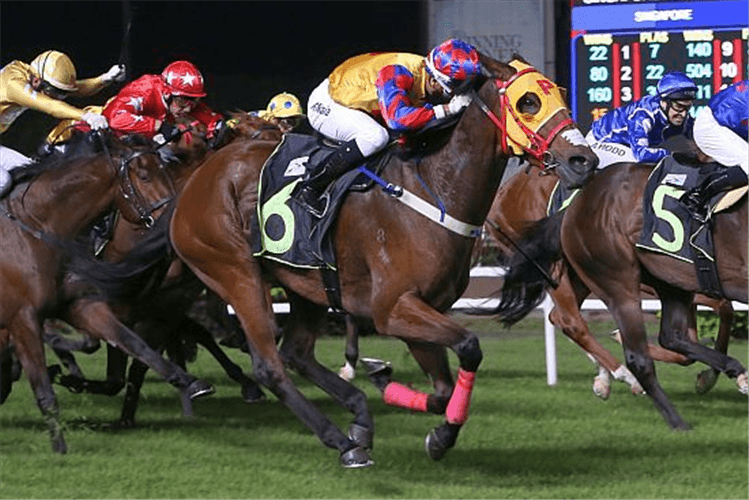 Such has been the story of Khoo's ordinary start to the 2020 season – an ageing yard with new blood not exactly forthcoming, but the former Bukit Timah jockey could wear a smile on his dial after Yaya Papaya dealt a late blow in the $50,000 Class 4 race over 1600m to hit the ground running.
Of the 27 trainers at Kranji, Khoo, Saimee Jumaat and newbie Tim Fitzsimmons were the only three not to have yet tasted success this year, with Khoo's record arguably the least flattering – 45 starters for only four placings while Saimee and Fitzsimmons had saddled only around 20 runners between them.
But Khoo had a spring back in his step after Brazilian jockey Ruan Maia coaxed Yaya Papaya ($32) to a head-win in a Class 4 field comprising some well-spruiked sorts like Field Marshal (Michael Rodd), Global Kid (John Powell) and Mr Alejandro (Vlad Duric).
Field Marshal ($15 favourite) had every chance after rolling up to sit handy behind Mr Alejandro, but stayed one-paced came crunch time.
It was in the end Thunder (Daniel Moor) who literally nearly stole the thunder until Yaya Papaya responded to Maia's forceful riding to get up by a head. Field Marshal ran third another three-parts of a length away.
The winning time was 1min 36.38secs for the 1600m on the Long Course.
"This has been one of my worst starts, it's been very frustrating. I normally have my first winner in January," said a relieved Khoo whose last win was Joyful Aspiration on December 1.
"There is no real reason to that, other than I have quite a lot of old horses. I need new blood and currently, I have only one three-year-old, Avocado (x Pins) who should have his first race very soon.
"I have around four more new horses, mainly two-year-olds, but they will need a bit more time. Look, the old guard is still doing okay, like Yaya Papaya tonight.
"I was actually quite confident he would run well tonight, even if the field was quite strong. The Long Course helped as he's the sort who takes time to reach top gear.
"I think he also won thanks to the jockey. He can be quite a hard horse to ride but Maia gave him a great ride.
"Maia was a good rider in Macau and I saw him ride here, I like his style and booked him early for that ride."
The former two-time Macau champion jockey said he had never sat on the Nadeem five-year-old until Friday night, but realised luck had to be taken out of the equation from the wide barrier by riding him forward early and extracting every drop of petrol in the tank inside the last 200m.
"I'm very grateful to the trainer for the support. He is a nice horse," said Maia who was at a riding double after having opened proceedings in the $30,000 Class 5 race over 1600m with Champagne Finale ($62) for Donna Logan.
"I've never ridden him before, and he felt a bit lazy. I was pushing hard from the last 600m, but he was not quickening as I wanted.
"But I kept trying my best and when I changed my whip to the left hand, he finished very good, thank God."
Yaya Papaya has now taken his record to four wins and nine placings from 34 starts for stakes earnings around the $240,000 mark for the Happy Stable.