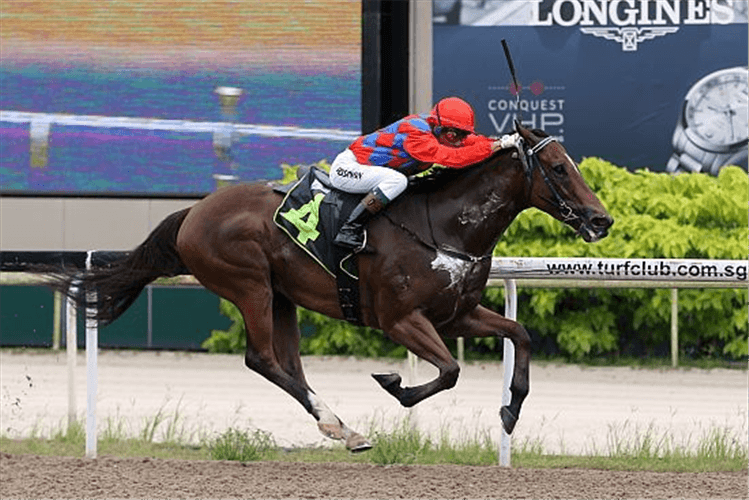 The Young Keah Yong-trained Dream Ahead four-year-old is known to possess stacks of ability, but his hard-going style can work against him at times.
Lee Freedman's apprentice jockey Iskandar Rosman may not be the most experienced rider around, but having won on My Dreamliner once (three starts back in a Class 4 race over 1100m), he was able to put in another accomplished display.
Not many would have backed his chances halfway through the speed scamper, though. It's no secret My Dreamliner is more effective when up there with the pace, but some might have thought Iskandar had overdone it with his obstinateness in leading despite a wide path from the awkward alley.
The equally quick Red Rover (Nizar Mohammad) and Lonhro Gold (Michael Rodd) would not yield an inch on the inside, but neither would the Malaysian three-kilo claimer who kept pressing forward three wide punching the breeze.
Most horses are softened up by such tactics, but it soon became clear they have not been counterproductive to My Dreamliner 's chances this time around. If anything, Iskandar had actually done the right thing by refraining from breaking his mount's stride.
As the bold bay was taken hard up against the rails inside the last 400m, he suddenly opened up a gap of two lengths on the chasing pack, showing no signs of letting up the closer he got to the winning post.
The dreaded lactic acid did eventually kick in, but luckily for his $26 backers, the bird had already flown. The fast-finishing Fulife King (Juan Paul van der Merwe) cut the margin down to only 1 ½ lengths in the end with Red Rover third another three-quarter length away.
The winning time was 58.93secs for the 1000m on the Polytrack. My Dreamliner has now amassed more than $190,000 in prizemoney for his owner Tang Weng Fei from that fifth win from eight starts.
Young had the countenance of a trainer who was no doubt delighted that the best horse in his stable had brought the bacon home again, but also wished he was a bit more bombproof.
"He ran good at his last start but went down to a very good horse (Excelling)," said the Singaporean handler.
"I was worried about the draw, especially as there were speedy horses on the inside, but he was equal to the task.
"I'll probably look for a better race over 1200m for him. We still can't settle him, though, and I will see how he improves in his trackwork, hopefully he settles better."
Iskandar was a happy young man at the winner's circle. Sidelined through a fractured ankle after a race fall in August, the Malaysian rider only returned to race-riding this year.
By coincidence, his last winner was also for Young, Super Smart on August 2, which was to freeze his hitherto excellent win-counter prematurely at 10 for 2019.
After 12 rides, mostly for Freedman, this year, the 25-year-old was finally rediscovering the sweet taste of success – his 14th overall, with the grin widening further when he was ushered to the presentation dais for the trophy ceremony – a bonus the local boys always lap up and look forward to adding to their scrapbook.
"This horse won four times before. So, I knew he was good and last time he was beaten by Excelling, who is a very good horse," said Iskandar, who is better known in racing circles as Syafiq.
"He was drawn wide, and I tried to lead, but my horse couldn't go forward. He was caught three wide but I tried to save some energy and do my best.
"I was a bit worried, but when I asked him to go at the top of the straight, he still had a lot left in the tank.
"A big thank you to Benny Woodworth and CC (Chin Chuen) Wong who know this horse, they taught me how to ride him. I also get a lot of help from Matt Pumpa (Singapore Turf Club riding master), Michael Rodd and Vlad Duric, they tell me what mistakes I make and correct me."