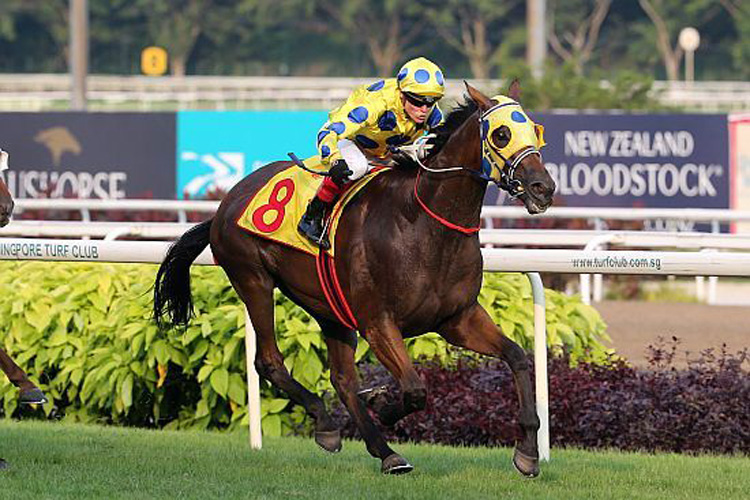 Mr Clint outstayed his rivals in the November 2000m showpiece thanks in a large part to a smart Craig Williams ride which went against his usual get-back racing pattern when they started to improve three wide midrace.
The Chairman's Trophy marks the start of a new campaign which will no doubt have back-to-back Singapore Gold Cups as the main objective in the backdrop for the Power five-year-old.
Trainer Lee Freedman is also running stablemates Sun Marshal and Loyalty Man (returning from Sunday's fourth to Aramaayo in the Class 2 race over 1400m) in the smallish 10-horse field, but the level of optimism is clearly in Mr Clint's corner.
"Mr Clint is in very good form. I'd be delighted with a bit of rain and there was some cut in the ground," said the Australian trainer.
"As we already know, Pat Moloney will be riding him. He's been riding him in work and his trials.
"Sun Marshal is at about the same fitness level as Mr Clint. They were away for the same time and they've had about the same amount of work, both had two trials.
"Loyalty Man is backing up from Sunday's race. He's now seven and has been running at the top of his mark.
"The mile is not a problem as he's won over 1700m at Flemington, we'll see how he goes. It's a small field and all three are fit and well."
Freedman has booked jockeys Ruan Maia and John Powell on Singapore Derby (1800m) winner Sun Marshal and Loyalty Man respectively while the back-from-suspension Moloney gets to partner Mr Clint for the first time.
"I've been trialling him and riding him in most of his track gallops. His two trials were excellent and he was laid back in his trackwork," said the Australian jockey.
"He's in good form and has had a lovely preparation. He's a happy horse and I wouldn't trade him for anything in the race."
Returning from a three-day suspension for careless riding this Saturday, Moloney has yet to ride a winner at his one-year Singapore stint. He did boot home four winners at two shorter stints at Kranji last year, including Mr Malek for Freedman and Mr Clint's owner, Oscar Racing Stable.
The winner of three Group 2 races in Australia has done his homework on Mr Clint, the least he could do in readiness for a first overseas Group 2 hurrah.
"The 1600m is a trip over which he's run some of his best races," said Moloney of the Singapore Guineas winner as a three-year-old.
"He's a horse who can hold his spot, not saying that I will ride him for a spot. I can ride him conservative, he won't be too far behind."
Moloney is not banking on just Mr Clint to get his 2020 season underway. He is also pairing up with another smart customer in useful mare Gingerella in the $100,000 Kranji Stakes A race over 1200m.
"I'm also excited to be riding Gingerella back over 1200m," he said.
"I think the 1400m (of the Group 3 Fortune Bowl) found her out last time. She is a mare who makes her own luck in the running.
"A good barrier would suit, but at the same time, she offsets her barriers pretty good. It's not too big a handicap.
"Still, I think the barrier draws will be crucial in determining where we will end up in the race, but I'm sure she'll be somewhere in the firing line."
The Michael Clements-trained Gingerbread Man five-year-old has won half of her races at Kranji – four from eight – and over distances ranging from 1000m to 1200m.
At her first attempt over 1400m in the Fortune Bowl at her last start, she was ridden forward from a wide alley, weakening to eighth place around five lengths off stablemate Bold Thruster. She was reported to have returned lame on the off-fore.