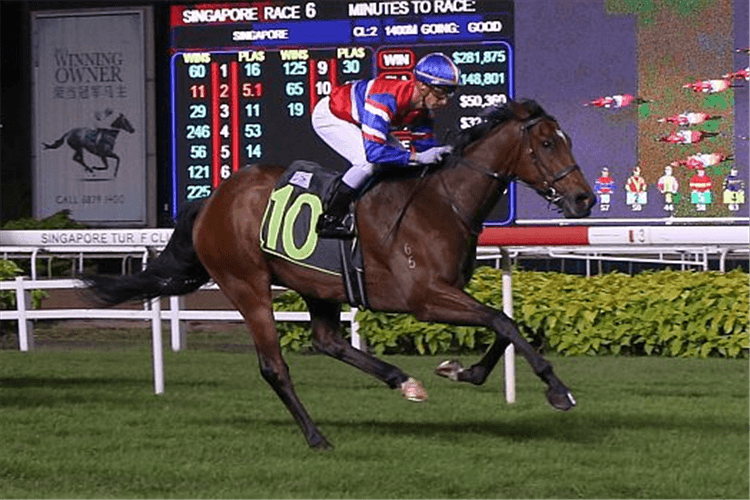 The Kranji-based Victorian jockey received the confirmation from Morphettville trainer Gordon Richards on Thursday morning.
Going with Bold Star's eye-catching second to Anaheed – the Oakleigh Plate second favourite - in the Group 2 Rubiton Stakes, also over 1100m at Caulfield, at his last start on February 8, Moor thought he'd be a worthwhile ride to take, especially in a race he has come close a couple of times.
The last three of Bold Star's seven wins coming in metropolitan Melbourne, including the Listed Kensington Stakes (1000m) on January 18, not to mention a second place in the Group 3 Standish Handicap (1200m), also made for handy stats.
"My manager David Barry rang up today to tell me I'm confirmed to ride Bold Star," said Moor.
"Dave works hard and is always looking at races for me back home, especially those where I can get in at a light weight. There were a couple of options in the Oakleigh, and in the end, Dave told me Bold Star was the best of them.
"We went hammer and tongs, and I'm glad it's all worked out. I've maybe ridden a couple of times for Gordon when I rode in Adelaide, but no, I've never really ridden for him.
"Bold Star is a nice progressive sort who has in 12 months risen from maiden to 94 ratings points. He ran second to the second favourite in Caulfield a couple of weeks ago.
"Craig Williams rode him then, but is committed to another ride in the Oakleigh, so I now take the ride. I should be able to take another ride or two on the undercard, I've already touched base with Danny O'Brien."
Plying his trade in Singapore since 2018 (had a short stint in 2017), the lightweight jockey is not averse to hit-and-run Saturday raids back home, but the red-eye flights are less appealing.
The Oakleigh Stakes, however, didn't clash timing-wise. There are no Kranji race meetings held on either Saturday or Sunday that weekend, which means Moor won't be missing any meeting.
He will still ride at the Friday night meeting on February 21 and fly out after his last booking. Unlike many Australian jockeys who had to squeeze in a tight schedule between meetings in two countries in the past, Moor, a winner of 47 races at Kranji and who only opened his 2020 account last Friday aboard Siam Blue Vanda , won't have to rush back for this particular gig.
"I will catch a flight at midnight after my last ride on Friday," he said.
"I rode back home last year, but that was during the Christmas break, and I was supposed to ride Self Sense in last year's Caulfield Cup until they decided to drop out, but this is my first time flying out for rides at just the one meeting.
"I'll get to stay a bit longer as there are no races in Singapore. I'll get to see my father, who as you know, is not in the best of health.
"I've ridden a few times in the Oakleigh Plate. I finished third to Weekend Hussler on a horse called Tramuntana a long time ago (2008) and then finished second with Under The Louvre (in 2015).
"I can only hope for better luck this time."