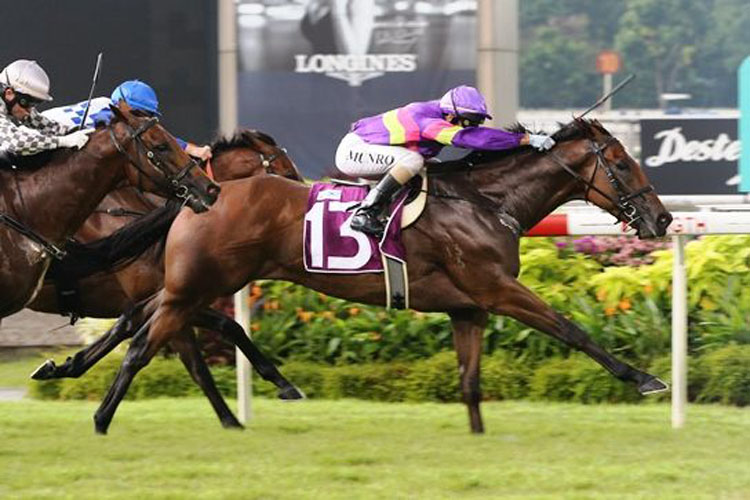 The French jockey has never been shy about stating out loud his bold ambitions even after landing at Kranji a virtual unknown in August.
One of the pathways to such lofty heights is silverware, but as much as Beuzelin is fully aware of that and is excited about his first real domestic Group opportunity on board likely favourite Countofmontecristo for Michael Clements in the $400,000 Group 2 Chairman's Trophy (1600m) this Saturday, he is more anxious about another personal agenda – steering clear of the Stewards' room.
A former star apprentice jockey in UK with fellow Barbadian and legendary trainer Sir Michael Stoute, Beuzelin has not done too badly with 14 winners in 99 rides last year, and two more winners in only 14 rides this year, but to be fair, he could have done a lot better had he not missed most of the last three months of Kranji action through four careless riding suspensions meted out in the space of two months – equivalent to 13 race meetings cooling his heels.
He returned from the latest enforced holiday (four days) last Sunday. Beuzelin is aware the 'inquiry room season pass' joke has begun to do the rounds, but to him, it's no laughing matter.
Such tags are hard to shed and certainly won't help his cause in reaching the top, let alone getting a licence renewal if the trend is not bucked. There is also another shorter-term reason for not incurring the wrath of officialdom this weekend, which seems to even outstrip that first live Group win chance.
"Of course, it would be great if I could win my first Group race this Saturday, but to be honest, my biggest goal this week is not to get rubbed out," said Beuzelin.
"I don't want to miss the ride on Bold Thruster in the Group 3 race (Silver Bowl over 1400m) in two weeks' time. Vlad (Duric) is riding (stablemate) Top Knight, and I was given the ride on Bold Thruster.
"He won over 1400m at his last start (Fortune Bowl), and I think the 1400m is to me his max, but he's a very good horse, and he has a very good chance in the first Leg (of the Singapore Four-Year-Old Challenge)."
Bold Thruster might be the ride Beuzelin is more excited about, but he is certainly not losing sight of Countofmontecristo potentially turning first Group 2 provider – and a symbolic game changer for him.
"I won a Group 1 in India, the Bangalore Derby (with Agostini in 2014), and I was runner-up (Mango Tango) in a Group 2 in France (in 2016), the Prix de Pomone," he said.
"I haven't really had many opportunities to ride in feature races here other than Quarter Back (sixth) in the Group 2 EW Barker Trophy last year.
"This is what it is all about, winning Group races. That's what I came here for, I'm here for the long term, but unfortunately, I was suspended too many times.
"That didn't help, both in building up the support and momentum, and financially. I was basically jobless for two months and that's tough.
"I was a clean jockey back home, and I don't want to give myself a bad name here. I'm a competitive jockey, but I have to adapt to the system and the way the Stipes run the place as I want to stay in for the long haul.
"I think Countofmontecristo has a good chance to give me my first Group win here in Singapore. The 1400m (of Fortune Bowl) was too short for him at his last start, and he needed that run, but he still ran very well (third to Bold Thruster).
"It won't be an easy race with horses like Mr Clint and King Louis, but he's in superb form, has drawn one, which will give him all the options, and he's very professional. Horses like that simplify our job.
"I have ridden him in trackwork for more than a week, just canter, but not in his gallops. I'm discovering him, but I don't need to gallop him, I know what he's got under the bonnet."
Many hoops could vouch for that, even if their time getting to know the Echoes Of Heaven six-year-old was ephemeral. Beuzelin is the 15th jockey to jump in the pigskin in 28 starts, with only four (Glen Boss, Mohd Zaki, Alan Munro and Daniel Moor) to have succeeded on eight occasions, but that Gallic je ne sais quoi laced with that Caribbean blend of nonchalance and positivism never deserts him.
"(Owner) Joe Singh gave me the ride. I'm aware many jockeys have ridden Countofmontecristo, but that's cool," he said.
"This is a great opportunity and I am hoping to stay on after that race."
Simply put, just like he knows 'keeping 'em straight' keeps him out of the Stewards' room, he also knows there is only one currency for such job security in horse racing - a win.