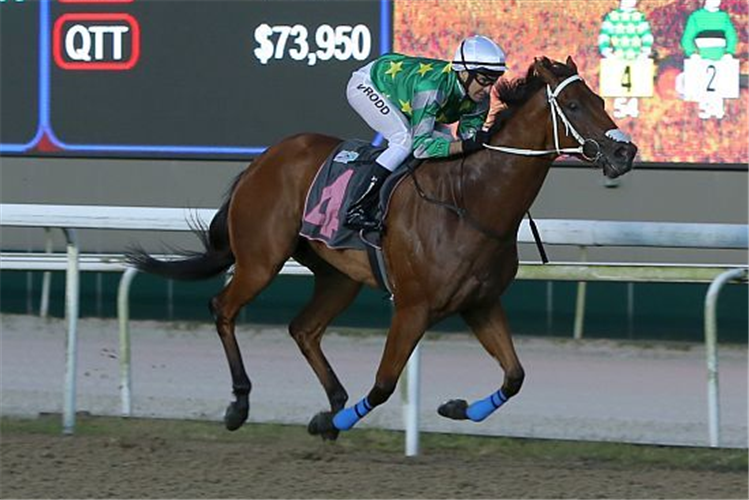 Whether the son of Swiss Ace will make it first past the winning post is another story altogether, but just to see the Australian-bred's name on the starting line-up of the second Leg of the Singapore Four-Year-Old Challenge was a victory in itself.
At his debut in a Class 4 race over 1100m on February 28, a convincing win under Michael Rodd had connections eyeing off 4YO races as he came back to scales.
The first Leg, the Group 3 Silver Bowl (1200m), was out as it was run on the next day, but the second Leg, three weeks from then, was still on the cards for the one-from-one New Zealand winner (Avondale over 1200m on a heavy track).
But given Hurrian's rushed prep following his late arrival in October, Lim felt he needed one more run in between. As he had pulled up in good order, the first full-season trainer and his assistant-trainer Richard Lim decided to back him up the next week in a Class 4 race over 1400m.
Besides, after accruing seven points to 67 from the debut win, Hurrian still needed a few more points to be in the safe qualifying zone.
Hurrian was a winner everywhere except at the winning post, bloused out by a gutsy Ironclad in the last stride, arguably undone late by that testing first-up run.
Regardless, a packed scheduled of two close runs one week apart, followed by two weeks heading up to a Group 2 race is certainly not the most conventional pathway to follow, but Lim still went ahead with his Stewards' Cup plans with Hurrian, even if his ratings had stayed on the fringe at 67.
Lim was not surprised when he was given EA4 (fourth Emergency Acceptor) status by the handicapper, but against all odds, after a few dropouts got out of the race, Hurrian had a berth.
Lim could rejoice, but mostly from a participation standpoint. Yes, he had a ticket, but up against the best four-year-olds in the land, like the seasoned Top Knight and Siam Blue Vanda, or the up-and-coming Aramaayo and Pax Animi, the confidence level was not exactly sky-high.
"He was only the EA4. He got in after three of them were scratched," said Lim.
"A horses turns four years old only once, so we thought we'd have a go. Let's see how he runs.
"He's pulled up well and has put on some weight. Everything has gone well even if we had to rush him.
"He hasn't drawn well in nine, but he will go forward. Over the mile, he'll have a lot of time to work across along the long backstraight.
"Hopefully, he can get a soft lead, but in saying all that, I still think it'll be a big test for him. I'm not very confident, to be honest.
"He's done nothing wrong in two starts, but I still don't know if he will go far here.
"That race on Friday will tell us exactly where he fits in here."
Lim has booked a new partner in John Powell for Hurrian.