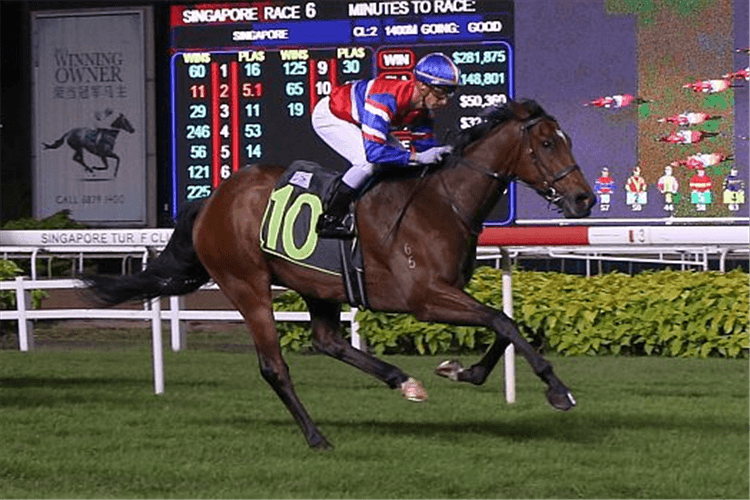 Moor is booked on Siam Blue Vanda while the three-time Singapore champion jockey sticks with Top Knight in the second Leg of the Singapore Four-Year-Old Challenge. Clements' other runners are Real Success (Alysha Collett), On Line (Ruan Maia) and Vittoria Perfetta (Louis-Philippe Beuzelin).
In the first Leg, the Group 3 Silver Bowl (1400m) on February 29, Top Knight loomed like a real favourite at the top of the straight, but could not peg back his stablemate Bold Thruster while Siam Blue Vanda, with Moor astride, rushed from further astern for the Clements trifecta another 1 ½ lengths away.
Real Success, whose main target has always been the third Leg, the Group 1 Singapore Derby (1800m), ran on late for seventh while the other two will kick off their four-year-old campaign in the Stewards' Cup.
Of course, this year's renewal is by no means an all-Clements affair as other valuable contenders like Pax Animi, Churchill or River Radiance can certainly upstage that hegemony, but Moor clearly doesn't see Siam Blue Vanda as just a second-stringer heading for the minors.
The lightweight Australian jockey first got on the son of Echoes Of Heaven at his first-up 2020 run in a Class 2 race over 1400m when he rang up the last of his six wins in spectacular come-from-behind style.
The win was incidentally Moor's first in a season which has struggled to take off thus far. Besides Siam Blue Vanda, the Warrnambool boy has ridden only another winner, Buuraq on February 29.
"He skipped away slowly at his last start. I was hoping he'd be in front of Top Knight in the run, but he got further back than we thought," said Moor.
"He's looking for a bit further. At this trip, I'd like to be closer to the run, not that I'd be too concerned if he wasn't.
"First-up, he showed a terrific turn of foot. He's a horse who just needs to be ridden where he is comfortable.
"Top Knight deserves respect as all his runs have been excellent. He was brilliant even without winning as he had to overcome difficulties.
"But at this point in time, I would not be swapping my ride with anyone else. The grand final is still the Derby, he's never gone over 1800m, but neither most of the other four-year-olds (except for Real Success and On Line).
"He's come back more mature and if ridden a little quieter, the 1800m should be no problem for him."
Moor will also be the jockey in the hot seat one race earlier when he takes the plum ride on another promising "Siam", but with no Thai connections as the Pupetch Racing Stable that races Siam Blue Vanda - sprinter Siam Warrior in the $85,000 Speedy Cat 2013 Stakes, a Class 2 race over 1400m.
Rising in grade, the Exceed And Excel five-year-old, who is owned by the Middle Kingdom Stable of Singaporean owner Jayven See, is coming off a hot streak of three wins (last one coming in Class 3 company) in a row, with regular partner Duric having to sidestep the ride due to the 53.5kgs handicap.
"He's a progressive horse that has drawn good in two. I'm rapt to ride this good horse for James Peters," he said.
"He's going the right way, there are no tricks about him, he is pretty bombproof as he always take a spot in his races. This is a step-up in class, but he has the weight advantage.
"I've never ridden him in a race, only in trackwork, but I've always kept a good eye on him."