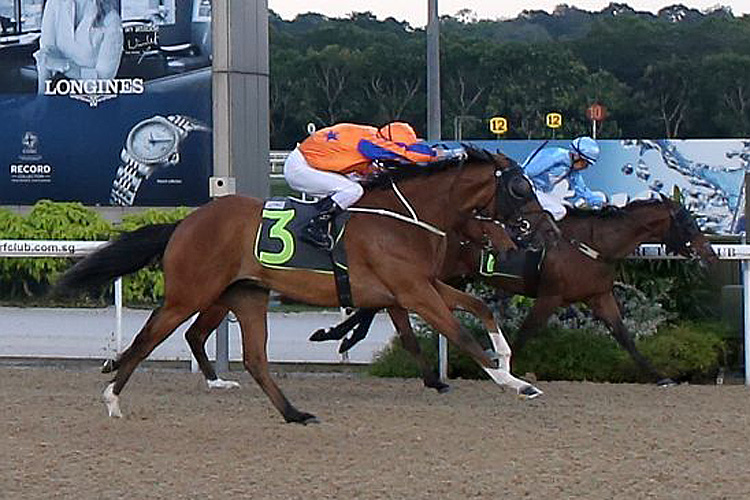 The Darci Brahma four-year-old's previous runs would not really have warranted such lofty dreams, albeit luck was not on his side.
But at his last start on a yielding track in a Class 4 race over 1400m on March 7, he came from near-last under Walker's apprentice jockey Hakim Kamaruddin to round up a handy field with a devastating turn of foot.
Two days later, the Kiwi handler entered him in the Stewards' Cup (1600m), which will be run this Friday.
The $400,000 Group 2 race is the second Leg of the Singapore Four-Year-Old Challenge of which the Group 1 Singapore Derby (1800m) is the third and final Leg on April 18.
Walker initially had a decent team of 4YO contenders in the mix this year, but Axel may well be his only bullet left.
The three-time Singapore champion trainer won the Stewards' Cup (then the first Leg over 1400m) and Group 1 Charity Bowl (one-off second Leg over 1600m) with Elite Invincible in 2018, but has not captured the Singapore Derby yet, with Elite Invincible's second to Jupiter Gold in 2018 the closest he came to.
"Altair didn't do well in the Silver Bowl, but I think he's just a pure sprinter. The 1400m was too far for him," he said.
"I also entered Federation in the Stewards' Cup, but he pulled up with a cracked heel after his last race on Friday. He's gone for a spell.
"I still have Alex left. On his last start, he was worth a shot, even if he's been dropping away before.
"You turn four only once and it was more a throw at the stumps as it's a huge step-up, but he's a consistent horse. It's just that he's been unlucky at his last runs.
"I think he has a small chance if it rains. The wet track got him going at his last start."
Walker has booked South African jockey Juan Paul van der Merwe on the Te Akau Racing Stable-owned gelding.
As for the Singapore Derby, he would rather see Axel's run in the Stewards' Cup first before making any decision. While he is not really holding his breath, neither is he ruling it out completely.
"We'll see about the Derby. If he gets a wet track, who knows?" said Walker.