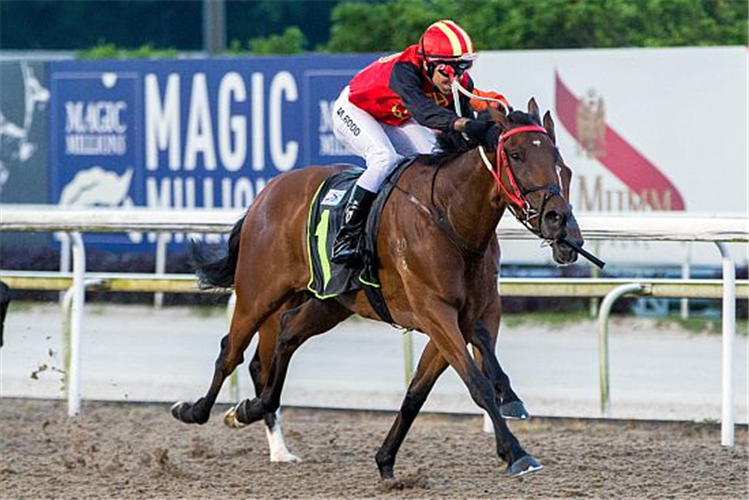 The Godolphin-trained Malaysian handler had always held the son of Declaration Of War in high opinion as a two-year-old last year, but the penny didn't quite drop in three runs, even if his seventh place less than four lengths off the unbeatable Inferno in the Group 2 Aushorse Golden Horseshoe (1200m) in July was not without merit.
A gelding operation didn't quite yield the expected improvement at his new three-year-old campaign. Inferno again showed him a clean set of wheels in the Group 3 Saas Fee Stakes (1200m), but he finished even further down the course this time.
It was back to the drawing board for Titanium Racing Stable's Jeffrey Soh's galloper. Tan tweaked a few more things around, and there was a glimmer of hope he was finally making some headway when he ran second first-up to Superlative in a Restricted Maiden race over 1200m on January 12.F
Tan struggled to find a race for him thereafter, hence the prolonged time without racing, until Friday's $75,000 Restricted Maiden race over 1200m came up.
The two winning manoeuvres bore the hallmark of first-time partner Michael Rodd.
First, the Australian jockey dragged him from a bunched-up field to tuck him onto the fence behind favourite Kharisma (John Powell) after the start. And when he popped him off the fence at the 550m to collar race-leader Fort Mustang (Louis-Philippe Beuzelin) three wide around the home turn, one second later could have proved costly.
While Kharisma took the shortcuts home along the rails, War Frontier ($31) was already launched down the middle of the track for a well-timed run to the line where he gamely held a one-length margin on Kharisma.
Achieved More (A'Isisuhairi Kasim) made a late charge to finish third another 1 ¼ lengths away. The winning time was 1min 12.21secs for the 1200m on the Polytrack.
"He has definitely matured from two to three. We made a few changes to him after his last run last year," said Tan.
"He responded well to the changes. Physically, he's stronger, he's come back a different horse.
"We gelded him after his two-year-old campaign, not that he was coltish. Let's just say he was growing in the wrong places.
"Physically, he's not very big, but he's very well put together. He looks like he's grown half a hand and is much stronger in front, and the farriers have also done a good job on his feet.
"I always thought he was above average. When he ran second first-up, John (Sundradas) told me he hit the front too soon.
"I gave him a short break. He was supposed to run in a Class 4 race over 1400m two weeks ago, but he was balloted out.
"Well done to the boys for keeping him ticking over without overdoing things, especially his regular track rider Mutaza Salleh.
"Michael gave him a patient ride tonight. That move at the 500m was the winning move."
The Australian rider could not agree more, even if the way the race panned out brought an element of luck to the charmed run.
"The inside runners were really quick and I decided to duck back on the rails and that was how I got behind Kharisma who drew barrier one," said Rodd.
"Downhill, I was able to negotiate a run around, and all the runs came up. I was lucky I had a soft run in the first half and he showed a good turn of foot in the second half."
After a flying start with a double on New Year's Day, including the Group 3 New Year Cup (1200m) with Nowyousee (his only other runner for the night later in the Class 1 sprint), the season cooled off dramatically for Tan before Tavito snapped the run of outs on March 20.
With a score of four winners, the son of former Penang trainer Dr Tan Swee Hock can breathe a bit better, especially in those challenging times when racing and the rest of the world has been brought down on its knees by the COVID-19 pandemic.
"It's good to get a winner for the whole team, especially in those difficult times," he said.
That maiden win has bumped War Frontier's stakes past the $50,000 mark for the Titanium Racing Stable.