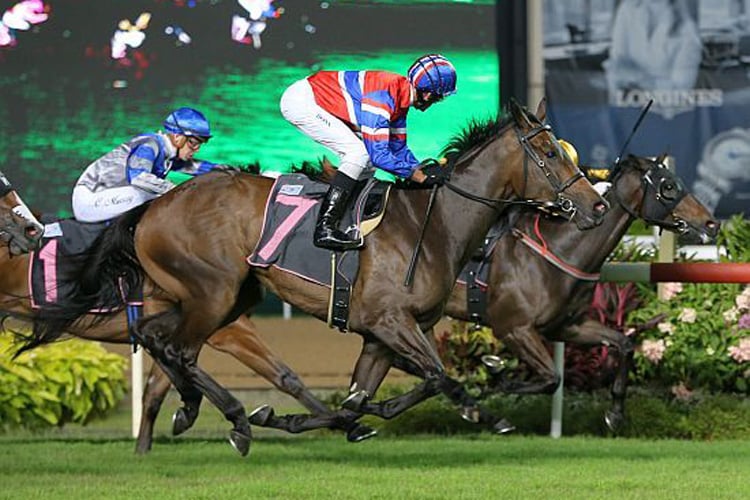 "She's had soundness issues we've been working on. She had surgery to the knee after her last start," said Clements.
That day (October 20), she bounced back from a previous flop on Polytrack to look all over the winner until Salamence swept by to deny her of a fourth win by a short head.
"She then went into a rehab programme and has come back in training. A lot of hard work had to be put in to get her where she is today," said Clements.
"She had a longer recovery time than planned because of the COVID-19 break, but the extra three months certainly didn't do her any harm."
The Pupetch Racing Stable-owned Bernardini four-year-old has had two barrier trials under her belt since the racecourse was reopened to fast work during the Phase Two of the Circuit Breaker in June. She was actually gearing up for her racing comeback with two similar trials back in March, but they amounted to nothing after racing was called off on April 7.
"I was pretty happy with her two trials. She's far better on the turf, but we had to start somewhere," said Clements.
"She will get back on the turf in August."
Clements, who cemented his lead on the Singapore trainer's premiership with a training double courtesy of Countofmontecristo and El Primero at the resumption of racing on July 11, aims to keep up the momentum with a team of 13 runners, including five on standby, at the second meeting next Sunday week.
One runner who will draw his fair share of attention is his debut winner Knight Love, who will be bidding for a second win from as many starts in the $50,000 Class 4 Division 2 race over 1200m.
The US-bred three-year-old by Shanghai Bobby careered away to an emphatic all-the-way win at his first Kranji assignment in a Restricted Maiden race over 1200m on turf on Valentine's Day.
Though relatively inexperienced, Knight Love has been fast-tracked on an ambitious path already, with the Singapore Classic (1400m) on August 30 and Singapore Guineas (1600m) on September 26 set as possible targets.
"We're looking at the Classic and Guineas for Knight Love, along with Big Hearted – they are the two main hopes," said Clements.
"The Guineas is open to Northern Hemisphere-bred three-year-olds, which means Knight Love qualifies and Southern Hemisphere-bred four-year-olds, which means Big Hearted gets in as well.
"The break has done him a world of good. He has strengthened up, he's really sharp and bright."
Traditionally the third Leg of the Singapore Three-Year-Old Challenge, the Group 1 Singapore Guineas is as the name of the series indicates, open to only that age group, from either hemispheres, but with the racing calendar being turned upside down by COVID-19, some modifications to the conditions were brought about with the Southern Hemisphere-bred horses' birthday of August 1 fast approaching with little leeway to squeeze in such age-group feature races.
Jockey Louis-Philippe Beuzelin (he also rides Siam Vipasiri), Clements' anointed No 1 jockey for a while now, is booked on Knight Love, but interestingly, has also been handed the happy headache of picking Big Hearted, who had hitherto been champion jockey Vlad Duric's automatic ride.
The new pairing winning a barrier trial on Tuesday, while Duric was aboard the Cliff Brown-trained Don De La Vega (who ran last), was a dead-set giveaway.
"Vlad had already told us he would be riding Inferno in those races. He can't possibly ride two horses," said Clements.
"We're happy to have Louis on Big Hearted, but it all depends on who he chooses in the end, as we have Knight Love and some other three-year-olds."
One race the French jockey won't be stuck in a dilemma over is the $75,000 Restricted Maiden Division 1 race over 1200m on July 26. Newcomer Heartening Flyer is Clements' only entry in that event.
From the way the Tivic Stable-owned Excelebration three-year-old comfortably took out his barrier trial on Tuesday, it's safe to say Beuzelin wouldn't swap that ride with anything else.
"Heartening Flyer is a late three-year-old who will have his first start," said Clements.
"He had some back issues in New Zealand before coming here. Fortunately, he's over that now.
"He was impressive in his trial and I'm happy with his prep and gallops going into this race. We'll see what happens."
Meanwhile, the Zimbabwean-born handler had good follow-up news on his stable star Countofmontecristo after his rousing first-up win in the Class 1 race over 1200m on July 11.
"Count has pulled up really well. He had a tough run but he has come through better than expected," he said.
The Echoes Of Heaven six-year-old is being targeted at the Group 1 Kranji Mile (1600m) on August 16, but is likely to have one more lead-up run until then.