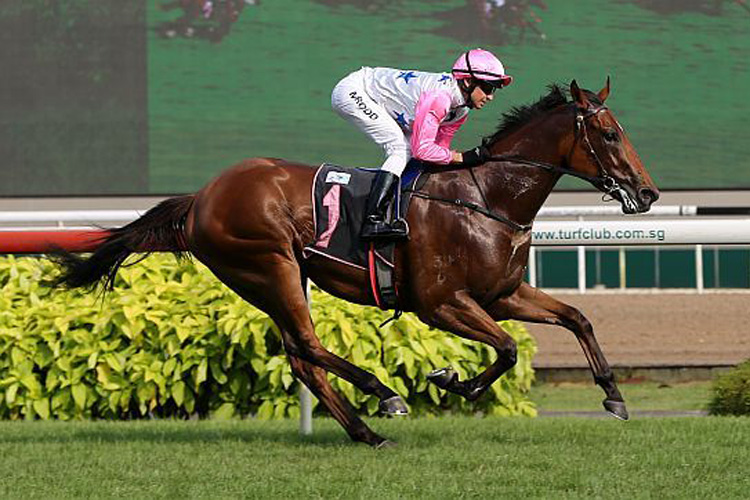 While the Australian was a freelancer like all the expatriate riders at Kranji, he had for five years been giving first priority to Brown's rides, as long as weight permits.
Rodd was for all intents and purposes Brown's stable jockey, having become an essential cog in the wheel who was right behind many of their success stories, none more iconic than Debt Collector.
From Rodd's haul of 341 winners at Kranji, 134 of them hailed from Brown, starting from Media Captain on January 23, 2015 all the way to Threeandfourpence on February 28, 2020, with 13 of those wins coming at Group level (including six at Group 1 level), eight of which bore the indelible mark of 2016 Singapore Horse of the Year Debt Collector.
The 2016 Singapore Horse of the Year won five Group 1 races for the Brown-Rodd duo, while the sixth one was supplied by the late Gilt Complex in their most prestigious triumph together, the Dester Singapore Gold Cup in 2017.
With a record of 542 winners, Brown's strike rate with Rodd also makes for compelling reading, even if the former Victorian-based handler plied his trade at Kranji by another seven years longer given he started in 2008. The 134 winners together means one in every four Brown winners had Rodd in the saddle.
When racing shut down at Kranji in April at the height of the COVID-19 pandemic, Rodd, along with Patrick Moloney and Alysha Collett, flew back home to carry on riding.
Opinions diverged as to their chances of making their way back, given the closure of borders not looking to be lifted anytime soon. In the end, as feared by most, it turned out to be a one-way ticket after the trio relinquished their Singapore Turf Club licences this week.
Brown for one had already been looking for alternative options, more so after it was announced racing would resume on July 11.
He may not have yet got on the scoresheet from five runners at the comeback meeting, even if he came close with two seconds and one third, but the post-Rodd era has well and truly begun.
Champion jockey Vlad Duric, who has ridden stacks of winners for Brown, South African lightweight jockey Juan Paul van der Merwe, Brazilian Ruan Maia are among those who have shared the first rides, but Brown said his door is wide open.
"Michael was a huge part of our success, but above all, he was a terrific bloke to work with," said Brown.
"He's very easy to work with and was such a huge asset to the stable. He was a really good bloke and it won't be easy to replace him.
"But we have to move on, and while we've been using Vlad, Harry (A'Isisuhairi Kasim), Maia and JP, we're open to any jockey we feel is suitable and available."
One of the highest-profile rides that would have caused a long queue to form in front of his barn is Inferno.
Duric was the one to land the plum job on last year's Singapore juvenile champion. With the son of Holy Roman Emperor's unbeaten run of five wins, which was only ended at his last start in a Class 3 race when second to Siam Warrior, all under Rodd's guidance, it's a hard act to follow, but Duric is not three-time Singapore champion jockey by chance.
"Vlad is Inferno's new partner. He rode him in a trial yesterday and I was very happy with that," said Brown in reference to the Barree Stable-owned galloper's easy fifth to Tesoro Privado in a barrier trial on Thursday.
"He's pulled up well and will run in another trial in another 10 days. He's running in a Class 3 race over 1200m on turf on August 8.
"There are no set targets for him, we'll just get through the first obstacle and then look around what's available."
Meanwhile, Brown will be hoping to open his post-Circuit Breaker account with a team of eight runners on July 26, headed by the duo of Zac Kasa and Constant Justice in the $85,000 Class 2 speed dash over 1100m.
"Zac Kasa and Constant Justice also trialled yesterday and they're both well," said Brown.
"Zac Kasa (x Reset) was edgy in the gates, as he can be, and we have learned to accept that as part of his make-up. He went slow but I was happy with the way he finished off (closing sixth to Surpass Natural).
"He's going okay, he ran well at his last start (close second to My Dreamliner, also entered in the same race). Simon Kok (Wei Hoong) will ride him, that will take two kilos off his 58kgs.
"Constant Justice is going all right, too. We just need to find a race for him; we'll see how he goes."
The Lucky Stable-owned Magnus seven-year-old has yet to salute in four starts since moving to Brown from the Mohd Yusof stable where he won seven races, including the Group 3 New Year Cup (1200m) last year.
Brown also saddles another gun three-year-old in three-time winner (1100m to 1200m) Bluestone, who runs in the $70,000 Class 3 Division 2 race over 1200m, and a newcomer, a UK three-time winner (all over 1400m), Governor Of Punjab in the $50,000 Class 4 Division 1 race over 1200m.
"Bluestone trialled very well (sixth to Super Invincible with Maia up), he's also in good shape. He handles both surfaces well," said Brown.
"The new horse will run in a 1200m race. He was a bit slow and we still have to learn a bit more about him.
"The owner Rod Ferguson is an Australian who raced him with Mark Johnston in England. He just decided to send the horse to me."
A three-year-old by Footstepsinthesand, Governor Of Punjab was put through his paces in a quiet barrier trial last Tuesday week. Duric was up and will also be on board at his Kranji debut.