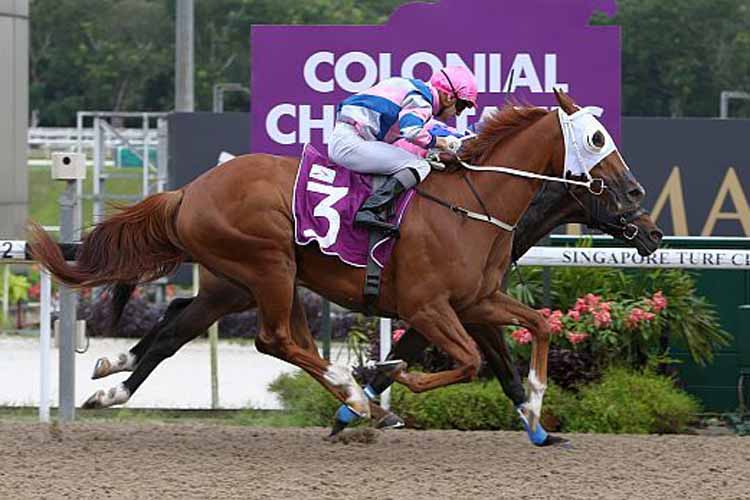 The Steve Levar-owned filly scored an impressive win on debut in a Class 4 race over 1200m on Polytrack on April 3. It was the last race before Singapore racing went into hibernation for three months because of COVID-19.
Not the ideal scenario for a horse who had been primed to the minute to peak at the right time, but Le Grange, like everybody else, didn't have much of a choice.
Truth be told, the Rubick three-year-old probably didn't mind the holiday, but here she is ready to do battle again this Sunday in the $50,000 Class 4 Division 2 race over 1200m.
Besides sticking to the same type of race, Le Grange is also maintaining the same riding partnership with champion jockey Vlad Duric back aboard.
"She lived up to our expectations on debut," said the South African handler.
"Obviously, we couldn't foresee what would happen after that, but these were the cards we were dealt, and we had to start from scratch.
"We've kept her going as best as we can, and I have to say that she's done really well during the break. She's only a three-year-old filly and I'm sure she still has plenty of scope.
"Hopefully, her class will let her do her thing on Sunday."
Sweet Angeline has drawn awkwardly in 13 (likely to drop to 11 with the two standby starters scratched), but she also jumped from a wide alley on debut, pressing on three wide down the back under Duric's positive riding to go and score a brave win in the end.
Another Levar – who now races under the TRC Stable banner – galloper taking to the track for Le Grange on Sunday is the much-vaunted Churchill, a horse that was considered a Singapore Derby hopeful, and still is.
After winning at Class 4 level second-up, the Smart Missile four-year-old finished out of the placings behind Siam Blue Vanda in the Group 2 Stewards' Cup (1600m), the second Leg of the Singapore Four-Year-Old Challenge, of which the Group 1 Singapore Derby (1800m) is the grand final.
While a bit of reshuffling became necessary in the racing calendar in the wake of the pandemic chaos, the Derby is one of the feature races that have survived. Originally brought forward by three months to April 18, which didn't really suit Churchill then, the Derby will now be run on September 6.
"He had a rushed prep to run in the Derby, but then the race wasn't run because of the break," said Le Grange.
"I've taken my time with him and I think he has really benefitted from the break. I couldn't be happier with his two trial wins this prep.
"We'll see how he goes this Sunday, but I would say the Derby is still on target for him."
Le Grange also saddles stable stalwart Pennywise on Sunday. The Argentinian-bred Polytrack specialist is running in the $85,000 Class 2 race over 1100m on his pet surface.
On his two barrier trial wins, there is every indication the eight-time winner, including a Group 3 win in last year's Colonial Chief Stakes (1600m), can bounce back to his best. At his last start in the Group 3 Fortune Bowl (1400m) on January 26, the son of Pure Prize loomed at the 300m but stayed one-paced in the end.
"I'm very happy with Pennywise. He's in really good form, and his two barrier trial wins were pretty smart," said Le Grange.
"My only reservation is the 1100m first-up. I would have preferred to put him in a 1200m race, but it wasn't available, there was the Class 1 race on July 11, but he would probably not have got a spot.
"Depending on how he goes, he may then have a crack at the Merlion Trophy."
The Group 2 Polytrack race over 1200m is due in a month's time on August 23.
Duric is also booked on Churchill and Pennywise. The Australian ace was aboard at Churchill's only win and he was the one who steered Pennywise to his Colonial Chief Stakes victory last December.