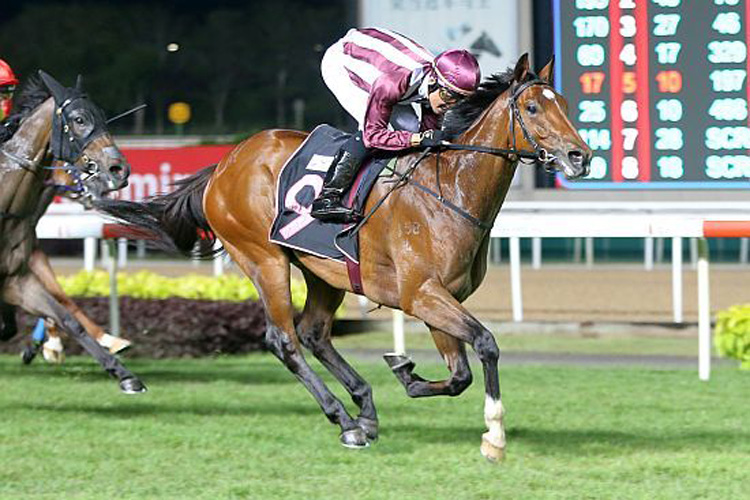 Diamond Mine and Super Speed won't reach any dizzy heights at Kranji, but both of their wins at the second meeting of the post-Circuit Breaker three-month suspension on Sunday were worth their weight of gold for Burridge.
The Australian horseman does not helm the same big team of horses that propelled him to his Singapore champion trainer title in 2010, but he still regularly churns out winners from his downsized string of 35 horses.
While the quantity is not there this Sunday, he is banking on a bit of quality in his four runners to keep up the head of steam brought by Diamond Mine (x Gingerbread Man) and Super Speed's (x Wanted) wins.
"The two horses won well and were well ridden by Simon (Kok Wei Hoong)," said Burridge, who climbed into the Top 10 in ninth place thanks to his brace.
"We took a punt with Diamond Mine on the Polytrack. We didn't know how he would handle it.
"But as there weren't any grass race, we had to find out, and it turned out he handled it very well.
"Super Speed had an epiglottic entrapment and couldn't breathe properly. We took care of that and he got the job done, but in a slow time.
"He did what was asked of him and we can't complain. It was good for the owners."
The MMW Stable, whose face is amiable part-owner Miller Wun, will recombine with Burridge for another shot this Sunday, but Glasgow, who was once their pin-up horse, is not quite the same force he used to be.
The three-time winner (1400m to 1600m) by Not A Single Doubt is entered in the $70,000 Class 3 Division 1 race over 1400m on turf.
"Glasgow has lost his way since he ran the Derby. He didn't measure up," said Burridge.
"He hasn't won a race since the last (Class 3 race over 1400m) he won with Barend Vorster (May 5, 2019). He ran well in the first two Legs (Singapore Four-Year-Old Challenge) but the Derby was probably not to his liking.
"He had a break and will be racing first-up, we'll see how he goes. Harry (A'Isisuhairi Kasim) will ride him."
Glasgow will not be alone in the race. New stablemate Mat Smart, a former three-time winner in Malaysia, will make his Kranji debut in the same race.
Known as Giovanni Racer in Perth, the Gingerbread Man four-year-old raced six times there for one third, but has been an instant hit in Malaysia where he was prepared by Teh Ming Wan, scoring on debut in Ipoh in a Maiden race over 1400m before adding two more wins in Kuala Lumpur (1600m and 1400m). He was partnered at all three wins by Mauritian jockey Jagadishian 'Yoven' Daniel.
It is Noh Senari who will take the ride this Sunday, but Burridge would rather see how he goes in a race to suss him out better.
"He's just a stayer, and may not measure to this, but we had to start him off," said Burridge.
"We may look at the Derby for him. So far, it's hard to get a guide on him as he's an average worker.
"The owner is Joe Singh (of Countofmontecristo fame). Joe has a small share in Adipson, but this is the first horse he fully owns he has sent to me."
Previously meant to be run on April 18, the Group 1 Singapore Derby (1800m) is now rescheduled to September 6.
As it turned out, Adipson, a four-year-old by So You Think managed by Burridge's wife Julie in the J Racing Bloodstock No 2 Stable, is also a Derby hopeful and resumes in a similar Class 3 race over 1400m, but in the Division 2 segment.
"Adipson is not a star worker, but I'm happy enough with his work," said Burridge.
"He's not a sprinter, but he'll measure up. He ran okay in the (Group 2) Stewards' Cup (1600m) but he wants more ground.
"We're aiming him for the Derby, but he will have to race twice before that. There is a Class 3 race over 1600m in three weeks' time (August 16) that I have found for him."
Kok takes the ride on the three-time winner (1400m to 1600m) and will also team up with Chalaza for his boss in the $50,000 Class 4 Division 3 race (1200m), arguably Burridge's best chance of improving his score from his quartet of runners this Sunday.
The rising eight by Road To Rock ran a bottler with Kok up at his last start on Singapore racing's day of resumption on July 11. Posted three deep without cover throughout a Class 4 race over 1200m, Chalaza finished the next best after the much superior Rocket Star.
"Chalaza is a consistent horse and he ran good first-up. The winner was too good," said Burridge.
"He's a sound and honest horse, and I expect him to run well this Sunday."