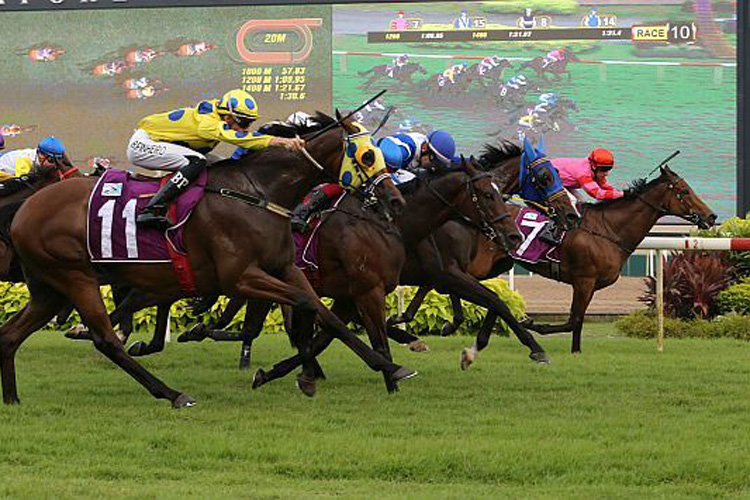 Trainer Hideyuki Takaoka has not nominated the Japanese mare for the glamour race because he felt the feature mile race would come up too quickly, even after it was put off from May in the wake of the COVID-19 three-month shutdown.
In this ad hoc version on August 16, the Kranji Mile is downgraded from International Group 3 to domestic Group 1 status due to the logistic nightmare of shipping horses in with borders closed around the world.
Makanani underwent knee chip surgery after her last run in November's Group 1 Dester Singapore Gold Cup (2000m) in which she finished at the rear and returned lame.
If not for the setback, the six-year-old daughter of Black Tide would probably have been a Kranji Mile contender, but the extended time on the sidelines snuffed out any hopes.
The 1400m of Sunday's $100,000 Class 1 race might not be her favourite trip, but the Japanese handler had to eventually restart the seven-time winner raced by one of his biggest owners, the Big Valley Stable.
"She ran badly in the Gold Cup, but it's only the next day that she became lame," said Takaoka.
"We sent her for X-rays and we found out she had chips in both knees. She went for surgery a few days later.
"She was getting ready for her comeback but then the virus came and racing stopped. She had another three months, even if they did help her get fitter.
"I haven't rushed her. I've given her all her time as we didn't know when racing would restart again, anyway.
"But when we found out the Kranji Mile would be in August, I thought we wouldn't have enough time to get her ready.
"I didn't put her name in at either the first (April 8) or second nomination (extended until July 15). She's probably only 75% fit and that first race will bring her on.
"Her main targets remain the same big races she went for last year."
Takaoka was referring to the Singapore Triple Crown series comprising the Group 1 Raffles Cup (1600m) which she captured in a thriller last year, the Group 1 Queen Elizabeth II Cup (1800m) and the Singapore Gold Cup.
Makanani was put through one barrier trial (July 14) in which she ran fourth to Entertainer after circling the field from the back under regular partner Marc Lerner.
"We gave her a quiet trial. She ran well, but she looked a bit tired in the last 100m," said Takaoka.
"I think it should be enough for her to be race-ready, though. Marc galloped her yesterday and she went well."
Lerner agreed with Takaoka that Sunday's race will be more like a springboard to her 2020 campaign.
"We had to start her sooner or later. She is well, her trial was good, even if you can't really assess her on that as it was against some moderate horses," said the French jockey, who forged a strong association with Takaoka last year, combining for 19 wins together.
"Sometimes, racing fitness has nothing to do with morning trackwork. A race will bring them on better, look what Mr Clint did first-up for example.
"This is only the first race towards bigger races for her further down the road."
While Lerner has already struck twice at the new season relaunch – first two races at the first meeting on July 11, Lim's Shot and The Brotherhood for Jerome Tan – Takaoka is still at the starting blocks.
On five winners before the lockdown, he sat in 17th spot from 27 trainers on the Kranji log, but has now slipped further down to 19th spot.
However, the experienced mentor has over the years built a reputation of ending his seasons with a flourish.
"I don't have many big chances this weekend but my horses are well," said the four-time Singapore Gold Cup winner.
"I think Quadcopter (x Zoustar) has a good chance. I haven't seen the field ($50,000 Class 4 Division 1 race over 1200m), but he's been working very well.
"Star Jack will wear blinkers for the first time (in the Class 3 Division 1 race over 1400m). He worked well with them and seems to have improved.
"It was Ryo (Hatano), my assistant-trainer, who recommended we put blinkers on him. Let's see how he goes."
The Jungle Pocket six-year-old was always a spot-friendly horse for racecallers with his signature yellow hood (earmuffs) and black winkers. The gear sparked off his first win in a Kranji Stakes C race over 1800m in June 2018 at his fifth start, doubling the dose at his next race (Kranji Stakes B over 2000m) before he had to wait for another nine starts to salute again in a Class 3 race over 2000m last August.
Lerner, who is aboard both Star Jack and Quadcopter, said they are in the mould of those typical Takaoka late bloomers.
"Star Jack trialled well. I think he was a bit jarred up at the end of his prep, but he was very generous in that trial, he did everything I asked of him," he said.
"Quadcopter is consistent in his grade, but he's a bit tricky in the gates. Let's hope he jumps well.
"I think Takaoka's horses in general need more ground, like Makanani and Star Jack. They will hit their straps as the distances increase towards the end of the season."