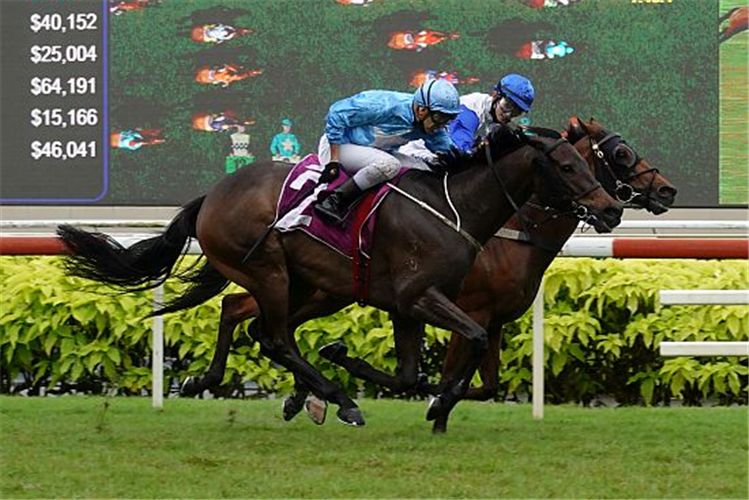 Indeed, this year's unorthodox renewal of the famed series was hogged by three different Clements winners – Bold Thruster, Siam Blue Vanda, and Top Knight - and interestingly, with three different jockeys and owners!
And even more intriguingly, the last horse to win the 4YO Triple Crown back in 2009, Jolie's Shinju, was actually trained by Clements first before she moved to Hideyuki Takaoka!
The Zimbabwean-born trainer admitted he had not noticed about his "rojak" (Malay for mixture) Triple Crown until Monday morning when one of his staff brought it up, which immediately brought back the memories of a similar milestone at his old hunting ground.
"In Zimbabwe in 1997, I trained a three-year-old Triple Crown winner called Summer Silence," he recalled.
"So, to have done it again in Singapore in the form of training the winners of all three Legs of the Singapore Four-Year-Old Triple Crown is a great achievement.
"I am thankful for the support from all the three different owners of Bold Thruster, Siam Blue Vanda and Top Knight.
"I look forward to the rest of our racing season with these horses, and to also securing further top performing horses for them in the future."
The Tivic Stable-owned Bold Thruster with Louis-Philippe Beuzelin up took out the first Leg, the Group 3 Silver Bowl (1400m) in February. Three weeks later, the second Leg, the Group 2 Stewards' Cup (1600m) was also Clements' thanks to Siam Blue Vanda, raced by the Thai-owned Pupetch Racing Stable with A'Isisuhairi Kasim in the irons.
With Top Knight a closing-in runner-up in both Legs for the other big Thai owners, the Falcon Racing Stable, the son of Zoustar was widely expected to start as favourite in the last and most prestigious Leg, the Group 1 Singapore Derby (1800m) three weeks away.
But a global pandemic upset the applecart, pushing the Derby back by five months.
However, such is Clements' potency and consistency in such age series, he was right on target even after the protracted delay. He brilliantly kept Top Knight ticking over during the break, and after two prep runs, the gelding was brought to peak fitness right on Day 1 on Saturday, with three-time Singapore champion jockey Vlad Duric executing the last task.
Jolie's Shinju remains the only horse to have won the Singapore Four-Year-Old Triple Crown, albeit in a different format from today's. In those days, the Stewards' Cup, then run over 1400m, kicked off proceedings as the first Leg, followed by the Group 2 Singapore Derby Trial (1800m) and the Emirates Singapore Derby then run over 2000m.
Clements could have been part of Singapore racing history earlier had he still been the trainer of the Dr Tan Kai Chah-owned Jolie's Shinju. Last year, he also came within a whisker of a three-from-three in the Singapore Three-Year-Old Challenge, with Top Knight winning all but the Singapore Three-Year-Old Sprint, beaten a short head in second place by Bold Thruster (who had not joined Clements yet – another amazing coincidence!).
"I was actually the one who bought Jolie's Shinju in Japan for Dr Tan," said Clements.
"I trained her to three wins. I trained quite a few horses for Dr Tan, and then he decided to spread them around.
"It's interesting that she remains the only horse to have won the 4YO Triple Crown. She was a great mare.
"But winning all three Legs with different horses is also massive. Top Knight came close to giving me a clean sweep in the 3YO series, but it's okay, he's now given me my first Singapore Derby.
"I've had one third (Striking Diamond in 2002) and two fourths (Alibi in 2017 and Only Win in 2018) in the Derby, and it's great I've finally got one.
"Top Knight has come through the run in great order. He has been eating well, and was very bright yesterday."