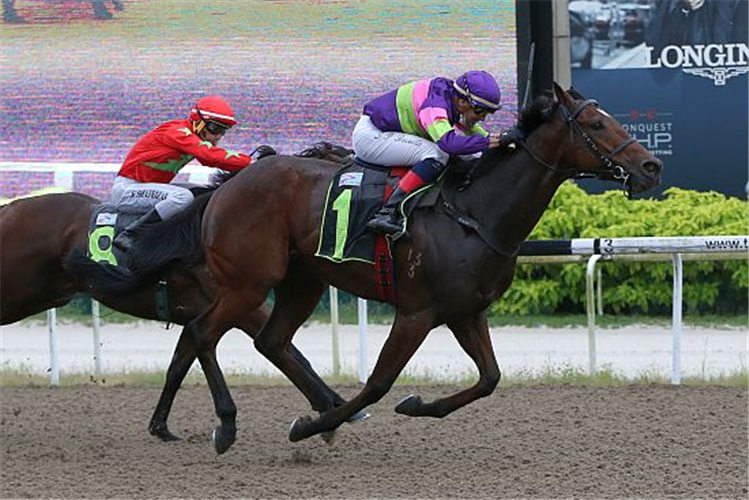 The three-time Singapore champion trainer (2015, 2017 and 2019) signalled his intentions for a fourth hurrah with his usual strong tally of winners despite the interrupted campaign caused by COVID-19 in the second quarter, but a sudden drop in form – firing blanks since September 26 - has seen him slip to second place to trail Michael Clements by seven winners (47 versus 40).
Mathematically, with nine meetings left, the New Zealander can still peg Clements back, but to him, the tipping point may well have already been passed. Walker sounded like he has all but handed the crown to his Zimbabwean-born challenger.
"It's been a funny old season for us with COVID-19 changing everything, whereas Michael has a terrific team of young horses and it's showing in their results," said the master horseman.
"We have older bread and butter horses. Where we used to do well, we've had fewer opportunities to run them and get them back down in their ratings.
"The system just didn't work this year, and we don't have those sorts of young horses that Michael has.
"It may well be his turn this year and good luck to him. On paper, we can still catch him, but put it this way, if there was a market for that, Michael would be $1.10, and Lee Freedman and myself would be $5.
"If it happens for us (champion again), that's great, but I'm definitely not going to lose any sleep over it."
Though Walker has spent the last 10 years in Singapore, he seems to still be entrenched in the odds system prevailing in New Zealand. $1.10 is the minimum dividend for a $1 bet and would be the equivalent of a $5.30 payout for a $5 wager in the local context.
One thing he would not bet against is another honest display from, ironically, one of Clements' former stalwarts, Countofmontecristo in this Saturday's $400,000 Group 1 Queen Elizabeth II Cup (1800m).
The seven-year-old son of Echoes Of Heaven has always oozed class and consistency, be it at his four seasons and 10 wins under Clements' care, or at his two starts for two thirds for Walker.
In the first Leg of the Singapore Triple Crown series, the Group 1 Raffles Cup (1600m), he loomed like a good thing but plateaued off inside the last furlong to be beaten only a quarter-length by Aramaayo, coming up short once again in a Group 1 feature, the one feather missing to his cap of big-race wins (three Group 2s and two Group 3s).
To Walker, the Joe Singh-owned galloper is racing at the peak of his powers and will definitely have a strong say on Saturday, but in a situation echoing his a little, finding the line just seems a touch harder these days.
"The horse is in great order. He actually came to us in great order, we just had to maintain him in the same shape," said Walker, who has not opened his feature race account this year while Clements has snared five of the 11 on offer, including the Group 1 Singapore Derby with Top Knight, one of the QEII Cup contenders.
"He ran a terrific race at his last start, he wasn't far away, but the trouble with Countofmontecristo and these horses who have been here a long time, it's getting more and more difficult to beat those younger horses.
"A horse like Aramaayo has half the number of starts, half the mileage on the clock, but Countofmontecristo is such an honest horse that he can still steal one race, who knows."
Just like for the Raffles Cup, Countofmontecristo was put through a grass gallop on the Tuesday before the big event. Regular partner Louis-Philippe Beuzelin sat atop for the casual spin, but will have to sit out the QEII Cup ride after he failed in his appeal against a three-meeting suspension for careless riding a few hours after the hitout.
Walker then turned to a jockey who, two years ago, provided him with his first Singapore Gold Cup winner in Elite Invincible in more or less similar impromptu fashion – Benny Woodworth.
"Countofmontecristo worked nicely on the grass yesterday, just like he did before the Raffles Cup. Everything was going good until the rider lost his appeal," said Walker.
"It was my good fortune Benny was available, and I booked him right away. Benny has ridden a lot of winners for us since winning the Gold Cup on Elite Invincible.
"We haven't used him all that much this year because I've been trying to get (our apprentice jockey) Hakim (Kamaruddin) going by getting him the bulk of the rides.
"It's also true we've not had as many runners, and with fewer jockeys around, it's become increasingly harder to book the jockeys we want."
In 34 starts, Woodworth will become the 17th jockey to partner Countofmontecristo, meaning riders have jumped on and off him at every other ride on average.
Only five jockeys have won on him, with last Saturday's Cox Plate-winning jockey Glen Boss (Sir Dragonet gave him his fourth win in the weight-for-age championship) the most successful partner on five wins.