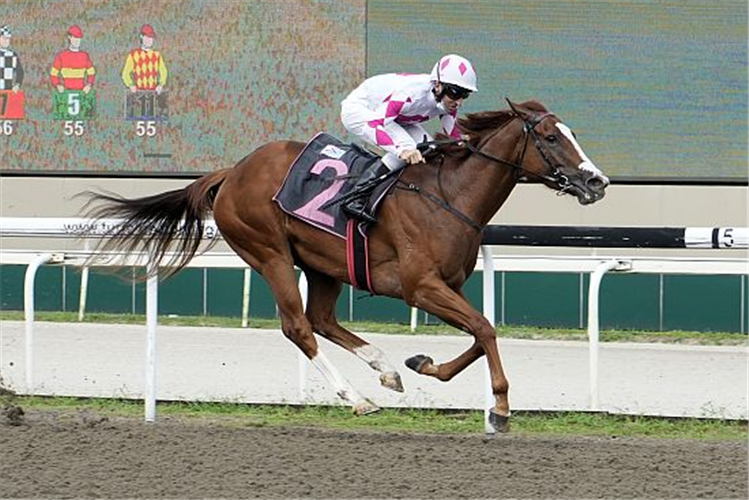 Following her maiden win (on turf) back in December, the Written Tycoon four-year-old was stepped up in grade, but fell a little by the wayside. She was then freshened up, and it would seem the break has done her a power of good.
The chestnut mare had to tough it out from a wide trip for her second win in a similar Class 4 Polytrack race over six furlongs last time out on July 10, but Sunday's slashing victory after she picked her way through an opening added an even more professional dimension to her make-up.
"Danny (Beasley) said to me she showed a bit of courage today when she was asked to go through a gap between two horses," said winning trainer Daniel Meagher.
"There was no issue at all, she just went through, and it was a pretty soft win in the end. I think she has developed into a fun horse to have at the stable.
"I bought her for A$22,500 at the Inglis Digital (online auction) as a two-year-old and AJ (of AJ"s Stable) took over her. Good for AJ as he doesn't have many horses left now.
"He kept this one as she's got a bit of upside, and he's also got Ararat Lady with Timmy (Fitzsimmons) who's, as we know, a very good mare."
The pace was brisk from barrier rise with Boom Shakalaka (Hakim Kamaruddin) and Samurai Express (Iskandar Rosman) locking horns upfront while Lady Sprintbok ($13) settled in their slipstream, a couple of lengths astern.
When Samurai Express faded out, clear room came up on the rails, which Beasley needed no second invitation to capitalise on. Lady Sprintbok lengthened up nicely underneath Boom Shakalaka before darting away to a 1 ½-length win.
Strong N Best (John Sundradas) steamed home late for second place with Hotshots Slam in third place another half-length away. Lady Sprintbok clocked 1min 10.97secs for the 1200m on the Polytrack.
Meagher said that his 19th winner for the season was a bit of a handful at the beginning, but has turned the corner with time and patience.
"She was naughty when she first came, but ex-jockey CS (Chin Seng) Chin rides her every single day, and she has really improved," said the Australian conditioner.
"She doesn't show much in trackwork. She looks like she's just cantering, but she turns it on on raceday."
With three wins and one second under her belt, Lady Sprintbok has now chalked up close to $100,000 in prizemoney for AJ's Stable.