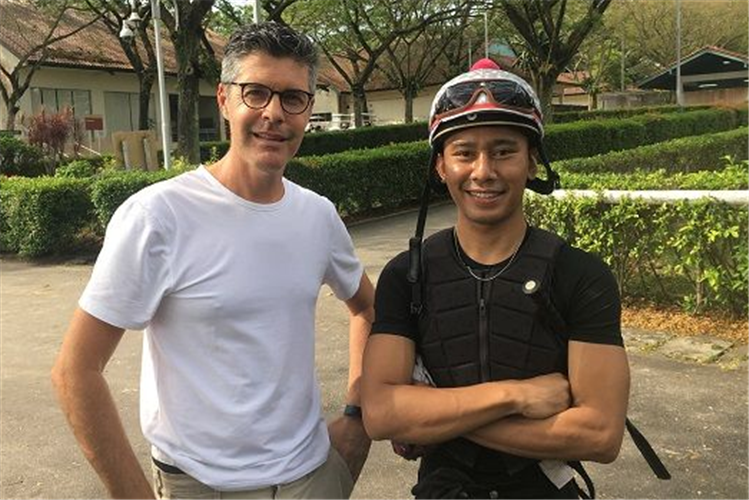 Sure the gifted rider knows they are a far cry from his career-best haul of 34 winners from 219 rides only two years ago for a strike rate of 15.53% which ranked him as the fourth highest on the log, and highest among the locals.
If there was to be a silver lining to his slump since, at least he's been consistent. Last year's COVID-19-plagued season saw him notch eight winners from 96 rides – yes for the mathematical mind, it's exactly the same winning percentage as this year's one in 12.
Mind you, Noh would love to replicate his 2019 annus mirabilis, but the winner of 106 races has taken a reality check and is pretty much done with chasing his own tail.
The pandemic had nothing or little to do with the losing battle, he said. COVID-19 was a universal leveller but Noh would be loath to use it as a sweeping excuse.
It's Noh's well-documented battle of the bulge that has made the heavyweight rider decide not to fight Mother Nature anymore.
Seldom able to take rides below 57kgs and thereabouts, the 29-year-old is content with the average book of two to "three on a good day" he commands these days.
Paradoxically, Noh, once Kranji's enfant terrible who quit racing for three years mainly for a lack of self-discipline, before returning in 2017, still enjoys steady support from a small loyal band of trainers, albeit not necessarily in races, where he has learned to be at peace with his "darn good but too heavy" label.
Whether Noh takes umbrage at the blunt "fit but fat" oxymoron, he doesn't seem to show it. Having a job he can still enjoy despite not being blessed with the natural build to do it is his mantra, kicking goals is a bonus.
"COVID-19 affected everyone, but that's not the real reason why I don't get so many rides these days," said Noh.
"It all started when Saimee (Jumaat), my biggest supporter, stopped training last year. Suddenly, the rides just dried up.
"Doing reservist for two weeks is also a stoppage that takes me away and breaks up the momentum.
"I know I should chase for rides, but I often tell myself there isn't much point since most rides are already planned and booked two to three weeks in advance.
"But I'm lucky I still have a good base of trainers I work with in the morning. I'm honoured to have ridden for Desmond Koh for three years now – I give him feedback on his horses and he listens, he's a cool guy to work for.
"I also ride trackwork for (Tan) Kah Soon and lately, a lot for Ricardo (Le Grange). I'm happy to ride trackwork for them, but as far as race-riding for them goes, there is no obligation because most of the time, their rides are too light for me, anyway.
"I know there isn't much I can do about it. That's the way my body is, even if I work hard to keep my weight as low as I can while staying fit and strong.
"I follow a daily routine: Monday cycling, Tuesday football, Wednesday boxing, Thursday gym and then it's already the races.
"I'm actually in a good headspace right now. Last time, I used to think too much and I would put pressure on myself, but I take things easier now."
Not too long ago, the Le Grange rides were the province of Barend Vorster and Nooresh Juglall, but since the two left Kranji, the South African handler has been spreading his bookings around, but at home, it's Noh his go-to man these days.
"Noh's feedback in the morning is very important and vital to the preparation of my horses. He brings a lot of value to my training programme," said Le Grange.
"He picks up things that I didn't see, and I will try and give him a leg-up where I can. Like Mighty Emperor who has 59kgs in the ($30,000) Class 5 race over 1800m this Saturday.
"It's an advantage to put Noh on as there's no dead weight."
It's the first time Noh pairs up with the nine-year-old veteran of 74 starts for eight wins but he seems to have already worked him out from his morning gallops. Noh said the old stager's spirit is still willing, but that depends on his mood, very much echoing Le Grange's description "he's too smart for himself".
"Mighty Emperor doesn't work like a nine-year-old, he still moves nicely, but he's got a mind of his own," said Noh.
"He's down to Class 5. So he may be in with a chance, but he's also drawn wide (eight after scratchings)."
The son of Kahal was the only South African-bred still racing at Kranji until Michael Clements brought in a son of 2016 South African champion sire Trippi, the Lucky Stable-owned Tangible who is the first standby starter in one race before Mighty Emperor's, the $50,000 Class 4 Division 2 race over 1200m.
Noh takes only two other rides at the all-Polytrack meeting this weekend, Gold Rush for Tan in the $30,000 Class 5 Division 2 race over 1200m and Sky Rocket for Stephen Gray in the day's highlight, the $70,000 Class 3 race over 1600m.
Gold Rush will represent a first combination though he's had a feel of the Jimmy Choux four-year-old maiden in two barrier trials, but Sky Rocket is a horse he hopes can produce a better result than the seventh at their first pairing in a Class 3 race over 1400m three weeks ago.
"The seven furlongs was too short for him last start. This time the mile suits him better, but Polytrack is not really his forte," said Noh whose only 2021 winner thus far is Clarton Treasure for Tan on January 9.
"He's a bit of an aggressive horse. Stephen told me to relax him wherever he is travelling, and he will then give his fullest in the home straight.
"At his last start, he was quite relaxed and did quicken up in the last two furlongs. I hope he can run a good race this Saturday, even if it looks like a tough race."
A five-time winner for his Sabah owner Patrick Lau of 2007 Singapore Gold Cup winner Recast fame, the Darci Brahma seven-year-old was himself regarded as a leading Singapore Gold Cup prospect in 2018, but he's been a bit of a hit-and-miss since.