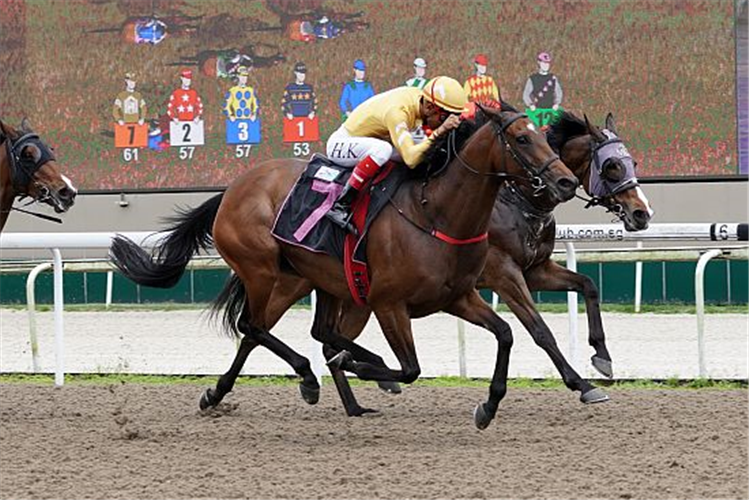 The Clements pair sat in the reverse order in the running with Shepherd's Hymn (Louis-Philippe Beuzelin) dictating and only James Peters' Meryl (Marc Lerner) splitting them when he tucked in between into second spot.
As it turned out, they were the three early protagonists who would not give anyone else a chance to have a say at the business end.
At the 300m mark, Meryl challenged Shepherd's Hymn first, but it was Voluminous ($47) who produced the best finish on the outside, gunning both down to finish in advance of Shepherd's Hymn by half-a-length.
Meryl peaked a little on her run to take third place another 1 ½ lengths away. The winning time was 1min 39.05secs for the 1600m on the all-weather.
A former UK-based mare who came with a record of one win over 2345m, Voluminous (x Nathaniel) is slowly stamping her mark as an up-and-coming stayer at Kranji as well.
"She won over a longer distance in the UK. She's a one-time winner over 12 and she also ran third over more than 3000m (3186m)," said Clements.
"She put in a good run (second over 1700m, beaten by stablemate Iron Ruler) two runs back. I then backed her off and she went no good after that.
"She's freshened up and she's come good today. The plan was to go forward around the first turn and be positive, and Harry did just that when he slotted her into third.
"There is a 1800m race for Class 4 in March, and she may go for that."
Their pairings are sporadic, but A'Isisuhairi was delighted he had reminded Clements of his skills which the Zimbabwean-born handler last used to winning effect on a much more momentous occasion – Siam Blue Vanda in the Group 2 Stewards' Cup (1600m) 11 months ago – March 20, 2020.
"It's good to ride another winner for Mike. Hopefully there will be more to come," said A'Isisuhairi.
"The plan was to roll forward, but if something else is faster, I was happy to take a sit behind the speed.
"Around 600m, she went forward but I took a hold and waited till she saw daylight. I felt she would run on well, but I had to switch my whip to the left hand for her to find another gear.
"She then hit the line very strong."
With that first success, Voluminous sees her stakes earnings almost quadruple up to around the $40,000 mark for the Al Rashid Stable.