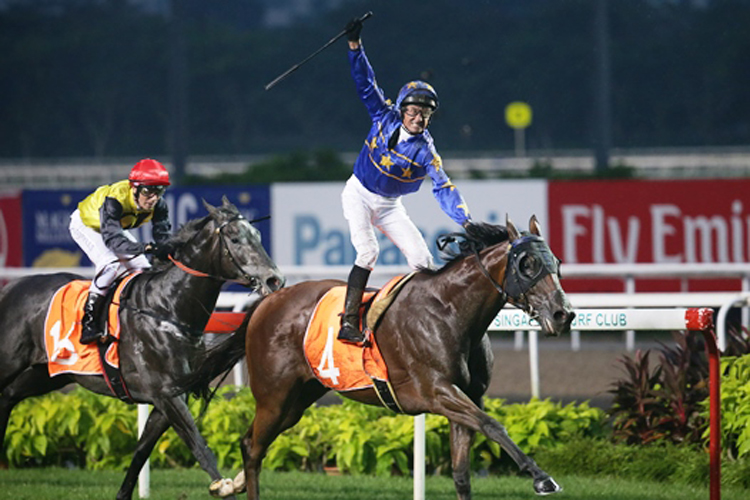 The Casino Prince eight-year-old left Singapore in November to rebuild his racing career in Australia, beginning with Tasmania under the care of trainer Scott Brunton.
The two-time Lion City Cup winner finally had his first Australian start in a 1200m Quality race at Launceston on Wednesday, beating one home in what was more like a first stretch-out.
Ridden by Kyle Maskiell, son of former top Tassie jockey Stephen Maskiell (known to Singapore racegoers as Fastnet Dragon's racing manager), Lim's Cruiser settled at the rear, was peeled out for his run approaching the home turn, but was never in a position to threaten the winner Gee Gee Secondover.
"He went really good and has pulled up well, that's important after a big break," said Gray.
"It was a frontrunner's track. He was nice and relaxed early and then got keen when the pace slackened off, he tried to come out good, and just stayed one-paced to the line.
"I'm pretty happy we got him going. He had just the one trial coming into this race.
"We had to put the pressure on him to see how he stood up to it. The jockey said he felt really good.
"They wanted to put him on the rails and ride him for a bit of luck, but the track was fast, it was a leader's track."
Gray said he was not involved in the day-to-day training of Lim's Cruiser anymore, and would be clueless about his next direction.
"I don't know what they want to do with him next. I'm not involved anymore," said Gray who also took the Lim's Stable-owned champion to Hong Kong and Royal Ascot.
"Anyway, he's a sound horse and they'll keep him going as he showed (on Wednesday) he still wants to compete."
Lim's Cruiser is with Emperor Max arguably the best two horses Gray has put the bridle on at Kranji, but there may be just a few early omens of a third one on the rise – Sure Will Do.
Unbeaten until his last start, the Per Incanto four-year-old is expected to set this blip aside pretty quickly, but whether it's this Saturday at his first Polytrack test, that is another issue.
The bold gelding belonging to Gray's long-time owners, the Chens, won his first two starts, both on turf and in his trademark take-no-prisoners style of controlling the race from the front.
Sure Will Do makes his racing comeback in Saturday's last race, the $50,000 Class 4 Division 2 race over 1000m on the all-weather 2 ½ months after he suffered his first defeat in three starts in a Class 4 race over 1200m on turf on December 12.
That day in the last race, the track was all cut up from the downpour and the pounding from nine previous races. Sure Will Do came across from a wide gate to take up his customary leading role, but was given little peace by Legend Of The Sun shadowing him on his outside.
On class, he still skipped clear at the 300m, but was collared late by Champagne Finale.
In hindsight, Gray felt that third start was one bridge too far.
"I should not have run him. It rained on that day and the track was horrible, it was very, very wet," said Gray.
"He had to lead from a wide draw, was taken on, and was left a sitting duck, but he still ran a good race. He had a nice break and we'll see how well he goes towards the 4YO races.
"There is no turf race for another month, so I thought I might as well have a crack at a Poly race. He should have spelled longer, but the owner pays the bills.
"I'm not sure about the Poly, but he trialled relaxed on it the other day. There'll be a lot of speed in the race and hopefully that will teach him to settle and get cover.
"There's still a lot of improvement to come out of him. He has built up quite well."
Champion apprentice jockey Simon Kok Wei Hoong stays on for what will be their fourth pairing in as many starts. The thought of booking another jockey did not even cross Gray's mind.
"Simon did nothing wrong on him the last time. Loyalty is hard to find these days," said Gray.
"It's a 1000m race where you just jump and steer. He's drawn one, so that makes things easier – let's hope he can give Simon a first winner this term."
After missing the whole month of January to attend his grandfather's funeral in Ipoh, Kok has yet to break his 2021 hoodoo since stepping back in the irons on February 3.
In the meantime, pin-up apprentice jockey of the moment, Hakim Kamaruddin certainly doesn't mind being the bunny skipping clear to a big lead on the rider he finished runner-up to last year.
Mark Walker's apprentice jockey sits on top on 15 winners, nine clear of next best Rosman Iskandar. Kok does look like he has his job cut out in his bid to reel Hakim in, but the gifted rider should never be underestimated.
In 2019, he missed the first three months following a Tasmanian sojourn, but quickly played catch-up to eventually win his first title by a big space.