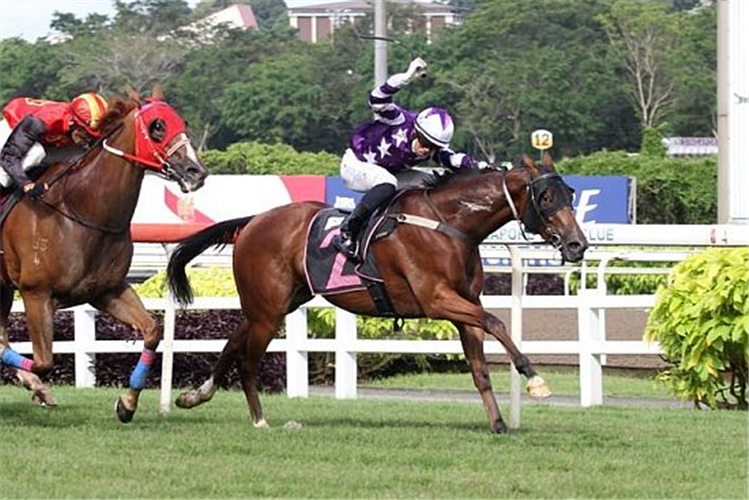 The Malaysian rider and his master Donna Logan went over Makkem Lad s dead-heat with Mr Malek more than once.
The conditions of that race from one year ago (and one week over - March 20, 2020) were almost a carbon copy of each other - Class 3 race over 1200m on the Long Course, even the handicap of 55.5kgs tallied.
Only the field was different (none of the runners in that race was back in the line-up to Saturday's $70,000 Class 3 race over 1200m) – as well as the one holding the reins.
After trying to lead all of the way under Vlad Duric's guidance, Makkem Lad looked beat when top sprinter Mr Malek came upsides inside the last furlong, but under a masterful and typically power-packed ride from the Kranji ace, the son of Kuroshio ran out of his skin to share the spoils.
With all due respect to Yusoff, he might not have quite reached the same calibre as the four-time Singapore champion jockey, but what he does have in spades is a will to listen, learn and apply his boss's instructions to the letter.
No doubt, barrier two made his life easier as the fleet-footed Makkem Lad easily landed into the driving seat when the gates opened, but that was only half the battle won.
Yusoff then had to conserve as much energy as possible before implementing what Logan had harped on about all week - to pinch a break at the turn.
That he did and Makkem Lad ($41) immediately put a space between him and the chasing pack. All seemed lost when that same lot came baying for blood at the furlong pole, but that's when that big organ pumping underneath Makkem Lad's ribcage took its cue to step onto the stage.
The pint-sized customer kicked into another gear to grind his way towards the winning post. The fast-finishing Magic Wand (Noh Senari) and blinkered Be Bee (Matthew Kellady) came breathing down his neck at the 100m, but Logan's gutsy galloper was able to hold them safely at bay.
Magic Wand claimed the runner-up spot half-a-length away with Be Bee losing no marks in third another neck away. The winning time was 1min 9.9secs for the 1200m on the Long Course – just a tiny 0.08 second outside the one he clocked at the dead-heat with Mr Malek.
A delighted Logan, who was at a rare double after Golden Flame saluted earlier (see earlier report), greeted her apprentice jockey with a warm "That was a perfect ride!" at the weigh-in.
"Yusoff and I watched that race when Makkem Lad dead-heated with Mr Malek over and over," said the New Zealander.
"I told him go out there and ride him identical. Skip away on the turn, and let them catch you.
"This horse has got such a big heart. He tries so hard all the time, and he loves the 1200m on turf.
"Yusoff saved him up, saved him up, he just rode him to instructions. It was a perfect ride from him, he did me so proud today."
The Penang-born rider, who joined Logan in 2019 after spending around one year with ex-trainer Saimee Jumaat, was pleased the extra hours of homework have paid off, while also making amends for a previous mistake on the same horse.
Yusoff was suspended one day for careless riding when he came across to get to the fence too quickly on Makkem Lad at his previous start on February 13.
No such mishap from barrier two this time, only a happy ending and happy days.
"Mrs Logan told me to ride this horse the same way as the way Duric rode him to that dead-heat," said Yusoff.
"He was very relaxed, he enjoyed the race, but I have to say the good draw also helped. There was no need to use him up, and he did it so easy.
"I could feel the other horses coming in the straight, but I wasn't scared. I knew my horse still had something left in the tank."
Raced by the Eden Park Stud Racing Stable, Makkem Lad has now recorded six wins, five seconds and six thirds from 27 starts for prizemoney that has now tipped over the $340,000 mark.