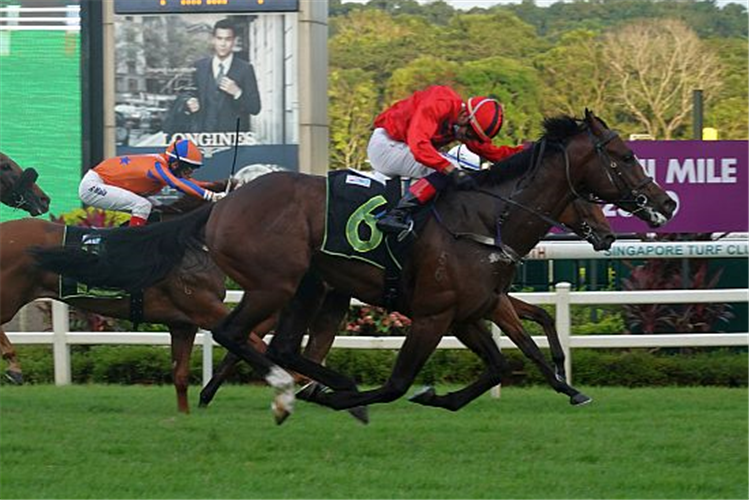 The Excelebration four-year-old drew the widest in the Class 3 race over 1200m on Polytrack, which is not exactly his pet surface. As a result, Beuzelin was caught in no man's land the entire trip, and though Heartening Flyer responded when revved up for his run from the 400m, he stood the leader and eventual winner Kharisma too many lengths to represent any sort of a menace in the home straight.
He still manfully chipped away at the margin to run Kharisma down to a two-length second, but the jury is out as to whether the four-time winner (1200m-1400m, three coming on turf) could have done better.
Beuzelin, who sits second to fellow Frenchman Marc Lerner (11 versus 10) on the Singapore leaderboard, said that the race could be replayed a hundred times, but when you draw the carpark in a speed scamper, the winner's box won't be the end result of a lot of scripts.
"The last race was too short and it was on Poly. He also drew a bad gate – so, even before the start, he was condemned to lose," said Beuzelin.
"Of course, we go out hoping his ability can overcome those negatives against him, and we do everything we can to win, but you can run the race 100 times, and we almost always run nowhere.
"Either it's a gut-buster to get to the front or I snag him back to last. Chances are it'll still be impossible to win either way.
"I had only one choice left, sit midfield, and ride for luck. I actually thought I had a chance on paper if Master Ryker, who was on my inside, goes forward and I get a tow in behind him in fourth or fifth.
"But he took my spot and I was caught wide as a result. I knew the race was over there and then, but to his credit he still ran a super second to the winner who, on the other hand, had a softer run."
Jockeys are a resilient and realistic bunch, and like them, Beuzelin isn't the sort to dwell on the past. The Barbadian-raised jockey, who turned 30 on Sunday, hopes he can make amends this Sunday in a race that, to him, suits the Tivic Stable-owned gelding better in relative terms.
"The 1400m on turf isn't the most ideal for him, but it's more appropriate than 1200m on Polytrack for sure. He's already run 1200m twice this time in," said the former Newmarket-based Sir Michael Stoute apprentice jockey.
"1200m is okay for a miler or middle-distance runner who hasn't run for a long time, but not twice. They need to step up in distance, ideally, he should run a mile.
"But anyway, he is not running in an overly strong field. He's in great order, he's actually improved since his last run.
"Heartening Flyer is one of my favourites at the stable. He really has a special place in my heart.
"I'm lucky to have a loyal owner like the Tivic Stable, who has put me on very good horses like (the late) Bold Thruster, who gave me my second Group race here (Group 3 Silver Bowl last year), Ablest Ascend or Prosperous Return."
Beuzelin is aware that trainer Michael Clements is toying with the idea of the Group 1 Kranji Mile (1600m) for Heartening Flyer on May 22, but he would prefer not to put the cart before the horse at this juncture.
"He must win this weekend to get the chance to step up to a race like the Kranji Mile," he said.
"He'll be running against the top guns like Top Knight, Big Hearted, Mr Clint. That'll be the ultimate test for him."
Beuzelin, who enjoys the privilege of first refusal on Clements' horses, said that at this stage, Singapore Gold Cup winner Big Hearted is in the box-seat to be his mount for the Kranji Mile, which for the second year running, will exclude overseas runners because of COVID-19.
"Big Hearted ran a huge race first-up (Class 2 race over 1200m on March 20) since the Gold Cup," said Beuzelin.
"He may be looking for more ground these days, but the mile will suit him down to the ground, too, just like Top Knight."
Last year's dual Singapore Derby-Queen Elizabeth II Cup winner makes his racing comeback in this Sunday's $100,000 Kranji Stakes A race over 1200m, and will be ridden by regular partner Vlad Duric. Beuzelin doesn't have a ride in that race.
"It's a bit early to talk about the Kranji Mile. Sunday's races will give us an idea where we stand, but the upcoming weeks will also give us a better idea," said Beuzelin.
"It's a happy headache to have so many good horses from Michael to choose from, but that's the thing, it's also a tough decision to make."
On the title race, Beuzelin said it was too early to worry about it even if he is happier to be hovering around the top of the pile than anywhere below.
"To be honest, I don't think about it. Last year, I was ahead of Ruan Maia, but I then lost second place to him," he said.
"Things are going well for me, I ride for the leading barn, and we gel well as a team. Marc is also riding very well, and I'm happy for him he's doing well.
"And with Vlad catching up, it'll be an exciting contest. It's no fluke he won four championships here.
"Danny Beasley is also winning a lot of races since he made his comeback. He's a very good and experienced jockey.
"So, I think we'll see a close fight this year, and that can only be good news for the competition."