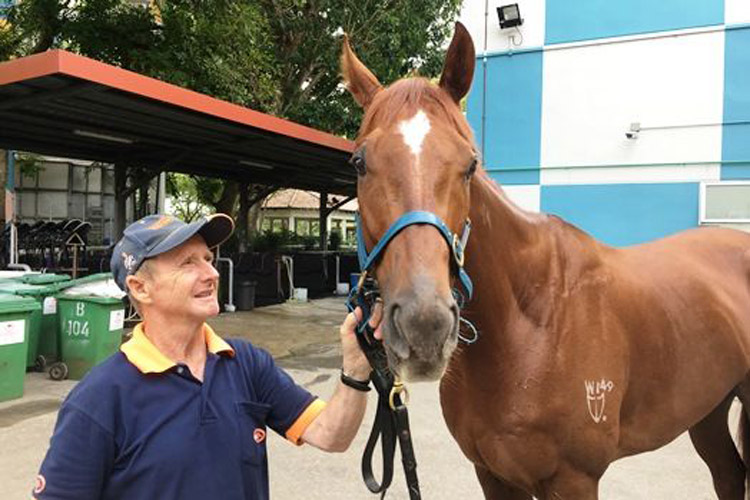 It's well known that the Dream Ahead three-year-old is not the most straightforward conveyance at Kranji. Not many will forget how the chestnut with the white blaze threw away the race inside the last furlong of a Restricted Maiden race over 1400m last October when the race was at his mercy.
Day Approach was in front, but his seconds in that spot looked numbered when Lim's Dreamwalker, who was well backed to win on the back of his two placings at his previous two starts, loomed up.
But all of a sudden, he drifted towards the grandstand side so abruptly that leading apprentice jockey Simon Kok Wei Hoong lost his balance and parted company, thankfully without harm.
One month later, the wayward colt returned in a similar event with Kok up, and again had the word "winner" written all over him when he collared Real Efecto halfway up the straight. While he didn't go off tangent this time, it's the final execution that left plenty to be desired as three others engulfed him into a fourth place to Golden One.
Burridge decided it was time to take care of those coltish quirks of the Dream Ahead three-year-old's. He can only keep his fingers crossed that proverbial unkindest cut and a layoff have sorted him out.
The Australian conditioner is still none the wiser as Lim's Dreamwalker makes his racing comeback with a different undercarriage, looking like he has not gone either forward or backward, but hopes to still see some constructive results this Sunday.
"There wasn't much wrong with him after that run (when he veered out sharply with the winning post in his sights). It's just one of those things, I think he didn't like being flanked," said Burridge.
"He was actually fine. We fitted him with blinker-pacifiers at his next start, but this time, he couldn't quite get on with the job when he looked like he could just put the race away any time.
"In his defence, he was drawn wide and had to be ridden more forward than we would have liked or he would have been caught wide.
"Simon did nothing wrong on him, but I thought it was time to give the horse a bit of a break. He's always been a bit coltish and I wanted to geld him earlier, but the connections (Lim's Stable and stable manager Mick Dittman) told me to hold it for a while.
"He's also very small and maybe he hasn't quite acclimatised as well as we think he should. It could be a question of maturity as well.
"Anyway, he's had the gelding operation, and we've brought him back. He seems okay, but he's still work in progress.
"He's no world-beater that's for sure, but he's only three and does have some ability, which I hope he can show in that easier Maiden race on Sunday."
It's in-form jockey Danny Beasley who steps up for the ride on the brand new gelding this Sunday.