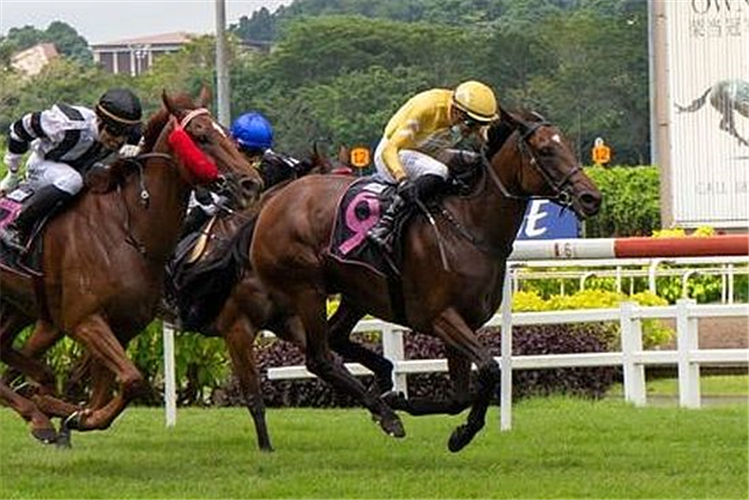 At her last start on March 27, the Michael Clements-trained UK-bred staying mare didn't frank her sparkling trackwork form to finish among the also-rans in a Class 4 race over the Polytrack 1700m.
A post-race lameness could partly account for the dismal run, but White and jockey Louis-Philippe Beuzelin thought there was more to it than met the eye.
When the Nathaniel six-year-old showed the opposite lead-up form at her ordinary last gallop during the week, as irrational as it may seem to the doubting Thomases out there, White and Beuzelin were far from being despondent ahead of her race.
Punters were obviously not on the same page judging from the friendless $192 odds, but Voluminous went on to prove her minders' unorthodox thinking was right on the money.
After a rails-hugging spot in fifth, Voluminous was stoked up for her run shortly after straightening up, and while her much better-fancied stablemate Shepherd's Hymn (Vlad Duric) was toiling away out wide, she was responding a lot better, even if it was in her typical tradesmanlike fashion.
Asaad (Danny Beasley) was being hailed the winner as he outsmarted race-leader Gold Reward (Krisna Thangamani) when the 300m mark was put astern, but the Argentinian-bred could not muster a response when Voluminous came whacking past under Beuzelin's vigorous urgings.
Luck Of Master (Noh Senari) could still spoil the party for Clements' and Al Rashid Stable's dour mare with a belated run on the outside, but half-a-length eventually split them at the winning post. Asaad did well to hang on for third place another length away. The winning time for the 1800m trip on the Long Course was 1min 48secs.
"She's a funny mare. As she's been working fair, we shouldn't be very confident, but at her last start, she worked very well, and she ran average," said White.
"So, we went into today's race with 'reverse confidence' because of that. She's actually a honest mare who appreciates it when her runs are spaced.
"She won on Polytrack here, but I had no doubt she'd go well on turf, even if she was in a stronger race today."
In line with the somewhat deceptive nature of Saturday's winning scheme, Beuzelin said he even had to resort to "bluff" to coax Voluminous into a winning mood.
"I told Chopsy (White) she was terrible in her work and we were like 'that's good'," said the French hoop.
"She is a very moody mare, and today I even kept her on the bridle just to bluff her into believing she was not travelling well.
"It was still a question mark if she would go the other way or not. She actually had a beautiful trip throughout and she was in very good form, which definitely helped towards the win."
In nine starts at Kranji, Voluminous has now brought up two wins and one second for around $65,000 in prizemoney for the Kuwaiti-owned Al Rashid Stable.