From the new applications received, the Club has granted a licence effective from 1 July to 31 December, 2021 (both dates inclusive) to three expatriate jockeys, namely, Manoel Nunes, Derreck David and Daniel Moor, and two local jockeys, namely Shafiq Rizuan and Mark Ewe.
The Club has also approved four licence renewals; for two local jockeys, Troy See and Oscar Chavez, and two local apprentice jockeys, Krisna Thangamani and Dennis Tan Zhi Xian.
The list of jockeys and apprentice jockeys who have been granted licences by the Singapore Turf Club for the abovementioned period is as follows:
Expatriate jockeys
1 Manoel Nunes (new)
2 Derreck David (new)
3 Daniel Moor (new)
Local jockeys
1 Troy See
2 Oscar Chavez
3 Shafiq Rizuan (new)
4 Mark Ewe (new)
Apprentice jockeys Master Trainers
1 Krisna Thangamani Ricardo Le Grange
2 Dennis Tan Zhi Xian Mark Walker
All three new expatriate jockeys and two new local jockeys have ridden in Singapore before. Here is a brief summary of their profiles.
Manoel Nunes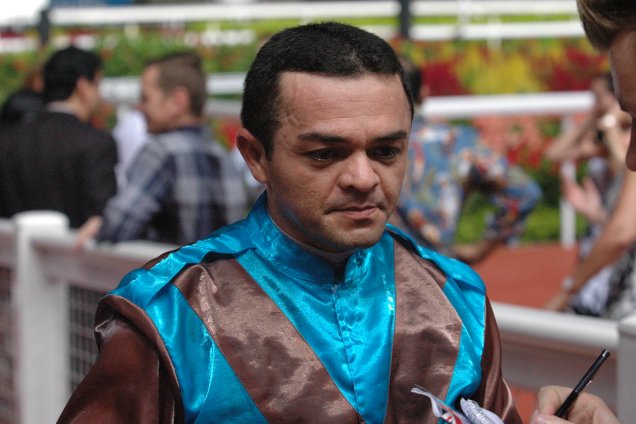 Brazilian jockey Manoel Nunes, 45, has won more than 1,900 races around the world, including 71 Group races - 24 of which were at Group 1 level - and 74 Listed races.
He was among the leading jockeys at Kranji between 2013 and 2017, landing the Singapore champion jockey title three times from 2014 to 2016. He left at the end of the 2017 season with a total tally of 496 winners. He returned in 2019 for a cameo ride at the Raffles Cup meeting, bumping up his record to 497 with one winner, Limited Edition.
Nunes claimed a host of feature races at Kranji, highlighted by two Group 1 Emirates Singapore Derby, Spalato in 2014 and Infantry in 2017.
Nunes boasts an impressive international profile that includes six champion jockey titles in Macau and one in Mauritius in 2019. He also rode with success in Argentina, Hong Kong, Dubai and South Korea.
Nunes goes to scale at 53kgs.
Derreck David
South African jockey Derreck David, 32, spent one and a half season at Kranji in 2016 and 2017, riding 47 winners all-up.
While David was not successful at Group level in Singapore, he did win a sponsored race, the Racing Guide Classic aboard Poseidon at his very first ride.
A former South African champion apprentice jockey in 2009, David has travelled far and wide to Zimbabwe, Dubai, Bahrain, Abu Dhabi and mostly, Mauritius where he won the premiership in 2015.
In total, the lightweight jockey has won around 750 races, with the highlights being Pierre Jourdan's two Legs of the Triple Crown, the Grade 2 Gauteng Guineas and the Grade 1 SA Classic in 2010, and the Grade 2 Charity Mile in 2011.
David goes to scale at 50kgs.
Daniel Moor
Daniel Moor, 36, was into his third Singapore season last year when he cut short the stint to return to Australia because of the racing shutdown brought about by the pandemic.
The Warrnambool-born jockey rode 48 winners during his Kranji stay, including the Group 2 Merlion Trophy on Countofmontecristo and the Group 3 Fortune Bowl on Blizzard.
Since his return to his former working base in Victoria, Moor has quickly re-established himself among its riding ranks with 67 winners on the state log.
His career tally has exceeded the 800-winner mark. Some of his highlights back home include the Group 2 Queen Of The South Stakes, Group 2 W H Stocks Stakes, Group 3 D C McKay Stakes and Group 3 Tasmanian Derby.

Moor also rode in Malaysia, Mauritius, China and South Korea. A natural lightweight, Moor goes to scale at 50kgs.
Shafiq Rizuan
Kelantan-born Shafiq Rizuan, 34, is a former two-time Singapore champion apprentice jockey (2011 and 2015) who gained the distinction of becoming the first apprentice jockey to win a Group 1 race in Singapore when he landed the Longines Singapore Gold Cup aboard Cooptado in 2015.
After his jockey's licence was not renewed in 2017, Shafiq spent the next year riding in New Zealand where he linked back up with his former supporter Te Akau Stable. He rode two Group 1 winners, champion filly Melody Belle in the Tarzino Trophy and Windsor Park Plate and two Group 2 winners with the same Melody Belle in the Foxbridge Plate and Our Abbadean in the Travis Plate.
He then rode in Malaysia where he was based in Kuala Lumpur, riding mainly for trainers Richard Lines and Simon Dunderdale.
All-up, Shafiq tallied up 194 winners at Kranji. Other than the Singapore Gold Cup, he also notched three Group 3 winners in Singapore, including the Colonial Chief Stakes aboard Flying Fulton for his former master Mark Walker.
Shafiq goes to scale at 53kgs.
Mark Ewe
Mark Ewe, 38, is a Penang-born jockey who won three Singapore champion apprentice jockey titles from 2008 to 2010, booting home 55 winners. As a senior jockey, he struggled to enjoy the same strike rate, having won another 66 races in the last 10 years.
Ewe's licence was not renewed at the end of 2020. He rode a winner, Nineteen Gale, at his farewell meeting on December 27.
Ewe has one trophy race to his name, the now-defunct Marsiling Classic Stakes (it later became a Group 3 race before it was ceased in 2015) aboard Gust in 2010.
Trained in Perth, Ewe rode 31 winners in 272 rides in Western Australia, with 15 of them hailing from city tracks. He also represented Singapore at the inaugural Asian Young Guns contest in Melbourne in 2009 coming away with one win aboard Chartreux for David Hayes at Flemington.
Ewe goes to scale at 54kgs.