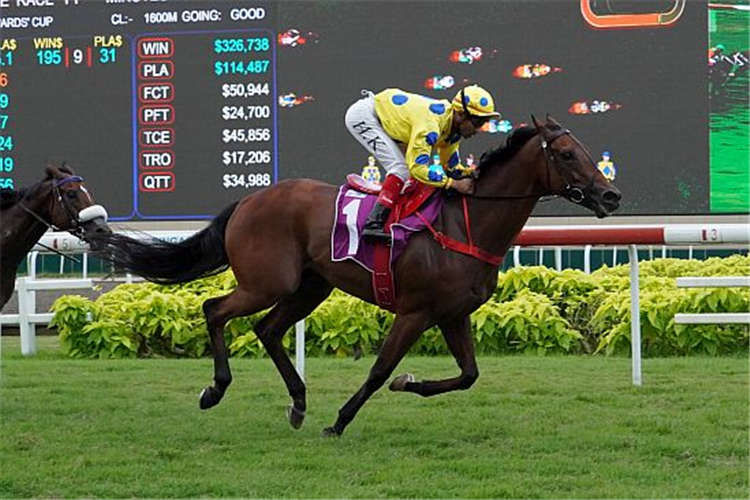 The Group 2 Stewards' Cup (1600m) winner came from near last under A'Isisuhairi Kasim, looking barely out of second gear as he swept past his rivals inside the last 200m of the Polytrack 1000m hit-out.
Burridge couldn't have asked for a better pipe-opener 10 days ahead of the $400,000 Group 1 Singapore Derby (1800m) on July 25, but was quick to put things back in perspective.
"Barring one or two, he beat only Class 5 horses this morning. I had been expecting a better field, but it is what it is," said the Australian former jockey who has never held a better chance of training his first Singapore Derby winner in 17 years at Kranji.
"Anyway, he wasn't out there to run time (1min 0.66sec). They ran along in front and he got around them and finished off nicely.
"It was a nice strong gallop. He trialled (which he also won) before the Stewards' Cup and we did the same thing for the Derby.
"It's been three weeks in between runs, so he needed something to gallop. He also had a gallop on Monday morning, a 1200m in even time, he strode up nicely without doing too much."
The Swiss Ace four-year-old was already an up-and-coming five-time winner for trainer Lee Freedman but has certainly blossomed further (in spite of initial lameness issues) since transferring to Burridge following Freedman's return to Australia in March.
In three starts, he's won two, including the Stewards' Cup, and placed once, quickly emerging as that long-awaited top-draw material that can give Burridge a rare shot at the elite level.
It's well documented that stables had been lighter on and times leaner of late for the 2010 Singapore champion trainer and 2010 Singapore Gold Cup-winning trainer (Risky Business), but the experienced horseman has proven the Oscar Racing Stable right in throwing him a lifeline.
Not only the former Singapore champion owner had never sent Burridge a horse, but when they did, they entrusted him with their best – and only horse left following a major downsizing exercise.
Conversely, Seson is nowhere in the same league as Mr Malek , and is not raced by a big owner either, but Burridge still gave Mr Ng Tet Kong his undivided attention when he spoke of his lofty ambition with the Dalghar three-year-old.
Seson will be one of the smokies in this Sunday's $150,000 Group 2 Singapore Three-Year-Old Classic (1400m). Burridge is not deluding himself: The two-time winner (last one came at his second-last start in a Class 5 Polytrack 1200m, hardly a classic stepping stone towards such targets) has his job cut out, but he respects Mr Ng's wish.
"The owner wanted his horse to run. He owns the horse, you turn three only once, so why not?" said Burridge who has booked Oscar Chavez for his first link-up with Seson.
"You can't win if you're not in it. The field is probably too strong, especially against horses like Tiger Roar and Everest at level weights, but the horse has been working nicely.
"He has drawn barrier four, and if he gets a nice position, he may run a good race."
Similarly to 4YO races, Burridge has yet to claim any Leg of the Singapore Three-Year-Old Challenge, even if this year will see a hybrid version with no Singapore Guineas and no bonus up for grabs.
Until Mr Malek's Stewards' Cup came up on July 3, Burridge had actually not met with much joy in the age feature races, except for two-year-olds – three Aushorse Golden Horseshoe wins with Pitstop (2012), Lim's Racer (2016) and Lim's Lightning (2018).
Kranji's oldest expatriate trainer at 66 - one year younger than oldest local, Leslie Khoo - gets two chances for redress in the next couple of weeks, even if there are no prizes for guessing where he is pinning his hopes on.