The New Zealander might have called time on his feted Singapore training career back in 2017 wrapping up with a staggering record of 79 Group winners, including 17 at Group 1 level (all the majors bar the Singapore Airlines International Cup and KrisFlyer International Sprint) from a haul of 1,263 wins, he was to this day still spoken of in glowing terms by the Kranji racing fraternity.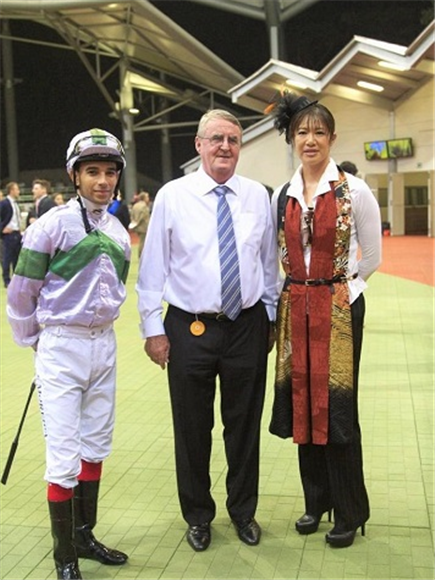 When we woke up to the news on Friday morning the great man had passed away in his sleep at the age of 75 at Whitianga, a seaside town he had been living in since he retired, the memories of the master trainer came flooding back.
A wide cross-section of people were touched in one way or another by the man from Ngaruawahia (in Waikato, whose name he gave to one of his favourite horses at Kranji) during his 17 years at Kranji – be it from all those who worked closely with him to the humble gateman who remembered him for his friendly wave as he drove past in his Mercedes convertible.
One common thread to the tributes was obviously his inborn talent as a horseman, a trait passed down from a family steeped in horse racing, and exported with the same excellence across the Tasman Sea (like that first Tuesday in November in 1988 when he stopped the Australian nation with Empire Rose), to Hong Kong and mostly, Singapore, but also this knack for brightening up someone's day with his impish sense of humour and sharp wit.
Whether it's at the morning Kranji barrier trials where he would be cracking jokes or sharing a few anecdotes - often spiced up with extra saucy details from his smartphone - about his previous night out for example, he never failed to have his attentive audience in stitches.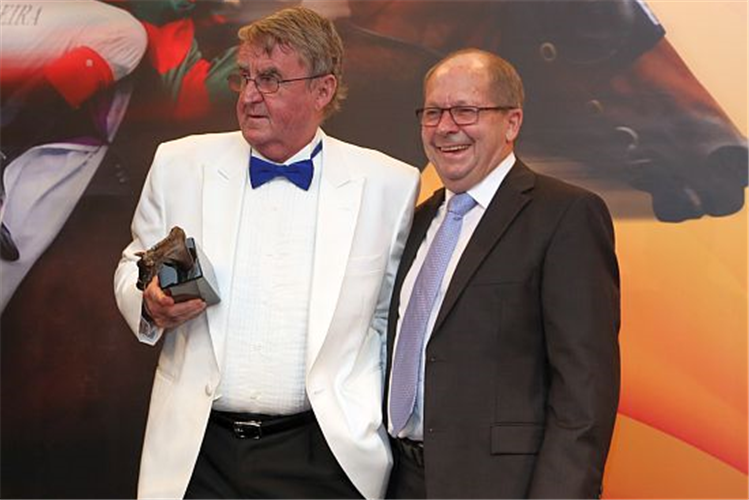 But that doesn't mean that behind the banter and that jocular facade as he shuffled back and forth between the trainer's hut and the famous Charlie Read Speakers' Corner, he was not keeping a hawk eye on his horses as they were put through their paces.
Sure people enjoyed a good laugh with Laxon, but many are also grateful to him for the influence he had on their racing careers.
Chihiro Iizuka, his Japanese senior track rider slash personal secretary for eight years, was choking back tears as she reminisced about her old boss.
"I'm so shocked and I'm so sad Laurie has died," said Iizuka, who first came to Singapore 15 years ago as track rider to Susumu Nigishi in 2006, moved to Mok Zhan Lun for a while, then Laurie Laxon from 2010 to 2017, followed by Lee Freedman and is now with Mark Walker.
"It's like I've lost a father. He taught me a lot, and I've learned a lot from him.
"He was a very brilliant horseman. It took him only five seconds to know what was wrong with a horse.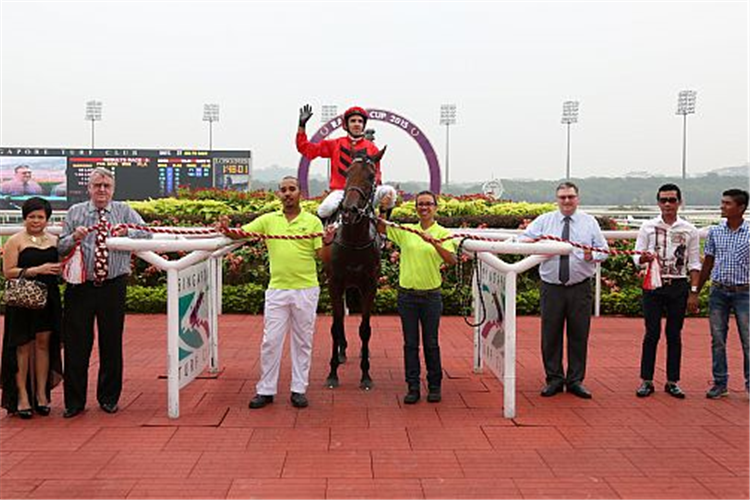 Trainer Laurie Laxon (second from left) at the winner's enclosure with Stepitup (Michael Rodd), his last Singapore major winner in the Group 1 Raffles Cup in October 2015. Shane Ellis is third from right. Laxon's last Group winner was Daniel in the Group 3 Colonial Chief Stakes on December 4, 2016.
"He was also a cheeky boss who liked to disturb his fellow trainers and do stupid things for fun. One day he put glue on the wipers of a trainer's car, but of course he cleaned it up later!
"Laurie was also a good cook. He often baked pies for us, even if some at the stable were having too much of it.
"I can't believe he's gone."
Laxon's former assistant-trainer Shane Ellis had only kind words for the late Kiwi, even if it's the stuff of legend they often traded barbs, much to the hilarity of everybody within earshot.
"Bruce Marsh (fellow expat Kiwi trainer who quit Kranji in 2019) is the one who rang and told me about Laurie," said the Perth horseman, who is now back in Western Australia after a brief training stint in Malaysia.
"Bruce was driving up for a four-day trip with some mates and was supposed to call on Laurie on the way up, but it wasn't to be.
"I am planning to fly up to attend his funeral. We have an air-travel bubble between Australia and New Zealand, but I'm waiting for his son Roger to give me the details first.
"Some years back, Laurie shared with me about the song he wanted to be played at his funeral. It's 'To All The Girls I've Loved Before'. I have to tell Roger that he must fulfil his dad's wish.
"Laurie was a great horseman who put Singapore racing on the map, but he was also a good boss to me. In the last three years, he let me take charge.
"In my eight and a half years with him, I've had only two blues with him. One was about finding boxes for eight horses, he kept telling me I could find them with other trainers when there wasn't a single one left, and I couldn't remember the other one.
"I walked off, but funnily, he found a spot for these horses, and they ended up becoming pretty good. Steven was one of them – of course, he happily told me: Pull your head in or I'll sack you!
"Laurie didn't like to go out, but he liked to ask us to go over to his place. Gee he could cook up a storm, but once we were done, he'd ask us to go home, boys!"
Fellow New Zealander Mark Walker recalled how he had been stewing over the idea of moving to Singapore for a while, but it was Laxon who helped give him that extra push to take the plunge in 2010.
"Sir Peter Vela is the one who suggested why don't I think about training in Singapore. New Zealand was not going well at the time, but I was 36 then and doing okay, so I just left it at that," said the then five-time New Zealand champion trainer and now three-time Singapore champion trainer.
"A couple of years later, Laurie was back home one summer and I bumped into him with Sir Peter Vela. I asked him a lot of questions, and I came to the conclusion I had to give it a go.
"Singapore racing was booming then. Laurie would have been sad to see the state we are in now, even if I still believe the Singapore government can get it back to normal once COVID-19 is under control.
"Laurie must be proud of his record in Singapore. He was a character who was larger than life, but was also one of the chosen few who had that sixth sense with horses."
A gift that was translated into that supreme reward nine times from 2004 to 2014, with only two trainers to have interrupted his hot streak: Steven Burridge (2010) and Patrick Shaw (2011).
Burridge couldn't help having a chuckle when recalling how Laxon lost his stranglehold on the No 1 spot in the training ranks when his own good counsel backfired, a running joke he would often bring up when taking the mick out of his esteemed colleague.
"Laurie always used to tell me, 'you can't train the horses down, you've got to train them up'," said the Australian conditioner.
"When I beat him in 2010, I told him, 'I listened to you and look what happened, thanks Laurie!'.
"He was a very good trainer, whether it's back home, Australia or here. His horses raced consistently and you have to take your hat off to him – he knew what he was doing."
Burridge will next Sunday week saddle likely hot favourite Mr Malek for his best chance of winning his first Singapore Derby, the glamour race Laxon has won twice – Dreyfuss (2004) for the same owner as Mr Malek's Oscar Racing Stable and Top Spin (2008).
Laxon used to train the bulk of the horses belonging to Oscar Stable's owner, semiconductor businessman Phua Chian Kin (CK), who went on to become his staunchest supporter, literally from Day 1.
"I wanted to own a racehorse back in 1999. The Club recommended Malcolm Thwaites and Laurie," said Phua.
"'Butch' as we know him asked me how many horses I wanted to buy. I said one for a start. He said okay, but never got back to me.
"I then met Laurie for the first time. He just arrived in Singapore and had no horses, he also asked me how many horses I intended on giving him, again I said one.
"He said no problem and he recommended a mare called Touch for $100,000. Being a businessman, I bargained and we settled for $95,000, and I made a downpayment of 10% with the rest in instalments at each win.
"My friend then told me I was foolish to buy a mare. They can't win races!
"I was furious. I thought Laurie had had me on – but he obviously knew how to train, and we later found out he was very good with mares. We named her Streisand and she gave Laurie his first winner in Singapore (on March 18, 2000) and went on to win two more races.
"Every winner he has trained for me since has been satisfying. Laurie gives all his horses every chance to win, and we saw that when Dreyfuss won the Derby, he also trained the tierce (with Superior Star in second and Raudkivi in third).
"We've become very good friends over the years. He would sometimes follow me to my business trips in Shanghai, even if I was busy and didn't really have much time for him.
"Even after he stopped training here, we would catch up when he came back. I would lend him a car.
"It's only in the last couple of years I haven't seen him because of COVID-19, though we would sometimes call for a casual chat. The news of his death came as a big shock to me.
"He was a true horseman and a very honourable man. He was also a very funny man, I will never forget the day he told me: 'Young man, I can teach you how to make a small fortune from horse racing, and to do that, you start with a big fortune'."
But all agreed that when it came to racing, that facetious side - even this writer was not spared, being often greeted by "Morning Mr Lee, from the famous Lee family (no relation of course!)" - would take a back seat, giving way to a professionalism to a fault, be it knuckling down for a Class 5 horse or a Group 1 superstar to win.
To three-time Singapore champion jockey Manoel Nunes, who is currently in Brazil and will soon make a Kranji comeback this year, it is that assurance his horses - with the A-listers being the likes of Top Spin, Better Than Ever, Why Be, Raul, Waikato, Stepitup, Affleck - are always turned out in immaculate order that was the main draw to ride for Laxon.
"It's always a pleasure to ride for Laurie. He can have two to three horses in a race, and you know each one of them will try their best," said the Brazilian ace who won six Group races for him as well as one of his most significant milestones.
"I rode his 1,000th winner (also Oscar-owned) Alan (to become first trainer to reach the magical tonne at Kranji) and also won Group races on Dujardin and Stepitup for him.
"I'm so sad to hear he has left us. He was a funny man who joked with everyone, whether it's on raceday or at trackwork, may he rest in peace."
All through his years in Singapore, Laxon didn't really rely on an exclusive stable jockey, but with a yard oozing quality year in, year out, he didn't have to search far and wide to book top guns like Saimee Jumaat, Joao Moreira, Michael Rodd or Vlad Duric.
"It's such terrible news. He was a larger-than-life character," said four-time Singapore champion jockey Duric.
"We always saw him cracking jokes in the morning, but he was also very supportive of me. It wasn't long since he retired, it would have been nice if he had stayed for a few more years.
"He lived a very full life. He knew how to have a lot of fun."
Alwin Tan was one trainer who could have spoilt Laxon's party in the 2014 season, but after the two-way title fight went down to the wire, the Singaporean eventually came off the wrong side of it by two winners (80 versus 78), but finally enjoyed his moment in the sun two seasons later.
Tan remembered how Laxon was never short of a few friendly taunts, just to keep that competitive spirit alive, but he was among the first to congratulate him when he was crowned champion in 2016.
"I was running second behind Laurie and I was so scared I couldn't catch him," said Tan.
"If I won a race, Laurie, the typical joker, would tell me he had a few more bullets waiting for me the next week. We were both prepared to fight till the last race.
"Fair play to him, he won in the end, but when I beat Pat Shaw two years later, he was one of the first to say 'well done'.
"I was very surprised when I heard the news this morning. He was a very good horseman, even if we all knew how he liked to joke around."
It wasn't just the opposition Laxon treated with respect. He also fully embraced the local culture in Singapore.
Whether it was his terracotta warrior at his stable entrance, hiring a feng shui master to plan his office layout, or praying to the 'Hungry Ghost', all to ward off bad luck, or simply answering his phone with an authentic 'wei' (hello in Mandarin), Laxon blended well into his second home.
Similarly, he also commanded the respect of his peers, and not from only one generation.
In 2019 when Tim Fitzsimmons became the last addition to the Kranji training ranks, Laxon had already bowed out but Cliff Brown's former assistant-trainer said the Melbourne Cup-winning trainer was not only his first reference point when he was told he was moving to this unknown South-East Asian outpost back in 2008, but the role model he actually drew inspiration from - over a flutter.
"My first bet was Empire Rose in the Melbourne Cup in 1988. That inspired me to get into racing," said Fitzsimmons.
"I've told the story to everyone since. Little did I know that one day, I would be sharing the same workplace as the trainer of my first winning bet in a country I had to Google to find out where it was.
"Laurie was always good to me, he even cooked for me. He was a great man."