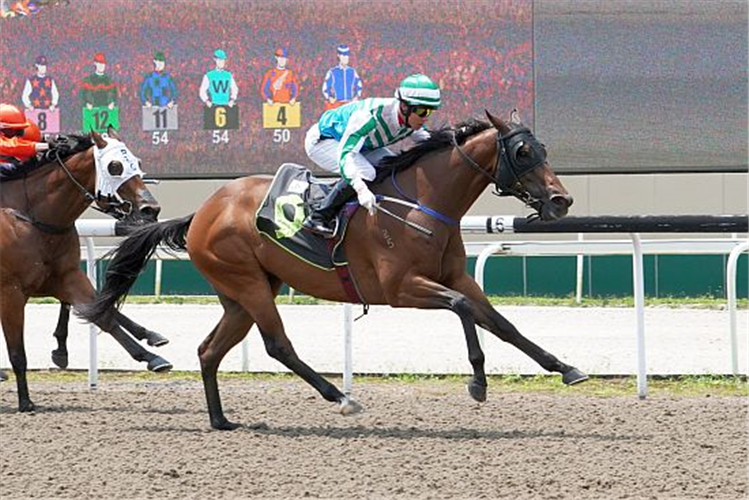 Glasses of bubbly are the usual celebratory drinks to go around the Kiwi's table of friends upstairs when one of her wards scores, albeit not quite since the Grandstand had been without crowds for a year or so, but she had this time round baked some bacon and egg pies to honour the memory of a fellow New Zealander, legendary trainer Laurie Laxon who passed away on Thursday.
The reason for the switch to the crusty pastry as the victory treat of choice was simple. Laxon was also a legend with an apron, and often handed out homemade meat pies to both his staff and fellow Kranji colleagues at the tracks.
When Logan started out at Kranji in 2018, the nine-time Singapore champion trainer had already left, but their paths often crossed when Laxon was still based in New Zealand (he moved to Kranji in 2000 while Logan began training in 1987).
"Laurie's stables were four hours away from mine (Ruakaka), but we all knew him. He was a legend in his own right," said Logan.
"I was a young trainer who had just started out while he was already a great stalwart at home. When his wife Sheila won the Melbourne Cup (with Ethereal in 2001), we celebrated together with them and the Velas at Flemington.
"I was told he was a great meat pie baker, and I decided to make some bacon, egg and tomato pies, which is a traditional Kiwi pie, and bring them to the races today. Everybody's been eating them, it's great!"
On the horse who has now helped Logan scoop up two slices of the pie of races at Kranji in the last two months, she put the return to winning ways of the Thai-owned The Factor five-year-old entire down to greater professionalism.
An author of five wins in the first five months of the 2021 season, the stable then went through a quiet patch with only Good Luck Charm proving to be just that with his back-to-back wins, both coming in Class 4 Polytrack 1200s.
The 3-1 favourite was one of the best away from out wide but with as many as six horses spread across the track upfront, and locked in battle for the early supremacy, Wong wisely stayed out of it, happy to drop off and take a sit back a couple of lengths astern.
Into the home straight, surprisingly, most of the speed contenders were still alive, but Good Luck Charm was clearly the freshest horse on the scene the moment he was peeled out for his run towards clear daylight.
The well-fancied Water Rocket (Marc Lerner) mounted a stiff resistance but eventually threw in the towel to run second 1 ¾ lengths away with Wild Bee (Juan Paul van der Merwe) third another length away. The winning time was 1min 11.57secs for the Polytrack 1200m.
"He has started to learn about his races more professionally. He's got better at it," said Logan, who did not think the switch from pacifiers to blinkers at the last two runs were the only factor to the recent upturn.
"Instead of pushing the button to go early, he is now more attuned to saving his best effort for last.
"He may still be an entire, but he's a real gentleman at home, a lovely horse to train. Jimmy (Wong) knows how to ride him, he's won the last two on him, they really get along."
The former two-time Singapore champion apprentice jockey continued his rich vein of form with a second win aboard Sound The Siren ($23) four races later in the $50,000 Spanish Bay 2015 Stakes, a Class 4 race over the Polytrack mile. The double takes Wong's score to 23 wins, inching him closer to the leading duo of Danny Beasley (27 wins) and Vlad Duric (26 wins).
Good Luck Charm has now taken his record to five wins from 26 starts for around $165,000 in the stakes account, with the first three wins coming for Singapore champion owner Falcon Racing Stable. Following the passing of its racing manager Krit Chisatteni in May, some of the cards have been redealt among the spinoff Thai outfits – like Good Luck Charm who now sports the Kajorn Petch Racing No 9 Stable colours made famous by 2017 Singapore Horse of the Year Infantry.
"After Krit's passing, some of their horses were reshuffled around. Falcon Stable is still around, but some people have decided not to retain a share in some horses, like in Good Luck Charm's case," said Logan.
One race earlier ($30,000 Inferno 2020 Stakes, a Class 5 Division 1 race over 1200m), the sky blue colours of the Falcon Stable nearly shone for Logan, but Gamely (Jerlyn Seow Poh Hui) eventually went down by three parts of a length to odds-on favourite ($9) King Zoustar (Beasley).