The Zimbabwean-born trainer actually saddled a four-pronged attack in what used to be the second Leg of the Singapore Three-Year-Old Challenge, with Starlight only the third fancy, but the son of Headwater defied the odds market by coming out tops after foiling more favoured stablemate Tiger Roar's (Simon Kok Wei Hoong) customary late flourish to scrape home by a head.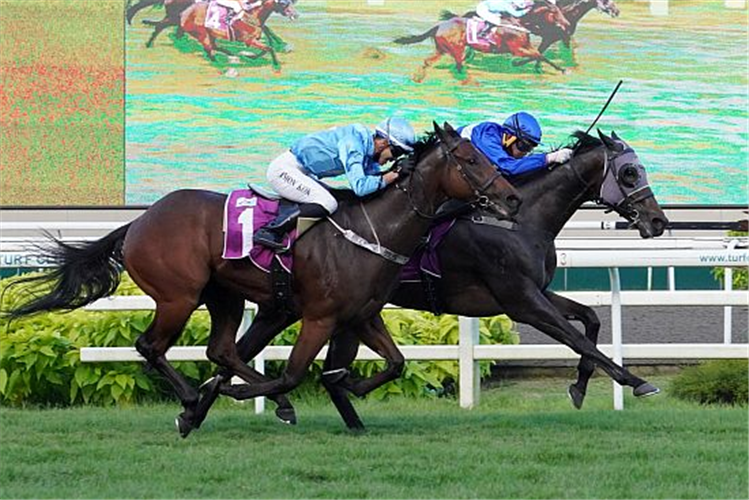 It could have been a perfect 1-2-3 for Clements, but another gap of around two lengths away, Tim Fitzsimmons' Relentless (Danny Beasley) upset those trifecta plans by worrying Prosperous Return (Vlad Duric) out of the podium by a neck.
Starlight returned a generous $51 collect for his third win in only six starts that also reaped two seconds, that have all up rewarded his local outfit in excess of $180,000 in prizemoney.
Clements' fourth runner Starharmony (Louis-Philippe Beuzelin) was the only blemish. After being caught three wide upfront, he tailed off badly in the home straight to finish a long last, more than 25 lengths off his PSM stablemate, who clocked the 1400m on the Short Course in 1min 22.56secs.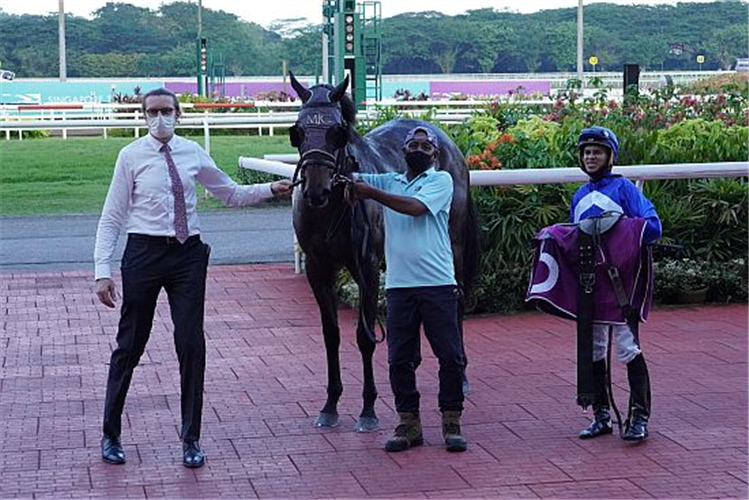 The Singapore Three-Year-Old Classic has traditionally been the prelude to the Group 1 Singapore Guineas (1600m) in the last 10 years the three Legs of the Singapore Three-Year-Old were devised in that format, with the Singapore Three-Year-Old Sprint (1200m) slated as the first Leg.
But with the Singapore Guineas cancelled this year (due to the COVID-19-induced changes brought to the racing calendar), it's mission accomplished for Starlight, and Clements who also won the Sprint with Tiger Roar three weeks ago on June 27.
While most envisaged the Falcon Racing Stable-owned son of Wandjina, whom Clements even spruiked as "better" than top 3YO graduates Top Knight or Countofmontecristo, to be even superior over 1400m, he left his trademark charge from last place a fraction too late.
But Clements was not taking anything away from Starlight even after he just touched out the horse who might still be hailed as this year's best three-year-old in spite of his defeat.
"It's a bit of a surprise, but we've always rated Starlight from the very beginning, even if mentally and physically, he's taken time to furnish into the horse he is today," he said.
"He's a horse who worries about a lot of things. He was too keen and overracing, but after he came off a break, he's been behaving better in training.
"He is a lot more settled and relaxed now, and it's all fallen into place for him today.
"Coming off the back, we could see how more relaxed he was, and Shafrizal gave him a great ride, too. They had the run of the race, stole a march and held on to the line.
"Simon Kok did everything he possibly could to win the race, but Tiger Roar got there too late. He still ran a great race."
From the inside alley, Be You (Matthew Kellady) was not the best away but railed through to assume his designated leading role in the small nine-horse field (following outsider Bruce Alnaughty's withdrawal), with Seson (Oscar Chavez) right on his heels and Starharmony also handy but three wide while Starlight had snuck into the box-seat.
As the field packed up by the home turn, 3YO Sprint runner-up Prosperous Return got a wiggle-on first, but by whipping around three wide while Starlight was clicked up around the same time, but via a shorter path in between Be You and the weakening Seson.
Between the Clements pair, it was soon evident Starlight was savaging the line the better while Prosperous Return's assault seemed to have run its course despite Duric's urgings on the son of Fighting Sun in his bid to land a fourth Classic, including a three-in-a-row at the last three renewals (he won on Top Knight in 2019 and Inferno last year, with Gingerbread Man his first hurrah back in 2011).
Everest (Wong Chin Chuen), who ran a closing third in the 3YO Sprint and was expected to be a major threat with 200m more, changed course back to the inside to issue his challenge, but hit a brickwall and eventually ran a disappointing sixth.
Meanwhile, Starlight looked off and gone under Shafrizal's hard riding until the Tiger came Roaring home on the outside, but the winning post saved Starlight to make Shafrizal's and PSM Racing Stable's dreams of a first silverware come true.
The Penang-born Shafrizal relocated to Singapore in 2016 as an apprentice jockey indentured to Clements, the winner of 43 races north of the Causeway, and has since doubled his score at Kranji, but without any big-race success until the 87th on Sunday.
"It's hard to describe how I felt after the winning post. I was so happy I wanted to cry," said the 33-year-old hoop.
"This horse got a good draw today (2) compared to his last start (10). Michael and I discussed and we decided that from the good draw, we had to be more forward.
"I knew Be You and Seson were quick, too, so I was quite happy to sit behind them. As the track was fast, I decided to go early at the top of the straight, and make them chase us.
"Tiger Roar was the horse to beat and I had to go first and it was catch-me-if-you-can from there. Simon thought he won, but I knew my horse just made it.
"This horse has really improved. He used to overrace, but he's a lot more relaxed now, and that helped him win the race today."
From his great balance and vigour in the saddle, Shafrizal stamped himself as a promising jockey at Kranji from Day 1, but his riding career had somehow gone through a rollercoaster, especially in the last couple of seasons, following the COVID-19 outbreak.
Even his beginnings at Kranji had not been without its moments of self-doubt. It took him 88 rides and seven months for the then 29-year-old to finally crack it for his first win aboard Ahmar for Mark Walker on April 16, 2017.
Things improved exponentially for him in the next couple of seasons, even if it was no meteoric rise, culminating into a nod to represent Singapore at an apprentice series in Australia last year.
The experience was, however, cut short by the pandemic, which then led to him being stranded in and out of Malaysia, with homesickness compounded further by being severed from his young family in Johor Bahru, especially not seeing his second son born only last month.
Still, he soldiered on, support started to improve, boosted no doubt by Clements' awesome firepower, with Sunday's milestone a just reward for his sacrifices, not just from being uprooted from his family, but even going as far back as his childhood.
"It's my dad Saleh Sainaban who influenced me to become a jockey. He was a track rider for Tan Kah Soon's father, Dr Tan Swee Hock," said Shafrizal.
"He's now retired and lives in Kuala Lumpur with my sister. He is my biggest supporter and we always call each other and he would tell me what I did wrong in my races.
"I dedicate that win to him and also to my family of course, my wife Zairina and my two boys Shazael and Shaqeel. I haven't called my wife yet, but I will do that straight after I come out of the jockeys' room.
"But I would also like to thank Michael and his assistant Chopsy (Michael White). They have given me a lot of advice on my riding, as well as Matt Pumpa (former Singapore Turf Club jockey coach) and Damien Kinninmont (current chief starter).
"I would say I improved the most after my trip to Tasmania. I didn't stay there long, but the exposure to different tracks and different paces of racing has helped me in judging the pace better."
Clements said his former apprentice jockey came through his doors as a raw diamond, with him being the victim of his own anxiety to do well as the only chink in the armour.
"I've always been happy to support Shafrizal, and the owners were also willing to support him," said Clements.
"He has really come of age and come into his own. Mentally, he is now in the right place.
"He's very strong and is a lot more patient now. He used to be very aggressive, but now, he's happy to sit back and give his horses better timed runs.
"I'm also happy for the owners as they are now a Group winner for the first time from the first group of horses I bought for them."
Starharmony, undefeated in two starts before the Classic, was in the same shopping cart, but Clements does not despair to see the son of Real Impact bounce back.
"Starharmony needs a break. He wasn't ready for that level of racing, he'll come back," he said.
"Prosperous Return didn't look that comfortable in his action in the straight today. I spoke to Vlad and he told me the same thing.
"I put it down to the water on the tracks, and when it dried up, the track conditions didn't seem to suit him, but he still ran a fair race.
"In any case, all four horses are going for a well-deserved break now."