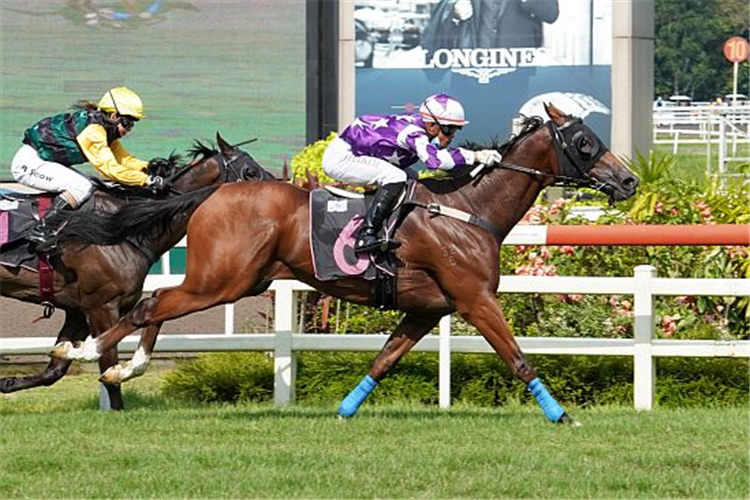 The Kiwi mentor might not be a frequent headline-maker like Clements, but she did lay claim to one of the local racing calendar's most important races this season, the $1 million Group 1 Kranji Mile with Minister in May.
Barring that one milestone, winners have, however, been hard to come by. Prior to the prolific day, she had picked up only six wins by the season's halfway mark (by June 30), which would be, on paper, way off the score she needed to match or better her best local haul of 27 winners (for a 13th place) at her sophomore season in 2019.
But a sign of a turnaround could be in the works after her formidable day out on Sunday, meat pies and all (see earlier report about Good Luck Charm's win)!
From seven previous doubles among her tally of 68 winners at Kranji, Logan looked all set for an eighth one after Good Luck Charm and Makkem Lad delivered, but she was this time able to go one better in the very next race with Qiji Acheeva.
It wasn't just savoury snacks to toast to the treble with, as she also had a special sweet treat from New Zealand to go along, pineapple lumps (unlike pies, they are not homemade but are candies that come in bright yellow wraps), and it goes without saying, a few flutes of champagne, albeit not the most orthodox cocktail of food and beverages to celebrate a big day at the races!
"Shane Baertschiger was so nice as he gave me some pineapple lumps at the races. They are traditional lollies from back home," she said.
"So it wasn't just meat pies, but also some sweets. It was a wonderful day."
Needless to say all her three winners are in for a carrot treat, too, with Makkem Lad probably given a few extra sugar cubes and cuddles. Even if Minister, a recent transfer from Lee Freedman, is the new stable hero, Makkem Lad remained Logan's pet horse.
The Kuroshio five-year-old has been there for Logan from Day 1, and has been her winningest resident with seven wins, the latest being Sunday's in the $85,000 Super Easy 2012 Stakes Class 2 race over 1200m.
"He's one of my favourite horses. He may be small, but he has the biggest heart and the biggest motor," she said.
Fame Star (Jerlyn Seow Poh Hui), who in his heyday, broke the hearts of the best sprinters around, looked to be back in the same frontrunning mood when he kicked clear at the top of the straight, but Makkem Lad who was backed down to $12 favouritism, pegged the former Group 2 EW Barker Trophy winner back inside the last furlong to score with one length to spare.
Songgong Hera (Iskandar Rosman) sprang up as another serious challenger at around the same time, but unlike Makkem Lad, could not quite finish it off to settle for third place another 1 ¾ lengths away. The winning time was 1min 8.78secs for the 1200m on the Short Course.
If there was only one sour note – other than the pineapple lump – it was meant to be Logan's apprentice jockey Fadzli Yusoff's ride, but leading apprentice jockey Hakim Kamaruddin, with whom Logan combined for two wins last year, Good Luck Charm and Official, didn't let the chance go begging.
"Yusoff was doing a gallop on a young maiden horse on the uphill track, but the saddle slipped, and the horse stood on him," said Logan.
"He had sores and bruises, but luckily, nothing broken. It's a shame for him as he knows Makkem Lad so well, but Hakim listened to the instructions to a tee and got the job done.
"I told him there would be a lot of speed in the race, and that Makkem Lad can lead but he doesn't have to if someone else is faster.
"I told him to dictate what happens, just wait and see how the race pans out, and he got the horse in a lovely spot."
Makkem Lad has now amassed more than $400,000 in stakes earnings from his seven wins for the Eden Park Stud Stable, still about $600,000 off million-dollar horse Minister, but to Logan, his contribution to her yard's success is priceless.
Straight after Makkem Lad, $42 chance Qiji Acheeva (Iskandar Rosman), a four-year-old by Anacheeva who also races in Eden Park's purple and white stars, took out the $50,000 Gingerbread Man 2011 Stakes Class 4 Division 2 race for a third win from 15 starts, and a tour de force Logan will long remember.