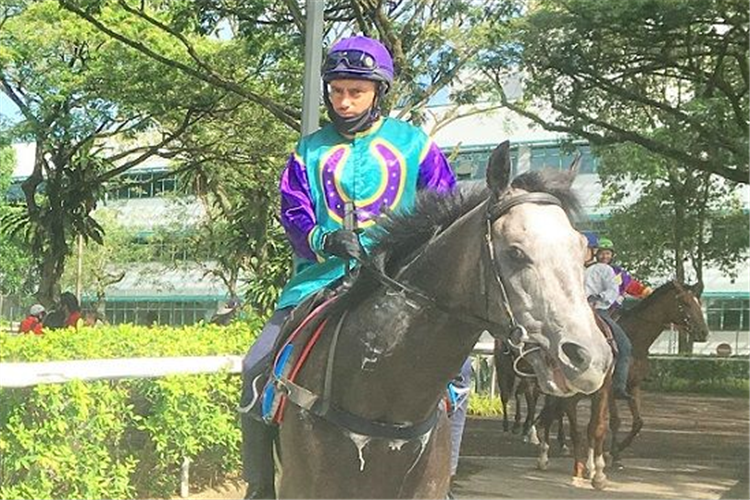 Prior to his heat, the Argentinian-bred three-year-old was already living up to his effervescent name in the holding area. With jockey Juan Paul van der Merwe up, the bouncy grey was a bundle of nerves who stood out from his calmer co-triallers.
After he was cleared to head out, van der Merwe was then told to return to the same enclosure given a horse (Coming Through) in the previous trial needed medical assistance on the tracks.
Such a delay wasn't exactly the most conducive pre-trial set-up for a horse who is skittish at the best of times.
Another 10 minutes walking around in circles got Whiz Fizz even more fizzy and stirred up. Peters was getting increasingly concerned the hold-up could do his horse's head in.
Whiz Fizz was in a lather of sweat by then, really looking like a soda about to pop. If it had been a race, most would write him off as having already run his race in the parade ring, but the hitout turned out to be better than feared.
Though the son of Orpen was caught wide spotting leader Sun Ops (Noh Senari) around seven lengths, he still worked home pleasingly to run third over three lengths astern.
"He was very fresh this morning. The delay didn't help matters, I was a bit worried," said Peters.
"But I was pretty happy with his trial. He needed it, and considering he was trialling against older horses and he ran third, it was pretty good.
"I'll see how he pulls up. There is a Novice 1200m next week or I may also look at a Class 4 1200m on Polytrack."
With the benefit of hindsight, Peters is loath to make any hasty decision regarding the path he would map out for arguably the best horse from a batch of six Argentinians purchased by the Hardwicke Racing Club via South African racing manager Justin Vermaak last year.
"Whiz Fizz didn't get an ideal preparation. He raced two weeks apart which was too rushed," said Peters in allusion to the two-week back-up from his impressive first-up win that resulted into a sixth place in a Novice race over 1200m on February 20.
"He was caught three wide, which was not ideal. He should have had more time between runs whereas there was an accumulation of two runs.
"We gave him a freshen-up, he was off for a couple of weeks and he's been brought back to work since."
Van der Merwe agreed with Peters the trial would bring Whiz Fizz on. The lightweight South African jockey holds a high opinion of the grey even after he watched him get beaten at his second start.
"I was suspended then, and couldn't ride him (Louis-Philippe Beuzelin took the ride). I haven't sat on him since that debut win," said van der Merwe.
"He was very fresh. We didn't test him too much this morning. It was just a soft trial to see where his fitness is at, it was just to keep him ticking over.
"Mentally, he's very immature. He's very naughty at home, very playful, but he absolutely has a touch of class. He'll become a serious horse in six months' time."
In the meantime, Peters has a rather serious horse in Dancing Rain racing in the $70,000 Class 3 race over 1600m on Saturday.
Formerly known as Destroyer Eclipse, the Alamosa six-year-old has yet to improve on his record of five wins (1200m to 1600m) under his new name for Malaysian outfit Super Singh Stable, but going on his fast-closing second to Wind Trail at his last start in a Kranji Stakes C race over 1800m on March 27, that day may not be too far off.
"Dancing Rain has pulled up well after his last race. Ideally, I would have preferred more time between runs but this is the perfect race for him," said Peters.
"He's drawn better this time (two). He's a really good horse but has really had no luck at the barriers lately, he's drawn double digits at his last five starts.
"Especially in a 1600m race on Poly if you draw wider than 12, you get caught wide around the first bend, it's very tough to win from there.
"He finally gets a good barrier, so I don't know what I'll do from two (laughs). But seriously, he's running in a competitive open field, but on his last run, he'd be a good chance."
It's two-time Singapore champion apprentice jockey Simon Kok Wei Hoong who takes the ride on the former Indonesian-owned miler. Troy See, who was the jockey at the last start, was cleared from a probe into the ride on Wednesday.