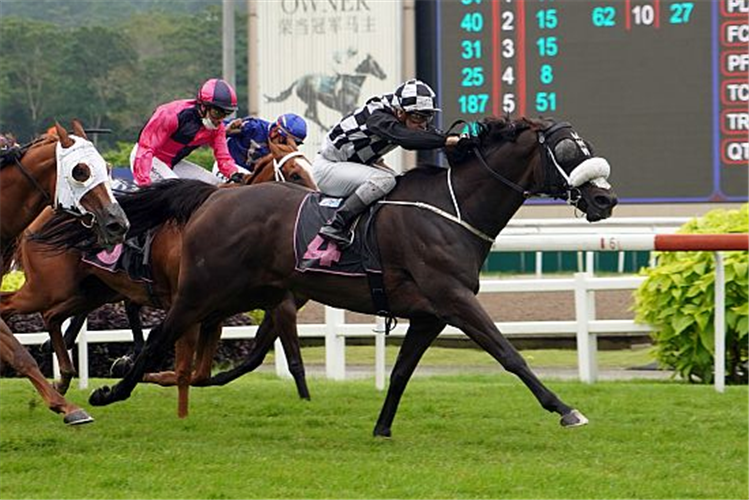 The Malaysian's win aboard the Patrick Shaw-trained Cooptado in the 2015 Longines Singapore Gold Cup (2200m) etched his name in the record books as the first Group 1-winning apprentice at Kranji.
The highly-promising career unfortunately hit the skids when his Singapore licence was not renewed for three seasons from 2018 to 2020, but he still made the best of a bad situation by taking his saddle elsewhere, namely back to the place of his formative years, New Zealand where he rounded out his Group 1 tally to four aboard none other than Kiwi champion mare Melody Belle (Tarzino Trophy and Windsor Park Plate).
Finally granted a six-month Singapore Turf Club licence from July, Shafiq knows that to re-establish himself among the top echelon of the senior riding ranks, one of its status symbols is a Group 1 winner.
The ride on Sacred Croix for his old boss Mark Walker in the $300,000 Raffles Cup (1600m) might not be the plummest Group 1 opportunity that will ever fall his way, but from the thrill in his voice, he was anything but despondent.
"I reckon Sacred Croix is a chance this Saturday," he said without beating around the bush.
"It'll be my first time riding him, but I've been working him since Mark told me he'd be my Raffles Cup ride around the end of July.
"I had to choose between him and Mr Clint, but I had already chosen Sacred Croix even before Mr Clint was spelled.
"I didn't ride him first-up (from Kranji Mile fourth in May) as it was just a first prep run (Kranji Stakes A race over 1200m when fourth to Kharisma), Hakim (Kamaruddin) rode him. I was then supposed to ride him at his next start (Kranji Stakes A race over 1400m when fourth to Lim's Lightning), but I was suspended and Hakim rode him again.
"I feel he has come right at the right time for the Raffles Cup. Usually, he's a very quiet horse like a pony, but in the last week or so, he's been jumping around, he's very keen.
"I galloped him yesterday and I was very happy with that work. He has just kept improving.
"Lim's Lightning is the horse to beat no doubt, but my horse has beaten some of the other horses already, like Minister, Top Knight, Big Hearted and Nowyousee."
After doing his homework watching the eight-time winning (1200m to 1600m) Savabeel seven-year-old's past race replays, Shafiq can't wait to leave the vicarious experience behind this Saturday.
"I really like this type of horse – always comes from behind and we then let them run home," said Shafiq who, like A'Isisuhairi Kasim, Mohd Zaki, Hakim and many others, hails from that famous Malaysian nursery of riders known as Kelantan.
"I'm not worried about the level weights. To me, he showed the same ability at his last couple of starts, but he was too far back.
"He's got the visor on, and I think that will sharpen him up. The 1600m is the perfect distance for him."
Other than Sacred Croix, Shafiq will be hoping to pad up his current 2021 haul of five winners from another eight rides on the bumper 12-race programme, five of which hail from his old master.
"Mark has been really good to me since I came back, but I also get support from other trainers," he said.
"In the morning, I ride mainly for Mark, but I also ride work for Tim Fitzsimmons, Desmond Koh and Donna Logan when they need help.
"I'm happy with my five winners so far. I couldn't have asked for more considering I rode only for two out of three months, as I was suspended for three weeks (from three different careless riding suspensions).
"I've got a decent book of rides this week. I think Stunning Cat for Tim is my best chance, he'll be hard to beat."
The Smart Missile seven-year-old is dropping in class in the penultimate race, the $50,000 Always Certain 2011 Stakes, a Class 4 Division 1 race over 1200m, which is shaping up as an even contest.