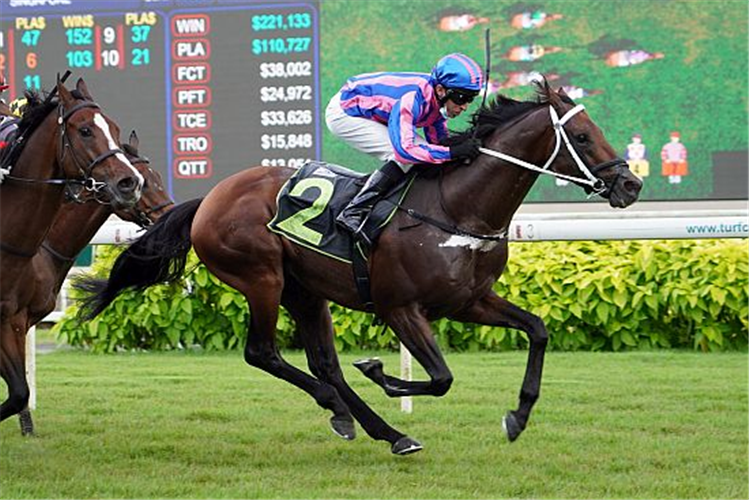 The 2020 Cape Winter Series winner has not quite lived up to his South African billing in four Kranji starts, including the last three in the Group 1 events formerly slated as the three Legs of the Singapore Triple Crown series, other than a close second to Hard Too Think in the Queen Elizabeth II Cup (1800m) in October.
But visible signs of improvement have been seen on the training tracks since the December break, franked by a winning barrier trial last week.
There was suddenly a sense of renewed hope all the Katak boom was not much ado about nothing after all. The Potala Palace five-year-old didn't let his connections down this time.
Lined up in Saturday's $85,000 Class 2 race over 1400m, he came across from his wide alley to sit alongside the well-backed and expected race-leader Nepean (Manoel Nunes).
Danny Beasley, who has partnered the entire a few times in trackwork (both recently and last year) but was at his first race-ride on him, could be seen oozing supreme confidence as he allowed Katak ($13) to draw on level terms with Nepean upon cornering for the judge.
The tussle was brief. Katak gave Nepean's resistance short shrift to straightaway put a space of two lengths on the rest at the 300m.
That worry he would flounder just like in the closing stages of the QEII Cup wasn't getting allayed, though, when class riser Heartening Flyer (Shafrizal Saleh) jumped out of the pack to clip the margin down, but Katak rose up to the task this time to prevail by a half-length.
A weakening pacesetter in the Singapore Gold Cup in November, Elite Incredible (Simon Kok Wei Hoong) proved he doesn't have to absolutely lead all the time after he came from just off the pace to grab a surprising third place another half-length away. The winning time for the 1400m on the Short Course was 1min 23.03secs.
Le Grange said he had already been taken by what he saw from Katak in the parade ring - a more collected demeanour that could only be more conducive for a first visit at the Kranji winner's circle.
"He has settled so much better. He wasn't sweating, he was conserving his energy so well, when he used to use it up a lot before the race last time," said the South African handler whose second runner Pennywise (A'Isisuhairi Kasim) ran a creditable fifth.
"Mind you, he's still not fully wound up, and that first race back will bring him on.
"I will now run him in a Class 1 race over the mile on February 26, and probably look for another race before the Kranji Mile, which is his main target."
The Group 1 Kranji Mile (1600m) is the race to kick off this year's feature races calendar on May 21.
There is still some way to go before Katak fully wins Kranji over even if Saturday's run must have received nods of approval, but Le Grange was above all glad the owners' leap of faith to bring such a top-notch performer over despite a drawn-out overseas quarantine that can stretch as long as one year - and it did in Katak's case.
"A big thank you to Marsh and his son Guy Shirtliff, and Bryn Ressell. This may even sound boring what I'm going to say, but for what it costs to bring this horse over, it's such a massive undertaking which can take a lot out of the horse," said Le Grange.
"It's unbelievable, and it's a great thrill he's won today. I look forward to a good season with him, but like I said, what I really liked today is how he has matured mentally and physically.
"He's still an entire. The owners do some breeding in South Africa, and after he won today, I've not seen any signs of coltishness, so at this stage, there is no plan to geld him.
"A big thank you to Danny as well. He has done a lot of work on this horse behind the scenes.
"And it's also thanks to my track rider Ayie, who works this horse every day and has played a massive part in getting him to where he is at now."
With that first win cheque, Katak has now made close to $150,000 in prizemoney for the Vasco Stable run by the Shirtliffs and Ressell.