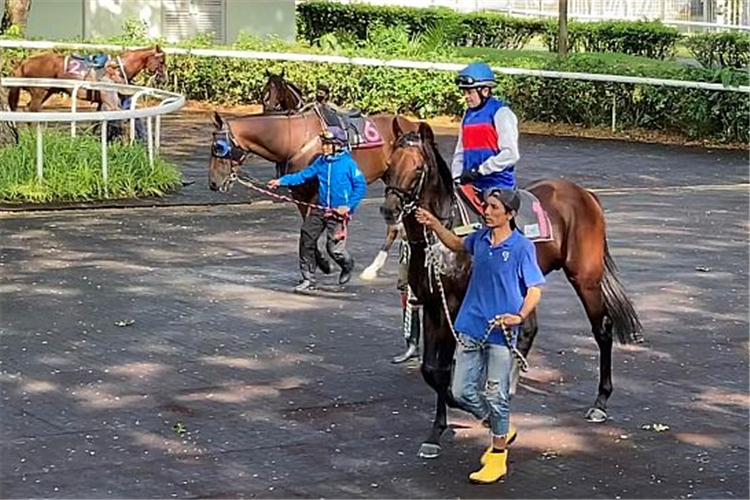 Katak and his stablemate Rocket Star will be running in the $1 million Group 1 Kranji Mile (1600m) next Saturday.
They were being put through their paces in heat no. 2 where Katak (Manoel Nunes) drew clear to score, while Rocket Star (Jake Bayliss) caught up nicely, finishing two lengths behind in second.
The good trials from the duo under their race-riders pleased Le Grange, who celebrated his 49th birthday on Tuesday, even more so when he had been "scratching his head" over Katak's last run in the Class 1 race (1400m) two weeks ago.
Back then, connections were confident of a good run from the Cape Winter Series Triple Crown winner, but Katak could not muster an acceleration in the straight under Nunes' persuasion. He ran last to Gold Star, but only under seven lengths in the high-quality field of 11.
Both Le Grange and Nunes were at a loss to pinpoint a reason to the Potala five-year-old entire's bad run.
"We thought he was really good going into that, so it was a head-scratcher," said the South African handler.
"The horse did not run to form. Nunes thought so too. You can put a line through that.
"But from the way he trialled yesterday, he has really improved. I'm very happy with him.
"He will go for a gallop most probably next Monday morning, and then into the big race."
Le Grange was equally happy with Rocket Star, who is coming back from a short break since his last-start second to Fame Star in a Class 1 race (1200m) on March 19.
"He has had two trials since his last run. He ran second both times and they were both very good runs," said Le Grange of the five-year-old son of Star Witness.
"The first one was more of a conditioning trial, and he finished nicely.
"He was very impressive yesterday. Jake just let him go through his gears and he ran under his own steam.
"He had a bad barrier at his last start, it was a quick leaders' track and Fame Star (the winner) carried a light weight. So, his run was full of merit then.
"He will also have his final gallop next Monday."
Both runners are looking to win their first Group race in Singapore and Le grange would not split the two in the feature race ahead. Still, he thought an inside barrier would be good for Katak this time round.
"I'm in a very good position to have two good runners in the big race," said Le Grange, who saddles eight runners in seven races this Saturday.
"Like I said, I respect my competitors, and everyone stands a good chance in there. So, may the best horse win.
"However, I'd like an inside draw for a change for Katak. That would be ideal. He has drawn wide most of the times at his previous runs.
"It doesn't matter as much to Rocket Star this time as he gets back.
"It will also be great to have Katak's owners and partners flying in from South Africa and Rocket Star's too, from Philippines, to be here on Kranji Mile day to soak up the atmosphere."
Katak is owned by father-and-son combination Marsh and Guy Shirtliff, and Bryn Ressell of the Vasco Stable, while the owner of Rocket Star is Paolo Mendoza.
Once the former assistant-trainer to ex-Kranji trainer Patrick Shaw, Le Grange has held his own since 2017 and won five Group races thus far, including the Group 1 Queen Elizabeth II Cup (1800m) in 2017 with Quechua.
He has fielded runners in the last five editions of the Kranji Mile, with Rocket Star (Wong Chin Chuen) closest to a win last year when third to Minister.