With his stablemate – Lim's Kosciuszko (Danny Beasley) – sent out favourite on the back of a late jockey change and excellent form, Lim's Lightning snuck under a few pundits' radars heading into the race but again showed why he is the best horse in Singapore with his fourth Group 1 victory in just over twelve months.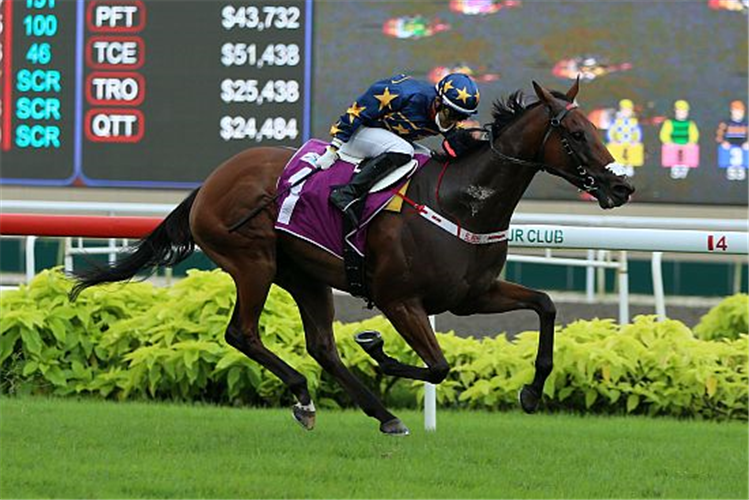 From the jump, race-rider Wong Chin Chuen had him beautifully positioned behind the obvious leader in Fame Star (Jerlyn Seow) and with the fast early tempo; the run was always going to appear for the patient young rider.
And when it did, Wong pushed the trigger and Lim's Lightning did what he does best by first putting paid to the other on-pace runners – including his stablemate Lim's Kosciuszko – before holding off the fast-finishing Sacred Croix (Shafiq Rizuan) and Mr Malek (Bernardo Pinheiro) by half-a-length and one length respectively.
The winning time of 1 min 33.25secs set a new course record over the mile on the Long Course, shaving 0.03 seconds off Magneto's in 2014.
The win was also Lim's Lightning 's 11th from 19 starts in Singapore and took his total prizemoney earnings close to $2.2 million for the Lim's Stable.
Winning trainer Daniel Meagher was very emotional at the winner's circle. He was full of praise for the horse that has given him the biggest wins in his short training career.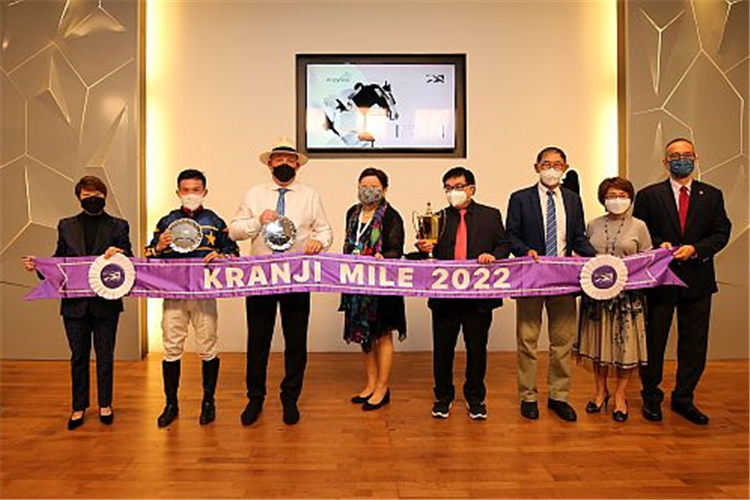 At the Group 1 Kranji Mile prize presentation ceremony: (from left to right) Singapore Turf Club President and Chief Executive Ms Irene Lim, jockey Wong Chin Chuen, trainer Daniel Meagher, Tote Board Chairman Mrs Mildred Tan, owner Mr Lim Siah Mong, Singapore Turf Club Chairman Mr Niam Chiang Meng, Tote Board Board Member Mrs Penny Goh and Singapore Turf Club Management Committee Member Mr Andrew Loh.
"He's an amazing horse," Meagher told racing presenter Scott Bailey immediately after the win.
"We were struggling with him this time in.
"He was not the same horse and I feel sorry for Danny but great for CC (Chin Chuen).
"He's a great horse, he showed his true class, but as I said, we were struggling with him… it's just good."
Meagher would have liked to say more but the emotions of such a win got the better of him and the young trainer was also keen to congratulate the winning jockey and connections at the winner's enclosure.
In the Champagne Room after the presentations, Meagher – who joined his father John's achievement (Mayo's Music in 2004 and Recast in 2006) by winning the Kranji Mile – continued his praise of the horse and was thankful of those behind the scenes.
"The cream rises to the top, doesn't it?" asked Meagher rhetorically.
"Sometimes we think too much, you just have to trust your judgment but I felt he wasn't quite there but he showed why you can't doubt him, he's a superstar.
"Proud of the team – the boy Fahmi (Rosman) who does most of the work – but Danny has put in a lot of work as well and while I'm gutted he wasn't on him, he was so happy for us and CC after the win – he's part of the team and it's a team effort.
"And we can't thank (owner) Mr Lim (Siah Mong) and all his team enough. They are our biggest supporters."
Meagher also made it clear that the win was a special one for his family.
"The family have a big history in Singapore and this win will mean a lot to Dad (John) who has been battling of late," he said.
"Mum, too, and my brothers (Paul and Chris) who all worked and lived here and also my family in Singapore – Sabrina (Kadir, ex-Kranji jockey) and the kids – this win is for them all."
For Wong Chin Chuen – or 'Jimmy' as he is known at the track – his first Group 1 win hadn't sunk in yet.
"That feeling I can't explain," said Wong after the official weigh-in.
"He was travelling very well in the race but I was a bit surprised when he pulled away to a big gap.
"But he's an experienced horse and he knows what he's doing.
"It was an amazing feeling past the post. It's my first Group win, a big thanks to the owners, all the connections, and I don't know what to say, (but it's) my first Group 1 in Singapore!"