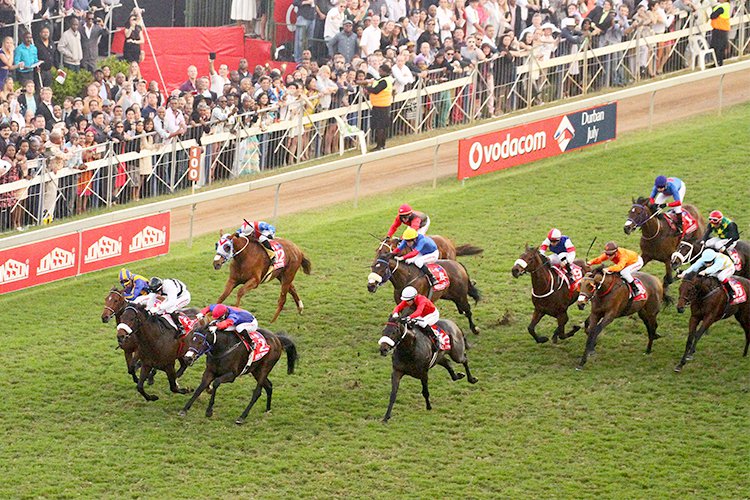 Sun Met winner Rainbow Bridge was the Sands' representative while the De Kock-trained 3YO Soqrat was the one to fight it out over the final 200m.
Once again it was Rainbow Bridge who claimed the victory, despite hanging in during the closing stages.
He beat Soqrat by 0.40 lengths with Cirillo 1.75 lengths back in third, ahead of Twist Of Fate with the much-vaunted Buffalo Bill Cody fifth.
Rainbow Bridge had to survive a race review by stewards but in the end no action was taken.
Anton Marcus, deciding the pace was too slow, took Soqrat around the field and as they came for home he hit the front. Richard Fourie moved Rainbow Bridge up on his outside and the two moved away from the field to fight it out.
Fourie has now ridden Rainbow Bridge four times for four wins.
"He's a top horse. I felt it when I first rode him as a young horse and I told Mr Sands he was a champion," Fourie said.
"This has been a crack year with some top horses and he is always there, running his heart out.
"As you saw, he is not an easy ride, he hangs in all the time. But he is a quality horse.'
Sands commented that Marcus had ridden a clever race and was clearly proud of his charge.
"It is great to end the season off like this. He will go back to Cape Town now.
Buffalo Bill Cody failed to quicken in the straight but he has to be better for this run. It may have been that his second run after a long layoff was his downfall.
RAINBOW BRIDGE remains unchanged on a Merit Rating of 124 after his victory in the G1 World Sports Betting Champion Stakes at Greyville.
The handicappers used the three-year-olds Soqrat and Twist Of Fate as the line horses to rate this WFA event which saw Rainbow Bridge running to 122.
The line horses remain unaltered while fourth placed Cirillo drops from 121 to 119. However fifth placed Buffalo Bil Cody was upped from 114 to 115, which is the rating he achieved when winning a pinnacle plate at his prior start. In the only other change Matador Man was cut from 112 to 111.
* After winning all three big sprints of the Cape season, Kasimir capped a dream season and made certain of the Equus champion sprinter title by taking out the G1 Mercury Sprint at Greyville on Saturday.
The 18-10 favourite had to work extremely hard as Sean Tarry's brilliant filly Celtic Sea led and was only overhauled late under an ice cool Richard Fourie ride on Kasimir.
Few expected Celtic Sea to set the tempo but she jumped out smartly, followed by outsider Palace Chapel while Kasimir had got across swiftly to be in a perfect position third on the rail with Snowdance fourth.
They were the first four past the post with Celtic Sea looking the winner until Fourie switched Kasimir to the inside.
With 100m to go he got to the filly and not for the first time displayed exceptional courage to squeeze through on the rail to win going away by half a length.
The three-year-old Palace Chapel ran the race of his life to only be a neck further back while Snowdance produced another game effort staying on for fourth.
Disappointment of the race was Mike de Kock's juvenile star Frosted Gold, who never got into it and trailed in second last.
KASIMIR has had his Merit Rating increased from 117 to 118 after he captured the Mercury Sprint at Greyville.
The handicappers agreed that ultra-consistent Bold Respect was the correct line horse to use in assessing the race and as such his rating remains untouched on 112. Runner-up Celtic Sea was also left unchanged on 115 but third placed Palace Chapel was increased from 107 to 112.
Fifth placed Africa Rising and sixth placed Vab Halen both go up to 112, from 107 and 110 respectively. Vision To Kill was dropped from 105 to 102.
* The Gavin Van Zyl trained Gabor gave deceased sire Kingsbarns a posthumous first G1 win when she roared home in the Thekwini Stakes for juvenile fillies at Greyville.
It was red letter day for birthday boy Van Zyl, who turned 70 on the day, and the ill fated Kingsbarns.
Richard Fourie got Mill Queen over from a wide draw to set the pace while 2-1 favourite Gabor under Warren Kennedy was in the box seat from a plum inside draw.
Castellano and Snow Palace also raced handy, while fancied True To Life was within striking range throughout.
By contrast Cockney Queen had no luck from a bad draw and dropped out to last.
Fourie is notoriously difficult to pass on a decent front runner and deep into the short Greyville straight he had Mill Queen holding onto a length advantage.
Just when it looked like unheralded trainer David Nieuwenhuizen would score a maiden G1 win Gabor came down the inside to score by three quarters over a gallant Mill Queen.
Snow Palace stayed on for third with nothing from off the pace in contention.
* It was supposed to be the Eden Rock show, but Anton Marcus ensured it rained on the Sean Tarry/Lyle Hewitson parade when he steered Got The Greenlight to victory in the G1 Premiers Champion Stakes at Greyville.
Jumping from gate 13, Got The Greenlight had to take the scenic route while Eden Rock had the privilege to hug the rail from the word go over the 1600m course for two-year-olds.
Hewitson played his part, For the first 1000m the champion jockey had one hand on the rail while the rest of the field made the running.
He was positioned perfectly but when the Var colt was asked to shift gears the tank was empty.
Meanwhile Marcus opened the throttle on Got The Greenlight when it mattered to win going away from a decent field of juveniles who had racked up 19 wins between them.
Trainer Joe Soma was his down-to-earth self after the race, saying Got The Greenlight has been improving with every run.
"Judging from his work, we knew he would hard to beat," said Soma. He also sang the praises of Marcus, saying he has a great relationship with this "special man".
Owner Hassen Adams was also on Soma's thank-you list.
"We always go to the sales with a bush racing budget, so it's really special standing here," said Soma, who also singled out his family for their efforts.
For Got The Greenlight it was sweet revenge, having been beaten 1.5 lengths by Eden Rock two starts back under the same weights.