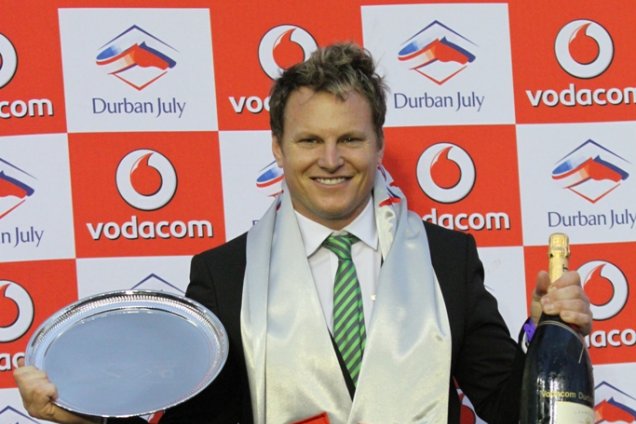 The G1 race will feature the winners of last year's Vodacom Durban July Do It Again and January's Sun Met Rainbow Bridge.
The pair, from the stables of Justin Snaith and Eric Sands respectively, last met in the Sun Met (2000m) at Kenilworth in January where Rainbow Bridge just beat Do It Again by three-quarters of a length.
After winning the Vodacom Durban July last year Do It Again won the G1 L'Ormarins Queen's Plate before his second in the Sun Met.
For Do It Again it will be his first race in KwaZulu-Natal this year while Rainbow Bridge gave notice that he is ready to rumble when flying through in the home straight to finish second behind Undercover Agent in the Drill Hall Stakes.
They meet again at level weights with Do It Again and Rainbow Bridge expected to fight out the finish even though Brett Crawford's Undercover Agent is also in the race.
Mike de Kock and Sean Tarry also field top contenders Soqrat, Matador Man and Cirillo and Dennis Drier races his smart Dynasty filly Lady In Black.
The G3 Cup Trial includes six Vodacom Durban July entries that will be all out to impress the July Selection Panel when they choose the final 20 horses.
This is a competitive field and a close finish and possible upset result can be expected.
The meeting also includes the three finals of the very competitive KZN Winter Challenges that usually produce close and exciting racing.
The Pick 6 pool on Saturday is expected to reach at least R3 million.
VODACOM DURBAN JULY LOG (June 3)
R4,250,000; 2200m
1 DO IT AGAIN (4G) 125 Justin Snaith
2 RAINBOW BRIDGE (4G) 124 Eric Sands
3 HAWWAAM (3C) 121 Mike de Kock
4 RETURN FLIGHT (3F) 109 Sean Tarry
5 HEAD HONCHO (5G) 122 Andre Nel
6 TWIST OF FATE (3C) 117 Joey Ramsden
7 LADY IN BLACK (4F) 112 Dennis Drier
8 LEGAL EAGLE (7G) 116 Sean Tarry
9 TILBURY FORT (5G) 110 Sean Tarry
10 EYES WIDE OPEN (4C) 109 Glen Kotzen
11 MADE TO CONQUER (5G) 108 Justin Snaith
12 MAGNIFICENT SEVEN (4G) 104 Justin Snaith
13 DIVINE ODYSSEY (4G) 111 J A Janse van Vuuren
14 HERO'S HONOUR (4G) 106 Gary Alexander
15 BARAHIN (3C) 108 Mike de Kock
16 FRESNAYE (4F) 104 Joey Ramsden
17 DOUBLEMINT (4C) 104 Justin Snaith
18 MIYABI GOLD (4F) 105 Justin Snaith
...........................................................................................................
19 CAMPHORATUS (4F) 105 R A Hill/S R Hill
20 ZILLZAAL (3C) 104 Sean Tarry