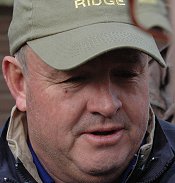 De Kock saddles two runners – early favourite Hawwaam and the well fancied Barahin, both three-year-olds he finds hard to split against a crack field.
"Barring Soqrat, all the best horses in the country are there," he said.
"Hawwaam probably has a tad more class but it is a while since we've seen the best of Barahin.
"The last time he raced at his best, he beat Soqrat at Greyville so he has to be right up there.
"Hawwaam is not straightforward. You don't know what he's going to do…whether he will jump slowly, or whether he will pull.
"This is also the first time he is running in an 18-horse field so we don't know how he will cope.
"Barahin is a one-dimensional horse. He'll relax near the back of the field and run on late."
De Kock says the temp will dictate the outcome of the race.
"What has happened previously in the race is that many are duped into following the leader rather than judging the pace they need for their own mounts," de Kock told Tabnews.
"I think whoever sizes it up properly early on, who gets his horse into a good position, will have the advantage.
"The race can be won and lost over the first 200m.
"It's always going to be tactical when you have a 18-horse field. You have speed on your inside and outside and only a few jockeys who understand that."
De Kock did admit that one thing he likes about Hawwaam is that he knows how to win. He comes into the July as the last start winner of the G1 Daily News 2000.
"Nothing went to plan. We wanted to lead but he was left at the start, others got first run on him and he still won," he said.
"He doesn't know how to lose."
Rival trainer Eric Sands is confident of Rainbow Bridge's chances of becoming the first horse since Pocket Power 11 years ago to win the Met and the Vodacom Durban July in the same season.
Rainbow Bridge , a last start third in the Rising Sun Gold Challenge, is the first horse the 63-year-old Milnerton trainer has run in the July since Money Bags in 2006.
"You could say that his last run was a bit disappointing but I don't know that it was," Sands told Gold Circle.
"He ran into a pocket that day and came off second best. I was happy with where he finished.
"Everything has gone well since the Gold Challenge and I couldn't have asked for a better prep. All the boxes are now ticked.
"He has matured a lot and he travelled well last Thursday."
His rider Gavin Lerena is desperate to end his Durban July drought.
A fourth on Tellina five years ago is the closest Lerena has come in eight previous July rides but the former champion jockey is leaving no stone unturned in his bid to land the prize on Saturday.
"Gavin was riding him the whole of the previous week and was back this week to do pacework. He gets on well with the horse," Sands said.
Owner Mike Rattray bought Rainbow Bridge specifically to try to achieve his lifetime ambition of winning the July.
The octogenarian former Greyville chairman has had two seconds among a number of July starters.