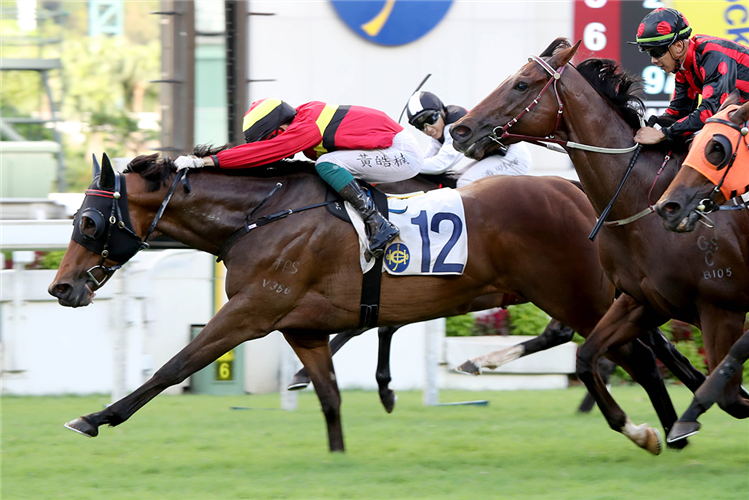 RACE 1 - WAGLAN ISLAND HANDICAP, HK $725,000
Class 5 – Rating 40-0 – All Weather Track – Distance 1650m – Track Good
Time: 1:40.19 Standard Time: 1:39.55 Course/Class Record: 1:38.60
Winner: DOUBLE TAKE (AUS 3yo g Declaration Of War – Hidden Kisses) slips out of Class 4 into Class 5 and makes an immediate impact, and off the benefit of a sound attempt at the end of May in his debut race on the poly track. Rider Neil Callan found a good spot one off the fence as they went mad up-front early and he was there to pick them off after turning for home. Hidden Kisses was a good mare, she won several in Queensland for Rob Heathcote before capping her eight-win career with Chris Waller in winning at Group 3 level in Sydney.
Runner-up: SHINEALOT got back and scooted home strongly the final furlong under Zac Purton. Notably, his all-weather track debut and a strong run so looks a next time winner in Class 5 on this surface.
Run Of The Race: GREAT SMART was five and six wide into the first turn and then three-wide outside the pace from there, never flinching to run third. A mammoth effort from this horse. Now three starts with Manfred Man and he has turned the horse around.
Disappointment: WITNESS HUNTER again had tote support but his performance well below where it needs to be.
Comparison: Well above standard so the all-weather track perhaps playing quite slowly today based on the fact they seemed to be running along.
Market Mover: WITNESS HUNTER $12.10 to $8.00, GREAT SMART $20.50 to $11.30
RACE 2 - PENG CHAU HANDICAP, HK $967,000
Class 4 – Rating 60-40 – Turf 'B' Course – Distance 1200m – Track Good TF
Time: 1:08.45 Standard Time: 1:09.50 Course/Class Record: 1:08.92
Winner: WINSTON'S LAD (AUS 8yo g Churchill Downs – Caralowe) adds to an outstanding record for trainer Francis Lui who won the last four races on the card at Happy Valley on Wednesday night and is straight back into the winning groove with this horse, a grand campaigner and now the winner of seven from 56 starts. He goes back-to-back after recapturing his best form at Happy Valley on June 3, also at 1200m. A long time since he won his maiden in Australia, all the way back to January 2015. The strong pace up-front, culminating in a class record time, really suited his style today, swooping wide and too quick.
Runner-up: BRIGHT KID was another to be back and hitting the line hard off this very quick speed. Lovely try again, his form has really picked up lately and it seems courtesy of a change of scenery to Chris So for the last three starts. He is well poised in Class 4 to make an immediate impact at the start of next season.
Run Of The Race: The well-backed FARM BUMPER was exceptional given he could not get closer than three-deep on the speed and had the bravery to shoot away and put a gap in them off the home turn. Effort told but very game in running fourth. BRIGHT KID and SUMSTREETSUMWHERE both very good from the rear.
Disappointment: WOOD ON FIRE sat behind this hot speed and seemed to have the jump on them but quickly folded after turning for home. Rider Neil Callan disappointed and said he felt the horse did not stretch out.
Comparison: It looked quick and the clock didn't disagree, smashing the class record by nearly a half-second. The first three home broke the old record Track is on fire.
Market Mover: SUMSTREETSUMWHERE$15.00 to $10.00, FARM BUMPER $12.90 to $7.90
RACE 3 - PENG CHAU HANDICAP, HK $967,000
Class 4 – Rating 60-40 – Turf 'B' Course – Distance 1200m – Track Good TF
Time: 1:08.77 Standard Time: 1:09.50 Course/Class Record: 1:08.92
Winner: ANGEL OF MY EYES (NZ 3yo g Niagara – Rose Chapel) was given a lovely ride by Purton, again following a very slick speed, eased wide to make his run off the turn then hit a flat patch when he decided to race greenly. Once Purton straightened him up the response was undeniable. Just his second race start after debuting May 24 at 100/1. He was bought out of New Zealand from trainers Tim and Margaret Carter after three trials in late 2019 where he placed in each. This horse will make his way through the grades, looks to have plenty of scope.
Runner-up: HERO STAR was used early to be handy, settled fifth and peeled to make his run 400m from home. A likely winner 150m from home he just couldn't withstand the big finish off his back from the winner. Now three times second from eight starts in Hong Kong the Kaphero gelding is ready to win for an in-form Manfred Man stable.
Run Of The Race: MIGHTY VALOR was terrific based on his efforts to get across from the widest draw of a sluggish start, set the terms and kick like he could still win until the shadows of the post. Such a promising horse.
Disappointment: The money poured in for GALLANT LEGACY and he had the drop on them after tearing over to lead then trail. Made a brief challenge but soon battling.
Comparison: Again, under that former class record for the Class 4 horses over 1200m, yet the previous race had broken the record by a further three-tenths a half-hour earlier.
Market Mover: ANGEL OF MY EYES $13.70 to $8.40, GALLANT LEGACY $8.60 to $4.70
RACE 4 - CHEUNG CHAU HANDICAP, HK $1,450,000
Class 3 – Rating 80-60 – Turf 'B' Course – Distance 1200m – Track Good TF
Time: 1:08.31 Standard Time: 1:09.25 Course/Class Record: 1:08.68
Winner: E STAR (NZ 4yo g Ferlax – Duck For Cover) had to be decent to win this, slow and well back on the fence, under a ride and hanging coming towards the turn and then plenty of ground to make up once straightened. But never give up on Joao Moreira's ability to get one home, he used his perfect balance to get a good rhythm going in the sprint home and the pair made it late. Race best 21.87 final 400m. The Kiwi-bred had won three previously at Sha Tin, all at 1200m, all for Manfred Man, the stable to follow right now. His dam Duck For Cover is an unraced daughter of Savabeel.
Runner-up: SMART LEADER deserved to win this his effort to swoop up wide from the back and charge into contention looked to be good enough, and in most cases would have been. A strong finish to his season, albeit at Happy Valley in the main, so a nice return to form at Sha Tin for this horse.
Run Of The Race: Nothing between the top two, they both were great in their efforts to pick up many lengths and kick so strongly through the line. TEMPLE OF HEAVEN also very good from the rear in fourth.
Disappointment: HARDLY SWEARS was expected to show more from gate one at 5/1 but just didn't finish it off after getting a cushy run.
Comparison: Another class record, another record a half-second under the former mark. The well backed FLYING BONUS didn't waste any time in front, certainly set a very strong clip.
Market Mover: FLYING BONUS $19.90 to $12.50
Fined: Neil Callan (TELECOM ELITE) $5000 for being overweight.
RACE 5 - TUNG LUNG HANDICAP, HK $967,000
Class 4 – Rating 60-40 – All Weather Track – Distance 1650m – Track Good
Time: 1:39.87 Standard Time: 1:38.75 Course/Class Record: 1:38.02
Winner: PARTY EVERYDAY (AUS 4yo g Snitzel – Scarlett Lady) is flying along on the all weather track right now, that's consecutive wins off the back of a second placing three starts back for Tony Cruz. His career began in September 2019 and it started slowly, no form of any note on the turf track until March when he started to kick into gear. It has been a nice rise from the son of Snitzel and former Queensland Oaks winner Scarlett Lady. As we have noted before he has some financial ground to make up, an $A870,000 yearling then on-sold for $HK 7 million at the 2019 Hong Kong International Sale. Gave them a big start and a big beating today, very good victory.
Runner-up: SKYEY SUPREME had work to do from gate 14, jumped well and headed forward to sit fifth or sixth and he rounded it off strongly for Vincent Ho. The Irish bred remains winless in Hong Kong but working forward nicely after starting his HK career in Class 3 following two Italian wins for Endo Botti. Another finding better form racing on dirt.
Run Of The Race: Hard to go past PARTY EVERYDAY who gave them there chance to beat him but he was too smart. Honourable mentions to RIGHTWOUS MATE and HIDDEN SPIRIT doing well late from the rear, too.
Disappointment: MOMENTUM HAPPY was well favoured with Purton up in his third run back from a spell. He shared the pace but once under pressure faded quickly.
Comparison: The all-weather track is far removed from the flying surface on the turf today. Well over a second outside standard tells us that.
Market Mover: MOMENTUM HAPPY $9.30 to $5.80, WINNING TOGETHER $31.40 to $17.60
RACE 6 - PO TOI HANDICAP, HK $967,000
Class 4 – Rating 60-40 – Turf 'B' Course – Distance 1400m – Track Good TF
Time: 1:20.96 Standard Time: 1:22.15 Course/Class Record: 1:21.08
Winner: HEZA BEAUTY (NZ 3yo g Darci Brahma – Myback) collects career win one in his seventh start and an overdue win after starting favourite in his previous four starts. Perfect ride from Joao Moreira, putting him straight into the trail behind the free-running leader and though a half-gap appeared in the straight he did have to squeeze through before easing clear late. HEZA BEAUTY was a $NZ220,000 yearling at Karaka in 2018 and continues a nice run for stallion Darci Brahma who has proven himself in Asia as a sire of good winners at various distances. Trainer John Size will find further improvement in this horse next season.
Runner-up: CIRCUIT HASSLER sat close to the pace and was gallant, challenging on the turn to take command and he kicked back hard without flinching A handy long-termer, start 49 today and just the one win to his name but honest and creeping to a weight in Class 4 that should see him win another soon.
Run Of The Race: SMART CHARADE was very unlucky and arguably should have won. He tracked the winner on the fence then eased off at the turn but ran into traffic trouble and was clear when the race was all over, darting into fourth. A mediocre season from him, but a horse you must follow into his next couple of starts.
Disappointment: Given an avalanche of support for SPEED FAY FAY the effort didn't match the confidence. Huge tote mover 22/1 to 5/1.
Comparison: Incredibly, another class record. This track is so fast today.
Market Mover: SPEED FAY FAY $23.10 to $5.80
RACE 7 - KAT O HANDICAP, HK $1,450,000
Class 3 – Rating 80-60 – Turf 'B' Course – Distance 2000m – Track Good TF
Time: 2:01.89 Standard Time: 2:02.35 Course/Class Record: 2:00.37
Winner: BEAUTY HAPPY (IRE 4yo g Elzaam – Diamond Circle) goes three from three for trainer John Moore and rider Vagner Borges and they have really unlocked this horses' full potential. He'd won a 2000m maiden in Ireland 12 months ago and after acclimatising in a slow start to his HK career he has hit top gear at 1800m to 2200m in the last month. He led all the way to win at Happy Valley on June 3 and made it a second lead-and-win victory for the month in this one, stalling them off comfortably. Borges can ride a leader, smart tactician this Brazilian jockey.
Runner-up: HAPPY SEBRING was back to his better form, a mixed season from him, two wins on the board though also a number of outs. Hit the line really strong from back of midfield on the rail, clocking 21.61 that final 400m which is outstanding and well clear of the field.
Run Of The Race: DEFINING MOMENT was back and very wide off the corner, his effort to run past a number to finish seventh a very solid effort well against the bias to the inside rail.
Disappointment: The $2.80 favourite CHARITY GO followed BEAUTY HAPPY every step of the way but when produced could not run it out as expected he may, fighting on to finish third.
Comparison: Under standard, no records here. Vagner Borges is so good in front he simply dictated it as a stop start affair and he gave them no hope.
Market Mover: GOD OF DRAGON $20.30 to $13.10, STIMULATION $18.40 to $12.70
RACE 8 - GRASS ISLAND HANDICAP, HK $1,450,000
Class 3 – Rating 85-60 – All Weather Track – Distance 1650m – Track Good
Time: 1:38.70 Standard Time: 1:38.20 Course/Class Record: 1:37.22
Winner: TOUCH OF LUCK (AUS 5yo g Hard Spun – Seamstress) was the easiest winner of the day to date, sitting right behind the leaders and when Vagner Borges asked him to go the acceleration instant. His combination with champion trainer John Moore has gone from strength to strength, just a shame the great trainer has to retire next month. That's three wins in his last six starts for the Aussie import, all on the all-weather track and four in total after his initial HK win came at 1600m on the turf. He's now won his last two in Class 3 but no doubt competitive on the dirt in any class.
Runner-up: SINCERE BOY did a little bit of work three-wide to find a prominent position, lost his spot coming towards the turn then rallied very strongly in the run home, albeit some margin from the winner. Just his fourth start in Hong Kong after arriving as a four-win horse from Great Britain, all his successes on the poly track there as 'Attainment', so the dirt is going to be his track in Hong Kong. Looking for a really good season from him in 2020/2021.
Run Of The Race: TOUCH OF LUCK was head and shoulders over these, just way too good. RACING LUCK did a nice job late to run into third.
Disappointment: CLEAR CHOICE was backed to win this, settled up nice and handy but failed to give a kick. Vetted, no findings, will have to barrier trial. And with all the money about for PING HAI TREASURE and MISSION TYCOON neither delivered a return.
Comparison: On a slow all-weather track another one well outside standard. Chalk and cheese the two surfaces today.
Market Mover: PING HAI TREASURE $20.90 to $9.60, ENFOLDING $24.40 to 14.50, CLEAR CHOICE $6.90 to $3.80, MISSION TYCOON $19.90 to $12.00
RACE 9 - LAMMA ISLAND HANDICAP, HK $1,450,000
Class 3 – Rating 80-60 – Turf 'B' Course – Distance 1400m – Track Good TF
Time: 1:20.96 Standard Time: 1:21.85 Course/Class Record: 1:20.62
Winner: ALCARI (AUS 5yo g All Too Hard – Cariad) was terrific and put it down to a lovely ride from Matthew Poon who had to ease his way in from a wide gate early and then pick paths through the field to make his run. Really impressive ride from the form hoop, and once into the clear the All Too Hard gelding responded in kind, a big finish to wear them down to register his first win in two years after a lean run. Trainer Ricky Yui has stayed loyal to him, nothing of note in 10 previous starts this season but back with a vengeance today. Sequalo dam Cariad won five from 23 in Queensland and two at listed level.
Runner-up: JOYFUL HEART was heavily backed to win this and went close enough after finding a good sit on speed and seemed likely at the corner. The rise to Class 3 has been a bit tougher on him after winning a treble in Class 4 including a back-to-back double at the beginning of the year. Nice bounce back here and sure to fire in the new term as the rating only needs to slip another point or two to get a run back in Class 4.
Run Of The Race: GREAT TREASURE was outstanding from last, a huge performance to rattle home wide into third in running the fastest 800m to 400m and 400m to winning post sectionals in the field. For a 66-start eight-year-old veteran he looked more like a willing three-year-old today.
Disappointment: CRAIG'S STAR well found in the market and straight onto the speed. Led them into the turn but found out in the run home as the $3.90 favourite.
Comparison: Not far from record speed, tough base don today's racing about the standard!
Market Mover: WIN WIN $24.60 to $10.60, CHAIRMAN LO $24.00 to $12.50, JOYFUL HEART $9.40 to $4.80
RACE 10 - LANTAU ISLAND HANDICAP, HK $2,100,000
Class 2 – Rating 100-80 – Turf 'B' Course – Distance 1400m – Track Good TF
Time: 1:20.69 Standard Time: 1:21.55 Course/Class Record: 1:20.29
Winner: WATER DIVINER (AUS 7yo g Equiano – Check In Time) may well have book-ended his season, winning first up in September at 1200m at Sha Tin, and ending the term with victory on the same track at 1400m. Not a lot in between, a number of times down the track, in fact. He's a handy horse, winning five of 27 since arriving in late 2016 as a maiden winner in Sydney for John Sargent. He's spent the entire season in Class 2 and deserves this one for attendance for the currently red-hot stable of Francis Lui.
Runner-up: GOOD STANDING also arrived strongly late in a race where the leading brigade came right back to them in the final furlong of the race off quite a sharp tempo. He's another fighting his way through a tough grade, came to Hong Kong as a G2 winner of the $500k Caulfield Classic and G3 Skyline Stakes among others. He's locked in Class 1 and Class 2 and his rating peaked at 108. That was start 13 for the season, a winless 12 months, but he still ranks u around the 90-point mark.
Run Of The Race: Very unlucky BEAUTY APPLAUSE, beaten to the same gap by winner WATER DIVINER and onto heels in losing all momentum. Should have won and will next time. Interesting the Stratum gelding has had 11 starts in Hong Kong and Joao Moreira has ridden him 11 times – that tells you something.
Disappointment: There were a few, but DAN CONTROL was poor given he gained a sweet run on the fence following the pace and had every opportunity. Perhaps the very form track just wasn't his go. Vetted no findings, with have to barrier trial.
Comparison: Another slick run, four-tenths outside record speed set up by BUDDIES who faded late.
Market Mover: HAPPY FUN $7.70 to $5.50