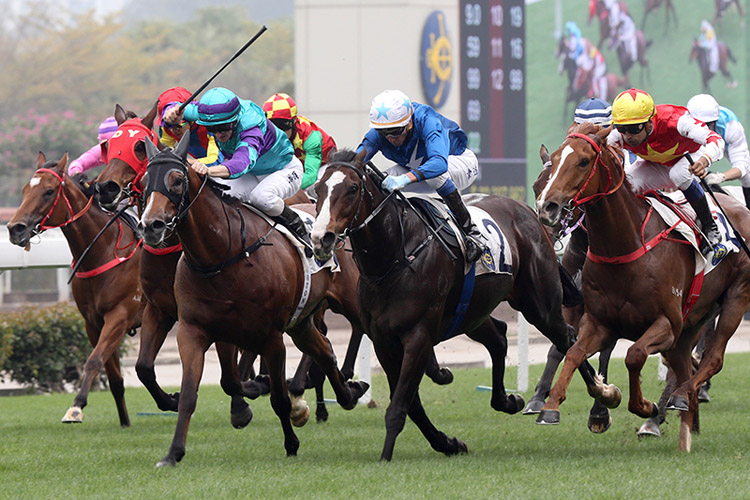 The Grande Finale for the 2019/2020 Hong Kong Racing season is only hours away with just the 9 races remaining from Happy Valley.
Zac Purton has already sealed his fourth Jockey's Championship with another solid season, highlighted by an incredible momentum shifting last ten weeks to solidify the victory he deserves.
The Trainers Championship is likely to go to the Ricky Yui stable for the first time ever, as they still currently hold a four win advantage over Tony Cruz and Francis Lui. Over the years Ricky Yui has been renowned for his astute eye when selecting young unexposed Thoroughbred talent. An this season his ability to extract the best from within that talent, along with the stable regulars has been unrivalled. It is however worth mentioning both Tony Cruz and Francis Lui only need to draw level with Ricky Yui to snatch victory, with both having accumulated more seconds. Interestingly Ricky Yui and Tony Cruz are represented in four races on the program however Francis Lui is represented in six. So it might be fair to say, with the numbers and a strong stable of last start winners on his side Francis Lui is a 100/1 to win the title, but he's been backed in late to sixty's.
Finally the Hong Kong "Champion Awards" presentation ceremony shall takes place on Thursday night 8pm Hong Kong time, and can been watched via a live cast on the HKJC website.
Most of the single category winners should be fairly self explanatory however the "Horse Of The Year" title is very interesting indeed.
R1 - 9,6,2,10,8
R2 - 4,7,8,11,5
R3 - 3,4,8,1,12
Race 4
#5 Universal Go Go kicked off the season in class 3 on a rating of 64 but has generally struggled for his best form. It's not until recently when finishing third and then second that his efforts have displayed some of that old fire in the belly. With another good barrier to deal with and his long time mate Vincent Ho back aboard he looks as good a chance as any.
#2 Party Together lines up for start twenty one in total and sixteen for the season and I'm amazed he still holds his maiden banner aloft. He's always shown enough ability and tactical speed to potentially win over a variety of distances. Zac Purton jumps aboard for the first time and from the draw he'll get his chance to snare a breakthrough win.
#11 Happy Ichiban has mixed his efforts all season but the addition of blinkers last start did the trick and he won, and won well. It's likely he turns the corner now after disappointing efforts all season and provided he took no harm from his latest win, should go very close again.
#7 Go Ballistic is a horse that's improving all the time but needs to lift another notch or two to be right in the finish. Karis Teetan dropped the whip at a crucial stage last start and he'll be looking to make amends. He was specked from 14/1 into 8/1 on that occasion which is a strong push suggesting he's getting close.
#8 Incanto Prepared caught the eye recently after over racing through the middle stages. The fact he managed to sizzle home with a quick final sectional after burning gas mid race is a promising sign for connections and trainer John Size. I've marked him only fifth selection tonight and that might be an oversight on my behalf, as he does possess the talent to go higher next season.
Selections : 5,2,11,7,8
R5 - 6,3,8,1,5
R6 - 2,4,6,7,11
R7 - 3,7,4,2,1
Race 8
#4 Star Shine is a lightly raced 6yo from the Francis Lui yard thats taken all season to rack up another win, which ironically was achieved his first start at the valley. Given a lovely ride in transit he could not have been more impressive tackling the 1650m for the first time by drawing away for an impressive win. Zac Purton secured the victory after picking up the ride from the indisposed Vincent Ho who was stood down earlier in the evening. It's no surprise Purton retains the seat and the horse maps to settle midfield on the rail. It's a particularly strong race but he does look one of the main hopes and is likely to be the testing material.
#6 Magnificent generally doesn't cop to many accolades but this super consistent galloper, who's finished top two his last four starts, should never be overlooked at the valley. He'll roll forward from the wide gate and I'm expecting another hearty display for a long way.
#1 Butterfield is going great guns and hard to ignore after being narrowly cut down his last two races. He maps beautifully and won't know himself with all the weight of his back. Under the circumstances surrounding tonight's race, back in trip and down in weight, I wouldn't be at all surprised if he's to good.
#2 Insayshable has the wide draw and on paper it looks a major concern. However, his early speed can potentially help offset any issues regarding position mid race. It's hard to ignore his closing section behind rival Star Shine last start, plus he's just finding his better form when others are getting tired.
#7 High Rev trialed nicely before his latest effort when making good ground behind a strong field at Shatin. He now returns to the course and distance where he's won three races but he has struggled in the grade. After careful and strong consideration I've included him ahead of others, because the stable is flying.
Selections : 4,6,1,2,7
R9 - 1,4,7,3,12