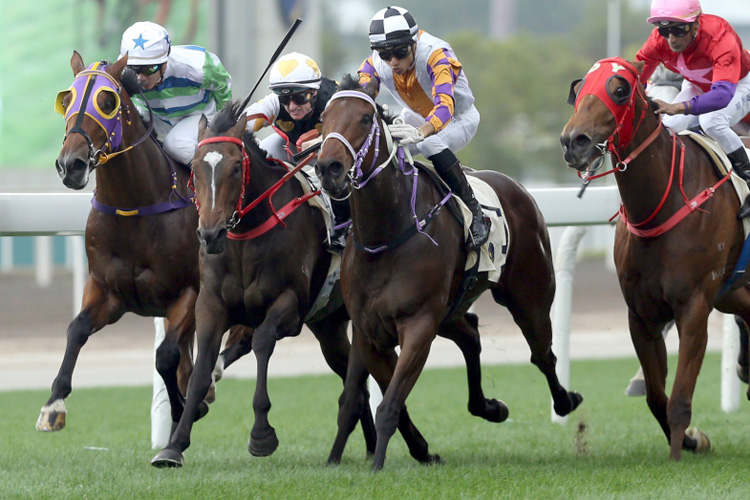 RACE 1 - YUEN YUEN HANDICAP, HK $725,000
Class 5 – Rating 40-0 - Turf 'B' Course – Distance 1800m – Track Good
Time: 1:49.79 Standard Time: 1:50.80 Course/Class Record: 1:49.33
Winner: MONEY WINNER (NZ 7yo g Mastercraftsman – Just A Dream) flew home from last in stunning style, belying the fact he was rated so low his career in Hong Kong would hang in the balance in unsuccessful. He'd spent the entire season in Class 5 and was unsuccessful in 12 starts apart from a lone second over a mile at Sha Tin in December 2019. Last won in January 2019 and that was his only other success in 40 previous outings. There's a race for everyone, and this horse proved that tonight.
Runner-up: BUNDLE OF ENERGY looked to have bene perfectly ridden to win, Zac Purton also sitting his mount well back in the field and he swooped when the time was right, looking home and hosed. But this withering finish from the bolter could not be fought off. Still a maiden in Hong Kong off 25 starts but sure to find his win next term.
Run Of The Race: Look no further than MONEY WINNER, startling to think he was still last at the 200m mark and his acceleration wide out had to be slick to run past the entire field from that point. BABY STORM was brave after scooting over to lead from the wide gate, kicking well in third.
Disappointment: GREAT SMART didn't get all the luck in transit but base don the form leading in he should have perhaps finished closer.
Comparison: A full second under the standard and given the backmarkers got the money it seems the front few had done a little too much.
Market Mover: BUNDLE OF ENERGY $3.90 to $3.30
RACE 2 - TSUN YUEN HANDICAP, HK $725,000
Class 5 – Rating 40-0 - Turf 'B' Course – Distance 1000m – Track Good
Time: 0:57.27 Standard Time: 0:57.30 Course/Class Record: 0:56.90
Winner: OVERSUBSCRIBED (AUS 4yo g Reward For Effort – Underfoot) cashes in on a beautiful draw and gun ride from champion jockey Zac Purton to break through and win his first of the career at start 14. Gate two was the winning of the race, able to slot into the trail and get the best run, the horse doing enough to withstand bold late runs from others. David Hall wins another, he's working a solid team into a good place leading into next season.
Runner-up: CHUNGWHA JINGSHEN was handy on the fence also, gained the rails run in the straight and that shortcut got him second money. First time placed in nine starts for the former Kim Waugh-trained gelding who did not race but trialled on three occasions before export. A $30,000 yearling on-sold for $175,000 as an up and going two-year-old.
Run Of The Race: Smart finishes late and wide from the third and fourth runners SHOW MISSION and VITAL SPRING. Both have moderate records with a couple of wins though VITAL SPRING has only just entered Class 5 and he looks very well poised to win in this class at short notice next season. Slick 22.22 final 400m from him bettered the field.
Disappointment: Favoured runner FLYING MONKEY was trapped three-wide from a wider gate and without that luck in running over the flying 1000m he would pay the price for that.
Comparison: Right on standard, trailer and three-deep got the cash so on pace was the place to be.
Market Mover: FAIRY FLOSS $13.40 to $9.70, FLYING MONKEY $5.70 to $4.50
RACE 3 - TSAP TSEUNG HANDICAP, HK $967,000
Class 4 – Rating 60-40 - Turf 'B' Course – Distance 1200m – Track Good
Time: 1:09.64 Standard Time: 1:10.10 Course/Class Record: 1:08.92
Winner: POWER KING (AUS 4yo g Written Tycoon – Octangle) claims a late victory in his first season of racing for Tony Cruz. An expensive yearling, he went through the 2017 Inglis Melbourne Premier Sale for $A500,000 so there's still plenty recoup. Powerful finish centre-track, and position where they seemed to be coming from in the early races on the card. Cruz started the night four behind in the trainers premiership, but with just three others runners to come it would be a tall order to tie.
Runner-up: SELL MY SOLE started the warm favourite to win for John Size off gate one after showing some promise in two starts. The son of former Kiwi star Jimmy Choux had his opportunity, trailing and off the fence to take command off the corner, but outgunned. Looks the type to be a better horse with another six months on him.
Run Of The Race: Scooting home well was HONEST WAY, always well back in the field from gate eight and from wide on the corner really impressive in finishing strong. A busy season from him, 15 starts and without a win but really consistent at the back end with four top three finishes form his last five runs. Off the clock AMAZING was good, a race best 22.48 sharp the final 400m to improve from last to sixth.
Disappointment: SELL MY SOLE has to get that tag based on the run he received and was beaten by one giving him a decent head-start.
Comparison: Nice pace up front and well under the standard. Centre track has been a real fast lane tonight.
Market Mover: POWER KING $5.50 to $4.40, SELL MY SOLE $2.50 to $2.30
RACE 4 - TSOI TAK HANDICAP, HK $967,000
Class 4 – Rating 60-40 - Turf 'B' Course – Distance 1650m – Track Good
Time: 1:39.20 Standard Time: 1:40.45 Course/Class Record: 1:38.83
Winner: LUCKY MISSILE (NZ 3yo Rock N Pop – Nicole Amy) breaks through for the in-form stable of David Hall, capping an opening season that had realised one placing from eight previous starts. This horse has been a back runner getting home well enough in a few starts, and tonight he found that magic strip of ground down the middle of the track. He follows up as another winner for sire Rock N Pop who has had his successes of late, and dam Nicole Amy was really handy, she won eight times and placed in 16 from 54 starts in New Zealand. Nice ride from Matthew Poon, timing it beautifully.
Runner-up: UNIVERSAL GO GO ran up to win the race however he was dusted late by the former who just came home too quickly on his outer. A good solid season for this son of Azamour without winning, five top-threes from 13 runs for Francis Lui, A bit surprising he hasn't been able to win in Class 4 since returning to the grade in March.
Run Of The Race: LUCKY MISSILE gave them a start and a beating, no excuses really for the rest, he had the work to do and mowed them down. GO BALLISTIC also fired home from the tail of the field and is one to watch on a low rating of 47 into next season.
Disappointment: PARTY TOGETHER was given every chance by Zac Purton, sat fourth the outer, cruised up to challenge at the turn and looked likely but peaked quickly.
Comparison: Quick time this one, 1.25 seconds under standard, they rattled along as keen leader SUPER WINNER ran his usual constant tempo in front, not an easy horse to rate, he gets rolling underneath the riders.
Market Mover: LUCKY MISSILE $11.80 to $9.40, GO BALLISTIC $10.30 to $6.30
RACE 5 - TSAP TSEUNG HANDICAP, HK $967,000
Class 4 – Rating 60-40 - Turf 'B' Course – Distance 1200m – Track Good
Time: 1:09.97 Standard Time: 1:10.10 Course/Class Record: 1:08.92
Winner: KINDA COOL (NZ 3yo g Per Incanto – Virginia Key) was a $NZ90,000 yearling and on-sold after trialling twice for Ben Foote, winning an 880m trial in October 2019 before making his way to Frankie Lor's stable. Three encouraging runs prior to this, capped with an end-of-season success under the season's champ, Zac Purton. A horse that will get better and better, the stock of Per Incanto are such great tradesmen in the Asian racing scene.
Runner-up: JAZZ STEED looked the danger on paper to the warm favourite and he provided the obvious quinella with a strong burst from midfield, nearly matching his impressive victory on this track over 1000m on June 24. Caspar Fownes stepped him back up to 1200m and he found the line nicely, a real trademark. Rated and weighted to win again quickly in Class 4 next term.
Run Of The Race: HERCULES was herculian from a mile off them, flying home down that fast strip from last to secure his first top three finish in 15 starts for Dennis Yip. A long an unsuccessful season made a little better. He won two in Victoria for Ciaron Maher and David Eustace as 'D'Grammy' over 1200m and 1400m before export in early 2019. Maybe better to come next season. Home in 22.59, the winner in 23.24.
Disappointment: HAPPY GOOD GUYS was on pace, led and shared to the turn, run down and quite dour the final stages. A bit tired on it here after a 13 start season, a solid on winning twice at Happy Valley.
Comparison: Only steady this, they had a wee play for the front spot but once they settled mid-race the speed did come out of the race before the sprint for home.
Market Mover: KINDA COOL $2.90 to $1.90
RACE 6 - MIN FAT HANDICAP, HK $1,450,000
Class 3 – Rating 80-60 - Turf 'B' Course – Distance 1200m – Track Good
Time: 1:09.27 Standard Time: 1:09.85 Course/Class Record: 1:08.68
Winner: THE RUNNER (AUS 4o g Snitzel – Femina Fashion) scorched home and keeps this run of the back runners going tonight, the rail has been poison tonight which is quite rare. He was midfield the fence and shuffled up coming towards the turn, in-form rider Vincent Ho quickly off the fence and wide to challenge at the 250m. Still with plenty of ground to make up he flew to grab favourite CALIFORNIA RAD in the late stages. A full season of racing from this gelding, he was arrived as a Class 3 horse after winning two for Bjorn Baker in New South Wales. Two wins from his last four starts a good way to cap the season for the horse and former champion rider now trainer, Douglas Whyte.
Runner-up: CALIFORNIA RAD lacked sharp speed out of the barrier and Karis Teetan had to work on him to take a forward spot. He did a nice job to get in one-off at the mid-way point and there to unleash on the turn. Brave try once again. If you're looking for consistency this is your man, 12 starts three wins three seconds two thirds is a cracking way to get a career underway. Rated 48 in January he's now 30 points higher.
Run Of The Race: THE RUNNER was great, also HIGH RISE SOLDIER who cut the corner from well back and found the line with real purpose, a nice bounce back off a poor one last time out. They were swift off the clock, 22.30 and 22.32 respectively the final 400m and cleat of the field.
Disappointment: LORIZ was a real battling run tonight, his run may have come to an end after a busy season. Received a beautiful trip throughout but lacked any punch in the home straight.
Comparison: Run six-tenths under standard and that seemed to suit those camping off the pace and charging late, as the pattern has been all night long.
Market Mover: LORIZ $14.10 to $9.00, THE RUNNER $15.10 to $10.50
Fined: Karis Teetan (CALIFORNIA RAD) $7,500 for marking the horse
RACE 7 - SHING PING HANDICAP, HK $1,450,000
Class 3 – Rating 80-60 - Turf 'B' Course – Distance 1650m – Track Good
Time: 1:40.12 Standard Time: 1:40.00 Course/Class Record: 1:38.61
Winner: BEAR AGAIN (SAF 5yo g Var – Frequent Flyer) extends an impressive record for the season winning three of his last five starts for David Ferraris, the South African horseman having real success with this South African-bred gelding. He's really developed into a nice horse this fellow, he was a busy horse in South Africa having 12 starts in 13 months for one win before making his way to Hong Kong. And after a slow start he's really picked things up, though Ferraris does space his races up to two and three months apart.
Runner-up: ALPHA HEDGE gave what he always does, no wavering in effort from him, he just keeps rolling out the top three finishes and really consistent since joining those in Class 3 again in April. Not badly weighted right now in the grade and ready to make his mark again next season.
Run Of The Race: BEST ALLIANCE was doing tidy work from back of midfield in a race that did not meet the same pattern we'd seen all night. Leading few had the wood on these and BEST ALLIANCE was really good late.
Disappointment: Just not a great contest all round most ran on without threat on a final sectional impossible to beat.
Comparison: Beyond standard, a walking race early to middle stages until FENRIR put some speed into the race and took command.
Market Mover: BEST ALLIANCE $11.80 to $8.40, JOYFUL HEART $42.10 to $23.70
RACE 8 - HAWTHORN HANDICAP, HK $2,100,000
Class 2 – Rating 100-80 - Turf 'B' Course – Distance 1650m – Track Good
Time: 1:38.58 Standard Time: 1:39.85 Course/Class Record: 1:38.58
Winner: SOLAR WAI WAI (AUS 4yo g Snitzel – Cape Princess) claims another win for star sire Snitzel, his second with the hour at Happy Valley after The Runner won earlier. This horse has enjoyed good success in Hong Kong, now the winner of five from just 18 starts in the Frankie Lor stable. He was a standout triallist in New Zealand under the care of Stephen Marsh after going through the ring for $NZ130,000, then sold for $250,000 as a breeze up. Class 2 is tough enough for him, but he's genuine and not finished winning yet.
Runner-up: MAGNIFICENT set this powerful tempo throughout and gave a really strong kick off the final corner, run down late. Terrific season end from the Great Britain bred, four seconds and a win in his last five starts banking good money for connections.
Run Of The Race: MAGNIFICENT wasn't the winner but thought he was the best. Did all the spade work and fought so tenaciously.
Disappointment: BUTTERFIELD wasn't sighted tonight, though hard to say he was poor given the record speed. Maybe just near the end of the current campaign and he will now take a nice break.
Comparison: Fireworks to end the season at Happy Valley, a course-record-equalling 1:38.58 in the Class 2 mile and what a contest it was.
Market Mover: GREEN LUCK $15.50 to $9.00
RACE 9 - CHEONG MING HANDICAP, HK $2,100,000
Class 2 – Rating 100-80 - Turf 'B' Course – Distance 1200m – Track Good
Time: 1:08.56 Standard Time: 1:09.55 Course/Class Record: 1:08.52
Winner: WALDORF (NZ 5yo g Highly Recommended – Skite) had been quite sparingly raced by Tony Cruz this season, nine starts in total, finishing it all off in the best possible fashion with a brilliant win. Noted to get back and hit the line hard, he did just that, an amazing show of speed from near last 250m out and picking a path through them. Take a bow Karis Teetan, wonderful ride. And that's win five in the past 13 starts for Waldorf going back to March 2019. He arrived in Hong Kong with some strong form after listed victories in the Ryder Stakes and Wanganui Guineas for trainer Andrew Campbell. Tough mark for him, he rises again in rating and already near the top of the handicap. But with speed like this, he'll be winning more.
Runner-up: HIGHLAND FORTUNE also darted home and looked like he would pinch it until the thundering hooves of Waldorf arrived late. Another to sit back off quite a torrid speed and work into the race later. Two Class 3 victories of some quality see him in Class 2 now, and a good debut in the grade for him here. The seasonal break will benefit him, look for him to win at the bottom of the handicap in this class.
Run Of The Race: WALDORF first, the rest couldn't match that effort.
Disappointment: VICTORIAM was flat-footed tonight when he needed to be more on his toes. Gained a nice run in transit but just looked like he'd come to the end of what has been a stellar past three months winning three of four starts leading to this. Five wins from 14 starts total says he's a very handy horse. He will be back.
Comparison: Obviously quick again, they really poured the speed on late in the night as the better horses came out.
Market Mover: VICTORIAM $5.30 to $3.90, HIGHLAND FORTUNE $4.60 to $3.30
Fined: K H Chan (SAUL'S SPECIAL) $7,500 for marking the horse