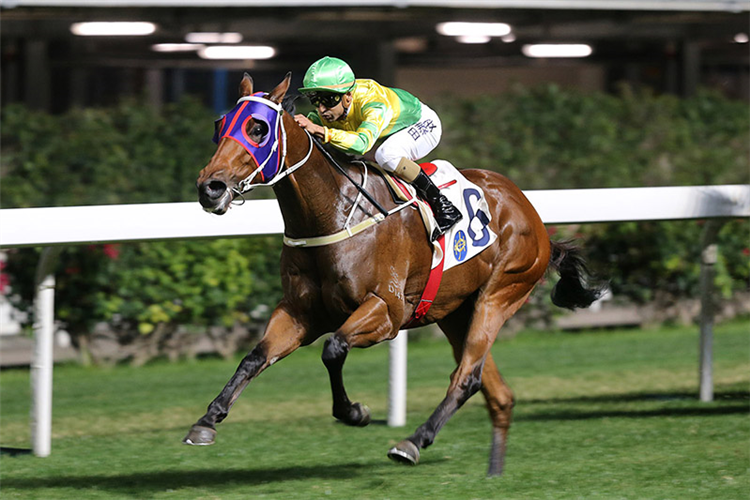 RACE 1 - WAN CHAI HANDICAP, HK $750,000
Class 5 – Rating 40-0 - Turf 'B' Course – Distance 1000m – Track Good
Time: 0:57.60 Standard Time: 0:57.30 Course/Class Record: 0:56.90
Winner: WINS ALL (AUS 5yo g Testa Rossa – Fragrant Storm) sets Happy Valley racing on its way for another season and the punt came off for those who thought the horse could win in the drop back from Class 4. Five unsuccessful starts last season for Richard Gibson but the break between his last start in May to now has obviously brought him on, and a trainer change to Chris So. By former champion sprinter Testa Rossa, he was bought for $50,000 at the Inglis Sales then passed in as lame in a two-year-old run-up sale. On the speed from gate one and trailing the leader throughout he was perfectly positioned to win this by star jockey Karis Teetan and did not disappoint. Started $382 and $179 in his last two starts in Class 4, jumped at $6.30 first up in Class 5.
Runner-up: GAUTEN OF GARO did his best to return to winning form, jumping out to lead under Neil Callan from gate two and fighting off all but the winner in the home stretch. His Class 5 victory will come again, did win in this grade in November 2019 and found Class 4 a bit rich after.
Run Of The Race: FLYING MONKEY was terrific. Jumped almost too well from a wide draw and landed three-and-four-wide the trip, pushed wider on the turn and every reason to say he'd done enough. But some real spark in his finish to dash into third. A horse to be on next time, especially from a gate closer to the inside rail. SHOW MISSION gets a look next start, too, handy late here.
Disappointment: LA BOMBA found trouble from a wide gate, copped a check mid-race and couldn't quicken under Joao. Some late tote support did come.
Comparison: Outside the standard and as they will at Sha Tin the track will quicken as they take the top off the fresh new sole of grass.
Market Mover: AURORA STEED $11.20 to $5.60, LA BOMBA $9.30 to $6.80
RACE 2 - TAI HANG HANDICAP, HK $1,000,000
Class 4 – Rating 60-40 - Turf 'B' Course – Distance 1650m – Track Good
Time: 1:40.08 Standard Time: 1:40.10 Course/Class Record: 1:38.83
Winner: FAITHFUL TRINITY (GER 6yo g Wiener Walzer – Saaleland) rather ironically wins this, another new addition to the Chris So stable, also from the Richard Gibson team, as was the winner of the first event. A previous 33 starts for two wins from the German gelding, he was last successful in June 2019 this track and distance. The ability to run in front paid dividends, the rail seems to the place to be early and he was straight there from a middle draw under Vagner Borges. A positive trial run in late August pointed to something better and he was solidly supported at 7/1 off the back of that. He'll win again in Class 4, very strong win.
Runner-up: CHARITY GRAND was hustled along to hold a handy spot on the fence from gate one, gained a nicer cosy run after sixth the rail and he tried in the straight, a tidy first up run for the season. Track and trip specialist now, he's four times in the top three, all over 1650m at Happy Valley.
Run Of The Race: FAITHFUL TRINITY was annoyed enough in front to show signs of weakness but instead he kicked clear on them at the top of the straight. Indicates he'll hold his form.
Disappointment: UNIVERSAL GO GO was favoured to win, gained a beautiful trip one out and one back but failed to run on. May have needed that one, he's definitely better than that.
Comparison: Right on standard, they did loaf along a bit early until some more genuine speed came into the race about the half-mile.
Market Mover: LADY FIRST $7.10 to $4.40
RACE 3 - NORTH POINT HANDICAP, HK $1,000,000
Class 4 – Rating 60-40 - Turf 'B' Course – Distance 1000m – Track Good
Time: 0:57.04 Standard Time: 0:57.15 Course/Class Record: 0:56.39
Winner: MOMENTUM GALAXY (AUS 5yo g The Factor – Angel's Breath) had eased his way to a competitive rating in Class 4 after arriving in Hong Kong as a Warwick Farm winner for David Payne and a tough early initiation in Class 3. Some 14 starts for a lone placing before tonight's success, he returned without a trial after last running in early July on the all-weather track. Nice ride from Derek Leung, settled sixth the middle and there to strike, eased one out off the home turn and the response a powerful one to wear down the leader and favourite late.
Runner-up: NEXTMODEL sped over to lead from the wide gate, had them gasping off the corner but he found that early surge left him needing the line in the late stages. Brave performance under 133lb. Genuine horse, he'll win his share again this term.
Run Of The Race: WINNING WAYS did well from back and wide, drew gate 12 and slow to begin he made good late ground wide on the track to run into fifth. Rated 45 and carrying just 118lb here he will soon be competitive, even if it means a drop to Class 5 in future weeks. Started beyond 40/1 here.
Disappointment: WILD WEST WING carried money under Joao Moreira off a decent looking trial in the lead up. He gained the best run on the leaders back but did not let down as expected in finishing a battling third. A forgive run for FORZA ANGEL who was left three-wide on the speed.
Comparison: A tenth under the standard, no real fire in the track with a good cushion to start the new term.
Market Mover: NEXTMODEL $2.80 to $2.40
RACE 4 - QUARRY BAY HANDICAP, HK $1,000,000
Class 4 – Rating 60-40 - Turf 'B' Course – Distance 1200m – Track Good
Time: 1:09.93 Standard Time: 1:09.90 Course/Class Record: 1:08.92
Winner: HARMONY N HOME (IRE 4yo g Slade Power – Keepers Hill) indicated his capabilities in stages last season, placing in four from seven starts for Danny Shum, the man behind last Sunday's feature race winner at Sha Tin, Perfect Match. Shum was happy to enter the horse without a trial in the lead up, booked Zac Purton for the ride and the master did the rest, box-seating behind a free-rolling leader he was able to ease off the fence on the turn and career away, a lovely win. Gate one certainly played a part, those on the fence gaining a nice advantage in early proceedings.
Runner-up: SIMPLY FLUKE used the rail to his advantage, was off the bit for much of the race but he trucked on really strongly late to get his season underway. Went back-to-back with victories over this distance on this track last term and he will return to that form very soon.
Run Of The Race: One to follow is STARLIGHT, the veteran showing some nice dash very late in the race after a customary slow beginning. He last won a race in November 2018 so it has been a long time between drinks but as a seven-race winner he is weighted to return to the winners circle again. Has dropped from a ratings high of 85 all the way to 50.
Disappointment: MOMENTUM HAPPY was able to slide up outside the lead and had his opportunity as a 5/1 chance, fading quickly after turning for home. Vetted no findings.
Comparison: On the standard which is commonplace already on the night.
Market Mover: THE ABRAXAS $15.20 to $9.50, WINNING FEELING $35.10 to $23.00
RACE 5 - QUARRY BAY HANDICAP, HK $1,000,000
Class 4 – Rating 60-40 - Turf 'B' Course – Distance 1200m – Track Good
Time: 1:09.70 Standard Time: 1:09.90 Course/Class Record: 1:08.92
Winner: MELBOURNE HALL (GB 4yo g Harbour Watch – An Ghalanta) was superb for David Hall and Zac Purton, rejoining the fray without a trial post a last-start sixth in late June this track and distance. Hall had him looking a picture and he ran accordingly, breaking through for his first win in Hong Kong after a lone placing in eight starts last season. Rear inner from gate four the red sea opened for him after turning for home and Purton rushed him through a gap wide enough for three, and the horse did the rest. Impressive enough to consider him a winning chance next time to the races.
Runner-up: POWER KING is making good moves for Tony Cruz, ended his 2019-2020 season with a win at Happy Valley and nearly doubled up, dashing to the front centre-track at the furlong, cut back late by the winner. The Written Tycoon gelding was not a cheap horse at sale time, knocked down for $A500,000 at the 2017 Inglis Melbourne Premier Sale so there is some ground to make up yet. He carried 133lb here and would even appreciate winning IN Class 4 to alleviate the weight issue if he could slide into Class 3.
Run Of The Race: Mark down AUTHENTIC CHAMP as a horse to follow. Just three starts spread over 18 months prior to this so a horse that has obviously had his issues. Rather unlucky here, back and looking for runs that didn't come off the turn and he had plenty to give just 2.5 lengths from the winner. Had trialled well in the lead up to this so a horse to watch. There was support about for him going around at 11/1.
Disappointment: Hot favourite JAZZ STEED was very disappointing. Led then trailed and gained the rails run off the corner but he wilted badly in the dash home. Found to have got his tongue back and a tongue tie will be applied next start.
Comparison: Two tenths under the standard very standard work.
Market Mover: POWER KING $15.00 to $8.00, NAMJONG SINGS $27.80 to $15.60
RACE 6 - FORTRESS HILL HANDICAP, HK $1,500,000
Class 3 – Rating 80-60 - Turf 'B' Course – Distance 1650m – Track Good
Time: 1:39.73 Standard Time: 1:39.80 Course/Class Record: 1:38.61
Winner: ALPHA HEDGE (IRE 6yo g Sir Prancealot – Malta) gives his best every time and a new season victory cements the fact he simply won't run a bad one for Francis Lui. Beautifully rated in front by champion rider Zac Purton, his third win in a row on the night in giving them no chance, dictating terms all the way and booting off the home turn to win very easily. Such a cool dude this horse, sway back, wanders around like an old hack, but when the jockey goes on board he rises. He carried 133lb tonight, must be a dangerous lightweight into Class 2 despite the fact he will meet some very handy horses in the higher grade.
Runner-up: FLYING SWORD scooted home nicely after getting well back in the running. A little unusual to see him so far back given he had run in the front pair in two starts over 1400m before the end of the season. Tony Cruz has had him for five starts now and they've clicked - five starts for a win and three placings.
Run Of The Race: NAMJONG PLUS did some tidy late work from well back. It seems a disrupted season for him last term, just five starts for no result. Previously he had won five from 16 so a horse to improve based on this effort.
Disappointment: LIGHTNING STEED was backed heavily but could not go with the winner after sitting alongside him for the duration. Battled into fourth at a slim $2.40.
Comparison: Spot on the standard time once again.
Market Mover: LIGHTNING STEED $3.60 to $2.40
RACE 7 - CAUSEWAY BAY HANDICAP, HK $1,500,000
Class 3 – Rating 80-60 - Turf 'B' Course – Distance 1200m – Track Good
Time: 1:09.30 Standard Time: 1:09.65 Course/Class Record: 1:08.68
Winner: CALIFORNIA RAD (AUS 4yo g Fastnet Rock – Radharcnafarraige) took advantage of a lovely run fourth or fifth and one-off as the leaders really ripped through the middle section of the race, setting it up for the swoopers to come. And he's always been good enough to do that, now three times a winner in Class 3 and this time with the peak weight of 133lb. Such a professional racehorse usually found in the front group and firing at the end. A $A650,000 yearling he now tops the $HK4 million mark with four wins and five placings from just 13 starts under the guidance of trainer Tony Cruz. Regular rider Karis Teetan has been on board in all four victories.
Runner-up: HARDLY SWEARS picked up plenty of ground in the run home, another benefactor of that swift speed through the middle of the race when the well-backed Triple Triple surged into the race. Angling off the fence from the rear off the corner his finish was a strong one. A nice way to get his season rolling, won a hat-trick at the ends of 2019 and a few starts in Class 3 since. Low in the weights and set to break through again as a noted back-runner, strong finisher.
Run Of The Race: SACRED IBIS might offer some more this term off a strong finish from last to run fifth at 60/1. Clocked the best final 400m in the race. Only six starts last season and 13 in his past two years at the club. The 1200m well short of his best trip which gets out to 1800m so he's one to follow as he rises in distance.
Disappointment: AURORA PEGASUS was disappointed for room long enough in the straight to stop any momentum. Wouldn't have won but would have finished closer to keep that in mind next time.
Comparison: Certainly the most genuine time of the night, the Class 3 gallopers off and away early maintaining a strong tempo.
Market Mover: VICTORY POWER $14.60 to $8.80, TRIPLE TRIPLE $11.70 to $7.70
RACE 8 - CAUSEWAY BAY HANDICAP, HK $1,500,000
Class 3 – Rating 80-60 - Turf 'B' Course – Distance 1200m – Track Good
Time: 1:09.64 Standard Time: 1:09.65 Course/Class Record: 1:08.68
Winner: GUY DRAGON (GB 5yo g Dark Angel – Trip To The Moon) secures win three in Hong Kong after a drought last season when unable to salute in 10 starts. He switches stables from Chris So to Caspar Fownes this season and finds immediate success, So, of course familiar with that trend given his success with newcomers at the beginning to tonight's card. A renowned sit-back and charge home type, the UK-bred expertly guided by Zac Purton in taking inside runs off the final turn to nail them late, the champion's fourth winning ride on the eight-race card. Positive start to the season for this horse, especially given his best form has been previously found at 1400m and he arrived here without a trial.
Runner-up: FIRST RESPONDER charged up to win 250m out after being trapped three-wide the trip and was nabbed late, nearly kicking his season off in the best possible fashion. Now three starts into his tenure with new trainer Douglas Whyte and enjoying the change in scenery, success already coming late last season. On the cusp of a Class 4 return and that would benefit him greatly.
Run Of The Race: FIRST RESPONDER was great given he never got closer than three-wide and never stopped trying all the way home.
Disappointment: FANTASY went around $2.90 and was never sighted, got back from gate one and seemed to battle from the turn when a rails run presented. Jockey Joao Moreira reported abnormal breathing.
Comparison: Not the mid-race pressure as there was in the previous event and therefore bang on the standard to end the night.
Market Mover: CANTSTOPTHEFEELING $13.10 to $9.10, CALIFORNIA GUNGHO $18.90 to $12.90