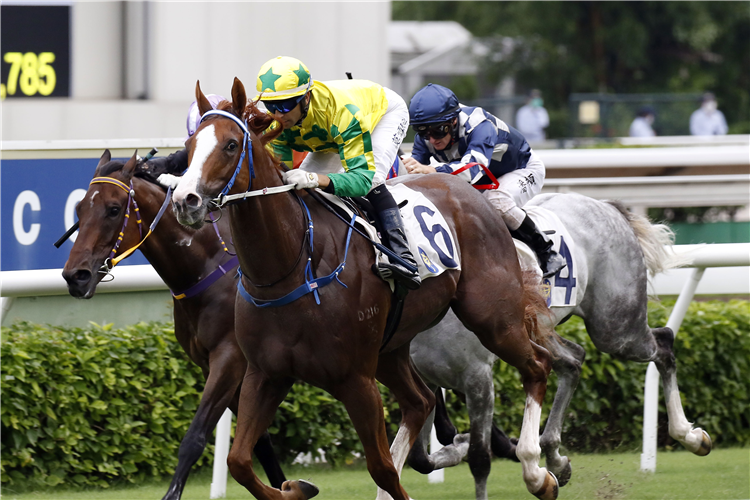 RACE 1 - MONG KOK HANDICAP, HK $1,000,000
Class 4 – Rating 60-40 – All Weather Track – Distance 1200m – Track: Good
Time: 1:09.03 Standard Time: 1:09.05 Course/Class Record: 1:08.14
Winner: HANDSOME REBEL (AUS 5yo g Denman – London Rebel) was a one-time winner in New Zealand and came to Hong Kong in tough school in Class 3. Surprisingly some 23 starts later he has finally tasted success, win one in Hong Kong for a determined trainer Me Tsui who has remained loyal to him. A red-hot early pace, in which he was involved, was a worry, though after taking a sit just behind the leaders in the end and swooping with easily the best run off the turn he showed what he had promised for some time. It might take a few starts to win again, he is likely to find himself back in Class 3 for a while.
Runner-up: BLOTTING PAPER was involved in the rush from start to finish and very brave in defeat after going to war out in front. His first time in the first three after seven unsuccessful starts last term, however he has just dropped back into Class 4 after arriving as a two-time Australian winner for Lloyd Kennewell as 'Delvecchio' and straight into Class 3. Wins very soon based on this, a nice lift in effort for Richard Gibson.
Run Of The Race: BLOTTING PAPER was great, they went hard all the way and to be fighting so hard was meritorious.
Disappointment: SUPER KIN started favourite and was well off that hot speed and though running on just never in the frame to be winning this. Zac Purton felt a rise in distance would help.
Comparison: Standard time but the track looked quite fluffy so not easy to gain a full appraisal of the track conditions on the dirt.
Market Mover: HANDSOME REBEL $4.30 to $3.70
RACE 2 - YAU MA TEI HANDICAP, HK $750,000
Class 5 – Rating 40-0 - Turf 'A + 3' Course – Distance 1400m – Track Good
Time: 1:21.72 Standard Time: 1:22.15 Course/Class Record: 1:21.53
Winner: BUNDLE OF ENERGY (NZ 6yo g Reliable Man – Betty Brown) was a long way behind a tearaway trio and giving punters a small headache but why query the champion rider Zac Purton? He always arrives at the right time and again had this worked out to perfection. Off seven placings but without a win in 24 Hong Kong starts, the Kiwi-bred gained the deserved success after a string of second placings at the back end of last season. Purton and trainer David Hall combine just twice this term for a 100 percent record after success with Melbourne Hall at Happy Valley last Wednesday night.
Runner-up: ROYAL RACER was heavily backed to win the race, and not that far away from success. Another to get well off this red-hot speed and charge home, Joao Moreira stalking his ultimate competitor into the race and unable to reel in the margin late. Not a horse that wins often, just the one win from 23 starts to date for Caspar Fownes though a Class 5 victory is looming large.
Run Of The Race: BRAVERY AND POWER came from a mile off them, ran greenly in the home straight and kept running on strongly ending up near the outside rail to finish fourth. So far 15 starts for the South African-bred without a top three but getting closer to something better for Chris So.
Disappointment: MOON PEAKS was well in the market but missed the kick really badly after becoming fractious and was never in contention.
Comparison: Under two-tenths outside Class record speed courtesy of this war up-front where they ran a sizzling 20.92 second sectional which is unheard of in Class 5 races.
Market Mover: ROYAL RACER $5.80 to $3.90
RACE 3 - MONG KOK HANDICAP, HK $1,000,000
Class 4 – Rating 60-40 – All Weather Track – Distance 1200m – Track Good
Time: 1:08.96 Standard Time: 1:09.25 Course/Class Record: 1:08.14
Winner: EIGHT TRIGRAMS (AUS 5yo g Magnus – Demandehere) bowed out a winner at the end of last season on the all weather track at this distance, and returns to the scene of the crime to make it back-to-back successes for an in-form trainer David Hall. Apprentice Jerry Chau claimed his 10lb allowance off the topweight's back and that made a real difference, easing him all the way to near the bottom of the handicap in a race that really stacked up well for him. Punters were in full agreeance, the gelding smashed from $6.00 to $3.00 as he led all the way and bolted in. Now three wins from 16 starts, he has also won on the turf track at Sha Tin over 1200m so he is versatile, too. His dam won at 2000m but very doubtful he's heading in that direction.
Runner-up: FORTUNE HAPPINESS stalked the winner into the race and loomed to win it off the corner but could not reel in the margin as a seven-pound differential in the weights took its toll late. This horse won three in a row on the dirt track at the end of 2019 but unable to salute since in eight starts. Though, he races honestly for Francis Lui and will be rewarded again soon.
Run Of The Race: STAR SUPERIOR had some work to do from well off the pace but hit the line nicely in his first start for the season. A veteran now but with a rating of 46 he is close to a Class 4 win or a drop to Class 5.
Disappointment: SUPER ALLIANCES looked the winner at the 400m mark and surprisingly did not let down with any sprint at all, very disappointing in the run home. Perhaps he needed the run, his next start will give us the answer to that question.
Comparison: Under the standard and in comparison to the first race on the dirt this came up much quicker.
Market Mover: EIGHT TRIGRAMS $6.00 to $3.10
RACE 4 - YAU MA TEI HANDICAP, HK $750,000
Class 5 – Rating 40-0 - Turf 'A + 3' Course – Distance 1400m – Track Good
Time: 1:22,35 Standard Time: 1:22.15 Course/Class Record: 1:21.53
Winner: WINWIN THIRTYTHREE (NZ 5yo g Showcasing – Abenroad) had taken his time to break through but good things come to those who wait and connections elated to see the Kiwi-bred break through first up for the new racing season. Last season's premiership-winning trainer Ricky Yiu obviously had some confidence in the horse and today the faith repaid, French jockey Antoine Hamelin happy to be back in midfield and working his way into it from the 500m, producing a good sprint once into the clear centre-track. He was a $NZ100,000 purchase at the 2017 Ready To Run Sale. On his rating of 39 going into the race he will soon sneak back into Class 5 where he is probably better suited.
Runner-up: MASTER GALAXY kept kicking strongly to try and hold on, he had raced on-speed and kicked well to nearly give Me Tsui back-to-back victories after taking the first with Handsome Rebel. Another Kiwi-bred, the son of Align rated 33 today and he wins his Class 5 race before Christmas based on this.
Run Of The Race: WONDER WIN made up plenty of ground wide out on the track from last at the 400m and one to keep in mind next time to the races. His best performance in Hong Kong after doing very little in seven starts last season so the future a shade brighter now for the son of Pierro who was a $400,000 yearling in Australia.
Disappointment: ADONIS wasn't disappointing, more disappointed for racing luck being left three-deep, and game to the finish ion continually running on to finish sixth and two-lengths from the winner.
Comparison: A little stop-start this one and outside the standard time.
Market Mover: SHINEALOT $8.40 to $6.00
RACE 5 - TSIM SHA TSUI HANDICAP, HK $1,000,000
Class 4 – Rating 60-40 - Turf 'A + 3' Course – Distance 1600m – Track Good
Time: 1:35.09 Standard Time: 1:34.70 Course/Class Record: 1:33.78
Winner: FAMILY LEADER (NZ 6yo g Makfi – Egeria) is the third New Zealand-bred to win so far today, the six-year-old too powerful off a dream trip midfield on the outer and Joao Moreira's first win on the card as he and Zac Purton already make their intentions clear at the start of the season. Caspar Fownes has been loyal to this horse, 11 starts last season without a win but he did run into some better form at the back end with two second placings. Weight was quite a key factor today, rating just 44 and carrying 120lb would always benefit him as his previous winning weight carried was 119lb when he won back in July 2019.
Runner-up: STARSHIP was back on the inner and off at the right time though in a slowly-run race he had work to do to make up the ground. Really good effort first time around in five months. He's in the veteran class now but competitive at a mile on either track.
Run Of The Race: STARSHIP showed nice improvement off the season break, last ran in April when struggling for form so a good bounce back off a spell here for Paul O'Sullivan. Class 4 is his grade, he's only just recently back under 60 points from a few starts in Class3 after winning mid-season.
Disappointment: REGENCY MASTER had no answer to Family Leader off his back after having a lovely run on the pace and as favourite given every chance.
Comparison: A walk around and sprint home race, they really dawdled thus the time being well outside standard.
Market Mover: FAMILY LEADER $5.50 to $3.30
RACE 6 - TAI KOK TSUI HANDICAP, HK $1,000,000
Class 4 – Rating 60-40 - Turf 'A + 3' Course – Distance 1400m – Track Good
Time: 1:21.56 Standard Time: 1:21.85 Course/Class Record: 1:20.80
Winner: SEAWEED FORTUNE (NZ 5yo g Tavistock – Times Remembered) turns two average runs last season into something a whole better off the season break with a smart finish from well back to get the chocolates for Francis Lui. Not an expected switch in form off a fair trial run on September 4 but there has been obvious improvement since then. Lui purchased him out of a Breeze Up sale in New Zealand for $220,000 and after five trials made his way to Hong Kong. Races like he could become a handy mile to 1800m horse.
Runner-up: ALL FOR ST PAUL'S has been cheeky in front before and again responsible for setting the terms here, kicking off the home turn and giving them all plenty to chase. Nearly perfectly executed by Karis Teetan who set a very honest tempo. Still to win in 10 starts and a bit surprising he hasn't as yet. A good-thing if he falls into Class 5 off a 42 rating today.
Run Of The Race: SEAWEED FORTUNE is hard to go past, had plenty of territory to make up and did it well in the middle of the track, not without a couple of bumps in making his way through the pack. MIGHTY POWER was strong from second-last, very wide the turn and powerful until peaking on that run late. This pair eclipsed the field 400m to winning post, 22.33 and 22.39 respectively. Next best 22.94.
Disappointment: SONIC FIGHTER unsighted in the straight after getting back, the topweight was very strongly fancied in the market under Zac Purton but failed to threaten. Purton did feel the horse would improve with the outing.
Comparison: Solid run this, a good three-tenths under standard and a lot more genuine with a regular leader setting the terms.
Market Mover: SONIC FIGHTER $10.00 to $4.70, DREAM WARRIORS $26.50 to $11.80
RACE 7 - JORDAN HANDICAP, HK $1,500,000
Class 3 – Rating 80-60 – All Weather Track – Distance 1200m – Track
Time: 1:08.58 Standard Time: 1:08.65 Course/Class Record: 1:07.40
Winner: WILL POWER (NZ 5yo g Power – Lilahjay) is just too good for these on his beloved all-weather track, takes win four from start eight in Hong Kong and each victory on the inside track. An uninterrupted run in transit was really all he needed, and Karis Teetan ensured that giving him a comfortable run midfield inner then one-off before swooping up off the corner to put them away in a stride. He will need to show some form on turf this season as the opportunities on the all-weather in Class 2 are a little harder to find, but whenever he steps onto the dirt he's going to be the horse to beat. Another win for the New Zealand breed, enjoying a big day taking five of the first seven races.
Runner-up: CZARSON kicked well under pressure and the lone runner on pace who survived, the others were fading on their runs in the home straight. He's an improver now better acclimatised. Won his first two race starts for Gai Waterhouse and Adrian Bott, ran fourth in the Magic Millions on the Gold Coast and placed in Group 2 company in the Champagne Classic at Doomben. Just three starts into his Hong Kong career, two for the now retired John Moore late last season and now with Ricky Yiu.
Run Of The Race: WILL POWER clearly superior. ELITE PATCH should have run second, did nice work late from last to finish off well into third.
Disappointment: The money came for ENSHRINED and he did not match the betting confidence.
Comparison: Just under standard. It's been tough to pick the pattern on the dirt track but it seemed a genuinely-run affair.
Market Mover: ENSHRINED $8.60 to $5.60
RACE 8 - HUNG HOM HANDICAP, HK $1,500,000
Class 3 – Rating 80-60 – Turf 'A + 3' Course – Distance 1200m – Track Good
Time: 1:08.84 Standard Time: 1:09.05 Course/Class Record: 1:08.31
Winner: SKY FIELD (AUS 4 Deep Field – Laravissante) was quite clearly classes above this field and he showed it in his first run back since winning his Class 4 in brilliant fashion on July 12. And it didn't look a lot tougher for him up in Class 3 today, only the lack of a clear gap off the home turn a cause for any concern, once Joao Moreira found the racing room it was race over in a very short space of time. He's an extremely distinctive horse this, a chestnut and big white blaze stands him out as much as his obvious ability. Heading to the big races this season and this was a cracking way to get the ball rolling.
Runner-up: LOCKHEED can be remembered for finishing second to Sky Field at least, his record doesn't suggest that it would be possible given he is still trying to find a win in Hong Kong after 23 starts. Just seven starts in the past 12 months and maybe Danny Shum has found something? This was much better sharing the pace and kicking strongly.
Run Of The Race: One horse affair, SKY FIELD way too classy.
Disappointment: INNER FLAME was the horse most expected to test Sky Field but he was dreadful today, trailing third off the fence to be in the right spot and showed nothing. Barrier trial and vetting before next start.
Comparison: Not run at breakneck speed yet a good tempo to see them break the standard,
Market Mover: CRUSING $24.70 to $12.00
RACE 9 - HO MAN TIN HANDICAP, HK $2,200,000
Class 2 – Rating 100-80 – Turf 'A + 3' Course – Distance 1000m – Track
Time: 0:56.04 Standard Time: 0:56.15 Course/Class Record: 0:54.69
Winner: GOLD CHEST (USA 5yo g War Front – Say) takes a very competitive Class 2 dash up the long straight at Sha Tin and it took every inch to get the win. He was diving through from a sit behind the leading half-dozen to score narrowly but with some authority. After winning two-from-two in the UK, this horse has never left the Class 2 grade in Hong Kong, winning three of 17, not usually do 1400m winners strike at the 1000m as he has. In fact, his two UK wins were at 1400m and 1600m so to see him winning at the shortest trip is in a way remarkable. Looking forward to seeing him push out in distance for Richard Gibson.
Runner-up: TEAM SPIRIT utilised the outside draw to full advantage, shared the pace on the outside rail and gave a really strong kick, only to go down in the final stride. He went around long odds as he often does and won't next time, this was a very big run. Has been a winner on four occasions, all at 1200m, all at Sha Tin.
Run Of The Race: Some really sparkling runs in a race where we will find a few winners in the weeks ahead. Mark down BAND OF BROTHERS, MAGIC LEGEND, and TORNADO TWIST who were terrific from the rear of the field, and to make up so much ground impressive from each of them.
Disappointment: LUCKY MORE performed below expectations and was found to be a roarer.
Comparison: No fireworks from the Class 2 sprinters on the outside rail today, run very evenly but a long way off the record.
Market Mover: LUCKY MORE $8.40 to $5.00, BAND OF BROTHERS $18.50 to $12.10
RACE 10 - KING'S PARK HANDICAP, HK $1,500,000
Class 3 – Rating 80-60 – Turf 'A + 3' Course – Distance 1400m – Track Good
Time: 1:21.11 Standard Time: 1:21.65 Course/Class Record: 1:20.62
Winner: CIRCUIT GLORY (NZ 7yo g Tavistock – Cinnadream) bags a late winning double for Kiwi sire Tavistock. He's earned his weight in Hong Kong, arrived as a five-race winner from seven starts in New Zealand as 'Tavidream' for Donna Logan who now trains in Singapore. Class 2 and Class 1 victories led to a drought last season, no success in 10 starts but he bounced back superbly with the topweight here, sitting on the coat tails of leader and runner up Star OF Yuen Long and too powerful over the concluding stages under Karis Teetan. Back to Class 2 in this form with no weight he looks very competitive.
Runner-up: STAR OF YUEN LONG was guided through this by Zac Purton who was having his first ride on the horse and often that means instant success. Nearly, but not quite, though a nice bounce back to form from this horse as the new season gets underway, he was found a little in the wilderness last season winning in December but struggling under big weights post that. Another New Zealand winner, the son of Makfi twice successful for Murray Baker and Andrew Forsman as 'Ole Ole' before heading to Hong Kong. Class 3 victory seems imminent.
Run Of The Race: A race fully dominated at the front end. Making ground well against the grain were FLYING MIGHTY and GLORIOUS LOVER. The former was making his debut after winning two-from-two for Kim Waugh in New South Wales as 'Hussonibis'.
Disappointment: Warm favourite SO WE JOY did race three-wide but was very disappointing, Joao Moreira and trainer David Hayes unable to offer excuses. Will have to barrier trial and be vetted before starting again.
Comparison: A strongly-run affair without the fireworks, well under standard as some smart horses show their talents early in the season.
Market Mover: CRAIG'S STAR $19.90 to $8.40, SUPERB DADDY $26.80 to $13.10