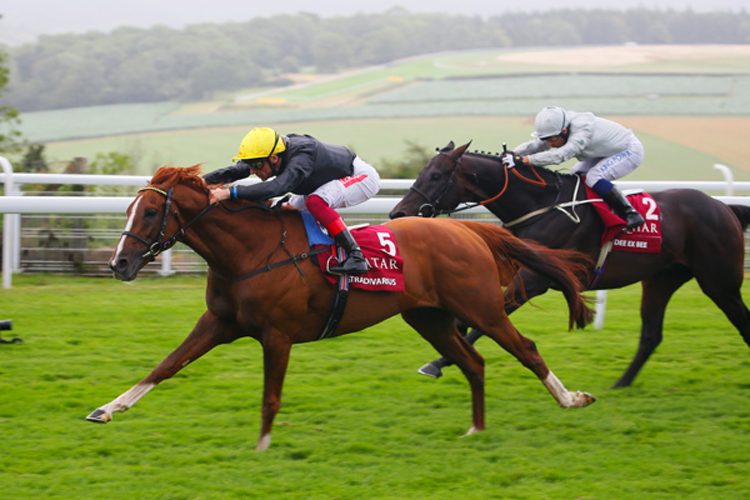 The Racing and Sports pricing model really likes when Aidan O'Brien and Ryan Moore link up with improving Galileos. It's a combination that wins a lot of races, and The Model is in the business of finding winners, so it's only natural that it has a preference for patterns that win. Unfortunately for The Model, it doesn't matter if you like a horse (or pattern) all that matters is how much you like it. Last night she didn't like Russian Emperor enough, preferring the "Stoute improver" (drink) and she paid the price.
Yesterday we went with a (fairly lame) boxing analogy, and sticking to that theme, Moore, O'Brien, and Russian Emperor, landed a heavy shot on not just First Receiver but on the Model. Rocked and dizzied, she heads on to Day Three, a deep betting card full of great opportunities.
Assessed Prices:
The Gold Cup: Stradivarius $2.00; Technician $7.50; Moonlight Spirit $11.00; Cross Counter $11.00.
Jersey Stakes: King Leonidas $5.00; Celestin $5.00; Monarch Of Egypt $5.00; Molatham $8.50.
The Model has spent the past 24 months evolving and improving but one thing that hasn't changed is her love of trying to knock off Stradivarius. It worked with Kew Gardens on Champions Day last year, but as a general rule it's not been The Model's finest angle...
In theory she should love him (a prolific winner for winning connections) but it comes back to the same point from above - it doesn't matter that you like a horse, all that matters is how much you like a horse.
The Model always likes Stradivarius but, largely down to his shtick of winning by outpacing tug boats off slow tempos, she never likes him enough. Again, tonight, she likes him as the most likely winner, but not so much as the masses.
The Model isn't out there about any of his rivals either. Basically she thinks the market has loaded all it's leftover percentage into the general $1.60 favourite. Off the stool she rises, into round three, with a new tactic. Lay the fave.
The Jersey is a wide open betting bonanza. Of the three marked 4-1 equal favourites, Celestin and Monarch Of Egypt are the bets against the early market. The author doesn't really agree with this take but he tends to worry about things like being drawn on the wrong side (that pair may well be judged on results on day one and two) and he also fancies himself as a forecaster, plucking Molatham out as the best horse here from the neural algorithm that fizzes about in his bonce, but The Model ignores the noise and keeps on keeping on.
Consistency is her weapon and she's not about to let potentially baseless draw concerns get in between her and the bookmakers.
For interests sake, it's worth noting that The Model is remarkably warm on the favourite Finest Sound in the Britannia (race six) given the depth of the field. A 24 runner handicap down the straight and she's got eyes for one. Finest Sound has already been backed (well done to early players) but the Model wants to keep on betting. And who could hold that against her?