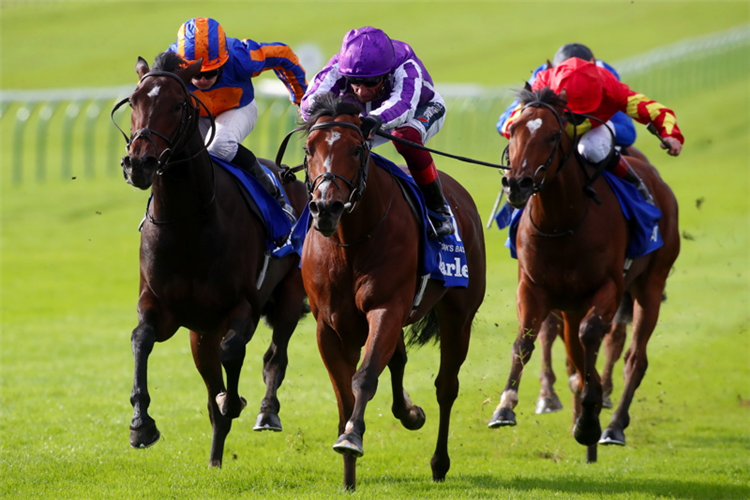 First season stallion Clif du Pommereux recorded his first winner when Iria du Pommereux won at Amiens on Friday. He has sired forty-four horses with fourteen to qualify and stands at Haras de Sassy for € 1,800.
The G1 Grand Prix Lotterie will be held in Naples (Italy) next weekend. Twenty-four horses have been nominated for the three qualifying races to be held ahead of the final. Names include Vivid Wise As, Zacon Gio, Billie de Montfort, Cokstile, Am's Frisbee and the headline horse, Face Time Bourbon.
It appears Earl Simon will remain on the sidelines for the forseeable future and will not participate at the Winter Meeting. He was last seen in the G1 Elitloppet (1609m) at Solvalla in Sweden and Jarmo Niskanen indicated that whilst he has returned to work following tendonitis, connections will not be taking any risks and looking for full recovery before returning to the track.
The immediate programme for Face Time Bourbon has been revealed and whilst he will be racing throughout the winter his races will be restricted. His next race will commence with the G1 Grand Prix Lotterie in Naples this weekend, followed by a short break before returning to Vincennes for the five-year-old G2 contest the Prix Ténor de Baune in December. He will defend the G1 Grand Prix d'Amerique title, with no run in between. The aim is to keep the horse fresh, however the Prix de Belgique remains an option if connections believe the horse needs a final prep race. Other events on his programme will be the Prix de France followed by the Prix Selection, where he will be aiming to win the race for three successive years. The Elitloppet has been ruled out, however a breeding season will be included.
G1 winner of the Prix de President de la Republique, Gladys des Plains, has been given a break following her fourth in the G2 Prix Céneri-Forcinal on 12 September. Trainer Gilles Curens indicated her upcoming programme will commence with the G3 Prix Olry-Roederer [12 November] and if she continues to progress, a tilt in the G1 Prix de Cornulier could be on her agenda.
The final day of the trotting sales occurred at Caen last Tuesday. Numbers revealed the following:
Foals and broodmares up 34.3%
Foals saw an increase in turnover with the average price increasing from €3,415 to €3,993
Cumulative turnover was €2,996,300, and this was a record (previously established in 2017)
757 offered with clearance rate of 574 (75.8%)
Winner of the 2019 G1 Prix de Vincennes (2700m) Gangster Du Wallon will have a further two driven races before returning to mounted contests, with the first start scheduled for 12 November. Currently disappointing, his true class will need to be shown under saddle.
Elie de Beaufour won a further round of the G3 Grand National de Trot at Angers and is now head of the current rankings with 42 points ahead of Et Voila de Muze (30 points – fourth at Angers) and Fakir du Lorault (28 points – second in the race). Leading trainer/driver Jean-Michel Bazire has been full of praise for the Angers track following his win with Elie de Beaufour notably the quality of the surface soil, the only negative being a right-handed track.
Leading French stallion Siyouni, who stands at Haras de Bonneval (fee €100,000), continues to produce stakes winners following his success with the G1 Dewhurst (1400m) [Newmarket, UK] victor St Mark's Basilica. New Harzburg made it forty-two individual stakes winners for the stallion when the filly won the Listed Silbernes Band der Ruhr (4000m) at Mulheim in Germany.
Haras d'Annebault has announced ten-year-old stallion Mondialiste will be added to their roster for the 2021 breeding season. The son of Galileo is a dual Group One winner in North America of the Arlington Million and Woodbine Mile and is also Group One placed in France (2013 Prix Jean Prat 1600m). Being out of Occupandiste, he comes from a strong Wertheimer family bloodline and is closely related to Impressionnante, dam of the G1 Prix du Jockey Club winner and now successful stallion Intello.
Stallion Django Riff is beginning to make a name for himself having sired four winners including Igrec de Celland who scored at Caen on Saturday having previously won on grass at Alençon.