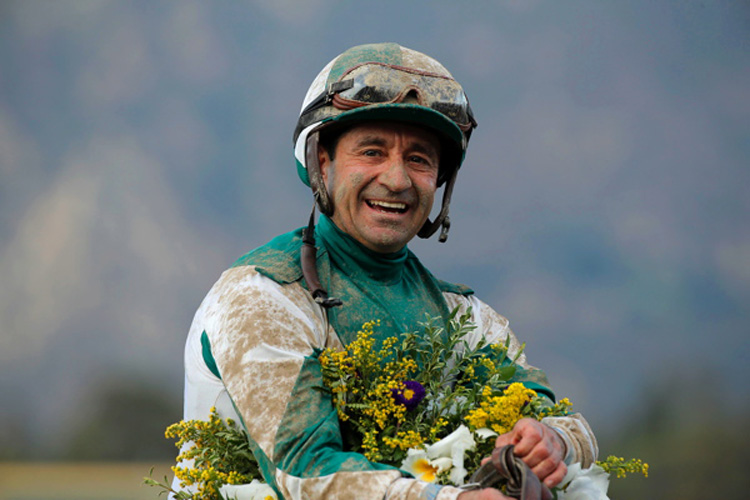 The 49-year-old Bravo, so synonymous with the New Jersey track that he is nicknamed 'Jersey' Joe, will be looking elsewhere for rides when Monmouth Park reopens next month after the failure of bids to delay changes introduced by the New Jersey Racing Commission (NJRC).
"Honestly, I really don't see me riding under these conditions, " he said in a tweet. "Even though Monmouth has always been my home, and I am known as "Jersey Joe", I am going to have to find other tracks to ride at this summer."
The NJRC announced in September that it was adopting the strictest whip rules in the US in a bid to address public perception. Despite opposition from horsemen and the operator of Monmouth Park it voted unanimously to prohibit use of the whip "except for reasons of safety" from the start of racing on May 28.
Last month the NJRC dismissed a request from the Jockeys Guild to delay enforcement of the rules and on Monday the Appellate Division of the Superior Court of New Jersey refused to grant a preliminary injunction that would have put back their introduction pending the outcome of the Guild's legal challenge.
Bravo, who has ridden over 5,000 winners, reacted: "Super sad day to face the reality the NJRC is going to be enforcing a rule that I can use the riding crop for safety purposes only. And they did it w/o having any conversation with any jockeys so we could explain how extremely dangerous this is going to be for jockeys and horses."
Other leading jockeys Antonio Gallardo and Daniel Centeno said they too would have to avoid Monmouth. Gallardo said: "I left Presque Island a few years ago and went to Monmouth, I did very well. It's my second home after Tampa and it's so sad to change my plans just because they put a stupid rule into practice so I can't go back."
Jockeys Guild president and CEO Terry Meyocks said in a statement: "We are extremely disappointed in this decision on our motion for a stay of enforcement. This regulation prohibits jockeys from using the riding crop as they have been trained, increasing the risk of injury to both the horse and rider."
Meyocks added: "Jockeys' Guild remains hopeful that the Court ultimately will grant its appeal."