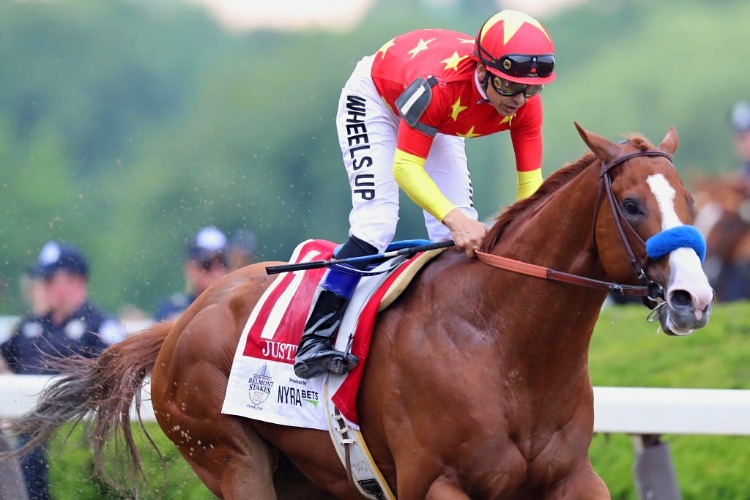 Justify was the lone unanimous 2018 Eclipse Award winner, receiving all 249 votes for 3YO male, and ultimately enjoyed a comfortable victory in the Horse of the Year voting, outpacing Breeders' Cup Classic winner Accelerate 191-54.
Although Justify dominated the voting, his owners (WinStar Farm, China Horse Club, Starlight Racing, and Head of Plains Partners), trainer (Bob Baffert), and jockey (Mike Smith) only made the board as finalists.
Justify's owners finished third in their category as Accelerate's owner Hronis Racing took the top honor by a wide margin over Peter Brant.
Baffert was edged by Chad Brown as Champion Trainer and Mike Smith was second by a wide margin to Irad Ortiz Jr in the jockey category.
Voters did give Justify's breeder the nod as John Gunther secured the outstanding breeder award over runner-up WinStar Farm.
Other decisive divisional winners were Game Winner for 2YO Male, Monomoy Girl for 3YO Filly and Accelerate for Older Dirt Male honors.
The closest category was the female turf division where the four North American G1 wins by Breeders' Cup Filly and Mare Turf winner Sistercharlie proved just enough to get the nod over Enable, who defeated males in the Breeders' Cup Turf less than four weeks after winning the Prix de l'Arc de Triomphe.
The three Eclipse Awards voting entities are NTRA, Daily Racing Form and the National Turf Writers and Broadcasters.
Of 271 eligible voters 249 participated.
2018 Eclipse Awards
HORSE OF THE YEAR: Justify 191; Accelerate 54; Monomoy Girl 2; Enable 1; Voter Abstention 1.
2YO Male: Game Winner 247; Bulletin 1; Knicks Go 1.
2YO Filly: Jaywalk 214; Newspaperofrecord 31; Bellafina 4.
3YO Male: Justify 249.
3YO Filly: Monomoy Girl 247; Magical 1; Rushing Fall 1.
Older Dirt Male: Accelerate 245; Gun Runner 2; Discreet Lover 1; Roy H 1.
Older Dirt Female: Unique Bella 182; Abel Tasman 34; Marley's Freedom 14; Blue Prize 9; Wow Cat 9; Voter Abstention 1.
Male Sprinter: Roy H 234; City of Light 9; Imperial Hint 3; Stormy Liberal 2; Mind Your Biscuits 1.
Female Sprinter: Shamrock Rose 136; Marley's Freedom 113.
Male Turf Horse: Stormy Liberal 85; Expert Eye 66; Glorious Empire 43; Catholic Boy 14; Heart to Heart 12; Catapult 8; Channel Maker 7; Raging Bull 7; Robert Bruce 2; Funtastic 1; Oscar Performance 1; Yoshida 1; Voter Abstentions 2.
Female Turf Horse: Sistercharlie 130; Enable 119.
Steeplechaser: Zanjabeel 176; Optimus Prime 22; Jury Duty 12; Iranistan 4; Balance the Budget 1; Voter Abstentions 34.
Owner: Hronis Racing 141; Peter Brant 27; WinStar Farm, China Horse Club Intl., Starlight Racing, Head of Plains Partners 25; Calumet Farm 8; Klaravich Stables 8; Godolphin Racing 6; End Zone Athletics 5; WinStar Farm 5; Rockingham Ranch and David Bernsen, 4; Sol Kumin 3; Michael Dubb, Monomoy Stables, The Elkstone Group, Bethlehem Stables 2; China Horse Club 1; China Horse Club, Head of Plains Partners 1; Juddmonte Farms 1; Loooch Racing Stables 1; Voter Abstentions 10.
Breeder: John D. Gunther 102; WinStar Farm 68; Mike Abraham 21; Calumet Farm 14; Fred Hertrich III & John D. Fielding 13; Juddmonte Farms 8; Summer Wind Equine 5; Kenneth & Sarah Ramsey 3; Brereton C. Jones 2; Besilu Stables 1; FPF & Highfield Ranch 1; Stonestreet Thoroughbred Holdings 1; Spendthrift Farm 1; Voter Abstentions 9.
Trainer: Chad Brown 137; Bob Baffert 94; Steve Asmussen 6; Brad Cox 4; John Sadler 2; Karl Broberg 2; Jason Servis 1; Jerry Hollendorfer 1; Voter Abstentions 2.
Jockey: Irad Ortiz Jr. 173; Mike Smith 40; Jose Ortiz 25; Joel Rosario 8; Florent Geroux 1; Javier Castellano 1; Voter Abstentions 1.
Apprentice: Weston Hamilton 115; Edgar Morales 87; Reylu Gutierrez 11; Heriberto Figueroa 7; Kazushi Kimura 3; Assael Espinoza 2; Evin Roman 1; Johan Rosado 1; Voter Abstentions 22.